In continuing my rant on why the mainstream media cannot charge for content, combined with the still deteriorating situation of many banks in the US and Europe, I release, to subscribers, the Bank of America (NYSE:BAC) Q1-2010 earnings opinion:

BAC Q1 2010 Earnings Review, which is considerably less rosy than I have been reading in the mainstream media. To get up to speed on the MSM/blog rant, I suggest you read "Are Blogs Truly Competitive With the Mainstream Media in Terms of Quality of Content?"
For those who do not subscribe, here are some key excerpts:
Bank of America's 1Q10 results are a reflection of the continued weakness in the commercial banking space (see conference call transcript here). While the core operations' revenues remained weak, the increase in trading profits and the consolidation of the securitized assets (due to FAS 166/167) made up for declines in revenue from the core portfolio and operations.
Total reported net revenue in 1Q10 increased by nearly $7.0 billion or 27% (QOQ) to $32 billion from $25 billion in 4Q09, resulting from the aforementioned increase in trading profits by $3.7 billion, net interest income by $2.2 billion, other income by $3.0 billion and card revenues by $194 million.
Other income was higher owing to fair value option impact on Merrill Lynch structured notes (the highly suspect, level 3 asset, non-market price based opinion of management), which resulted in 1Q10 gain of $226 million against loss of $1.6 billion in 4Q09 as well as minimal write downs on legacy assets (again, the highly suspect, formula driven opinion of management) against write-down of $1.0 billion in 4Q09.
Although it shouldn't be necessary, I will still state that gains in these areas during an era of highly suspect asset values should be viewed with a very jaded eye. Other non-interest revenue including service charges, mortgage banking revenue, brokerage and investment banking revenues were mostly lower than the 4Q09 levels largely owing to reduced transactions or activity.
FAS 166/167 resulted in consolidation of nearly $100 billion of securitized loans, which considerably boosted net interest income and card income. While the reported core net interest income (on FTE basis) and the card revenues recorded a QOQ increase of 18.3% and 10.9% respectively, on a managed basis, which excludes the impact of consolidation of securitized assets, the net interest income and card revenues recorded a negative growth of 2.1% and 8.6%, respectively.
The net interest income decline was largely owing to lower net interest yield, which declined to 3.69% from 3.74% in 4Q09 and the card revenues declined owing to seasonality and lower fees associated with implementation of CARD Act. However, the consolidation led to increase in leverage with tangible common equity ratio coming down to 5.24% in 1Q10 from 5.57% in 4Q09.
Looking at the credit quality of the loan portfolio, there was no substantial improvement. The total non-performing loans remained at elevated levels largely owing to additions from residential mortgage space. The annualized net charge-off rates for credit card loans increased to 12.0% from 11.9% in 4Q09 and the annualized net charge-off rates for home equity increased to 6.4% from 4.1% in 4Q09. The charge-off rate for residential loans came down to 1.8% from 2.1% in 4Q09.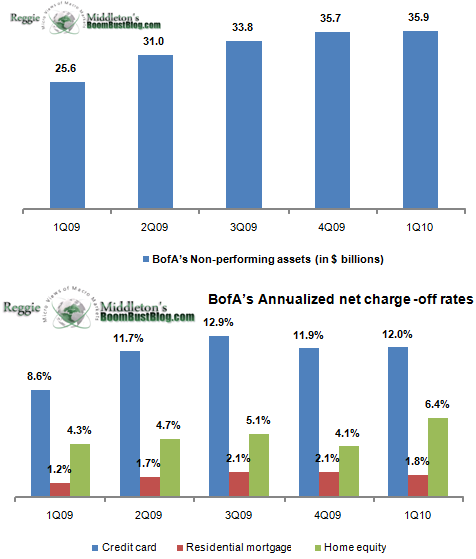 Here's another tidbit that you haven't heard in the mainstream …
The reduction in provisioning reduced the allowance for loan losses. While the reported allowance for loan losses increased by $9.6 billion or 26% to $46.8 billion from $37.2 billion in 4Q09, the increase was largely resulting from $11.0 billion addition to allowance due to consolidation of securitized assets.
Since the consolidated securitized assets largely included credit card receivables, consolidation of which led to an increase in allowance for loan losses and only marginal addition to non performing assets, we computed the following figures after adjusting for the impact of FAS 166/167. Non performing assets as % of total allowance for loan losses inched higher to 100.3% from 96.1% in 4Q09.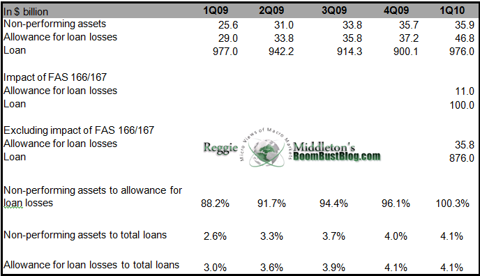 Click to enlarge
(Click to enlarge)
Look far and wide to see if you can find the extent of underprovisioning at BofA in the mainstream media!
I would like to hear from readers who follow the big financial rags, ex. WSJ, Bloomberg, Financial Times, CNBC, etc. to see if this tidbit was covered, or even mentioned. Of course, by mere coincidence, JP Morgan (NYSE:JPM) produced accounting earnings in a very similar manner. I call it the FDIC insured hedge fund with a large, money-losing commercial bank as a subsidiary. See An Unbiased Review of JP Morgan's Q1 2010 Results Yields Less Roses Than the Maintream Media Presents
Disclosure: No positions