Coffee producing countries, predominantly Brazil and Vietnam, are expected to observe a continued increase in ending stocks during the 2013/14 period. Consuming countries will probably remain relatively flat. As world coffee production overtakes consumption, an increase in global stocks has been recorded over the last many years.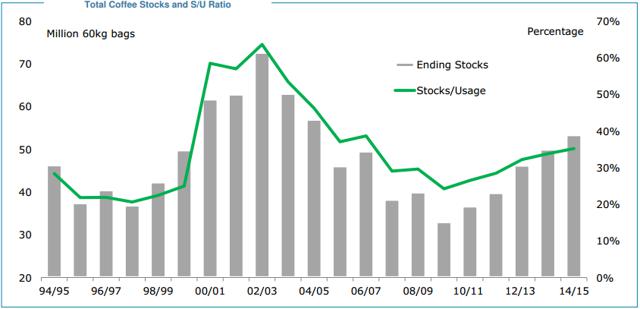 Global production is forecasted to be 2.8 million bags less than last year's production of 150.5 million bags because record output from Vietnam was more than offset by the drop in Indonesia, Brazil, Central America and Mexico. Based on strong shipments from Colombia and Vietnam, world exports are likely to undergo a modest increase.
USDA states that compared to the last year Brazil is estimated to produce 53.1 million bags in 2013/14. This production level is 3 million bags less than last year because of the fact that Arabica trees in Brazil are entering the off-year stage of their biennial production cycle. In Brazil, a substantial majority of Robusta is grown in Espirito Santo. Above-average temperature along with irregular rainfall in Espirito Santo has brought the production estimate of Robusta down to 13.9 million bags, 1.1 million bags less than last year. Bean exports are likely to remain almost flat at 27.5 million bags.
A record production of 28.5 million bags is expected in Vietnam, 2 million bags higher than last year, because a larger area was harvested and favorable weather. Bean exports are expected to be 24.5 million bags, 900,000 bags higher than last year.
One-fifth of Arabica's production worldwide is contributed by Central America and Mexico. Coffee rust has reduced this region's production forecast to 16.9 million bags, which is 1.4 million bags less than last year's production. A decline of 20 percent is expected in El Salvador, 16 percent in Mexico, 15 percent in Costa Rica, 12 percent in Nicaragua and 8 percent in Guatemala. Bean exports are estimated to decline to 14.4 million bags, 900,000 bags less than last year.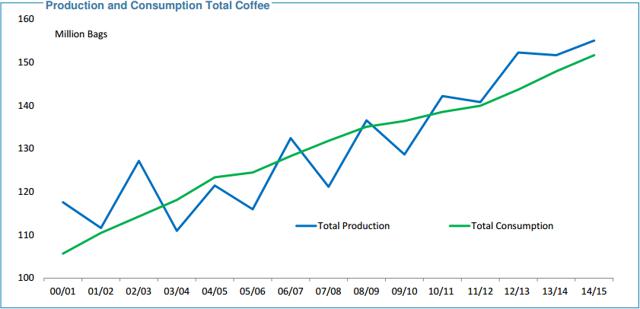 Production of 10 million bags is forecasted in Colombia. Bean exports are expected to be 900,000 bags higher than last year, resulting in exports of 9 million bags. Indonesia is likely to report a decrease of 1 million bags in production that will bring the total to 9.5 million bags for 2013/14, because at the start of the season flowering was reduced due to dry weather. Bean exports are expected to be 6 million bags, 900,000 bags less than last year.
India's largest coffee producing state is Karnataka. During monsoon season, heavy rains resulted in lower yields because many cherries were dropped. With a decrease of 200,000 bags, India's production is likely to stand at 5.1 million bags. Bean exports are likely to be 3.7 million bags.
Almost half of world's bean imports are by the European Union. An increase of 600,000 bags is expected, resulting in total imports of 45.5 million bags with 28 percent being supplied from Brazil, 25 percent from Vietnam and 7 percent from Honduras. As the second-largest importer of coffee beans, the United States is forecasted to import 23.5 million bags during 2013/14. Brazil supplies 25 percent, Vietnam supplies 18 percent and Colombia supplies 13 percent of U.S. coffee beans imports.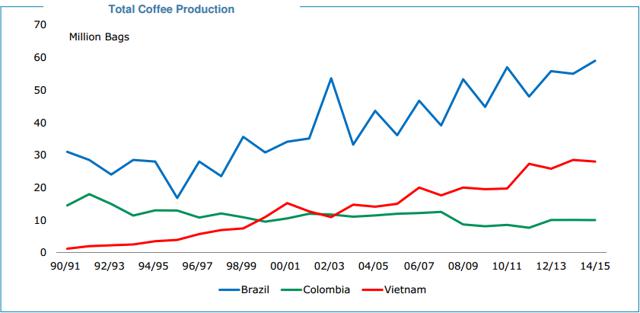 Starbucks' (NASDAQ:SBUX) Plans for Fiscal Year 2014
The company announced a 12 percent revenue growth for the first quarter of fiscal year 2014. Global comparable store sales cultivated 5 percent, forced by a 4 percent surge in traffic. A traffic increase of 4 percent resulted in a 5 percent growth in comparable store sales in the Americas and the US, a 3 percent traffic increase resulted in a 5 percent growth in comparable store sales in the EMEA region and a 7 increase in traffic resulted in an 8 percent growth in comparable store sales in the China/Asia-Pacific region. The consolidated operating income improved by 29 percent and the operating margin improved by 19.2 percent. EPS cultivated a 25 percent increase. There are 7 million active members of the My Starbucks Rewards program in the U.S. and $1.4 billion was loaded onto Starbucks Cards, globally. The total store count is now 20,184 because the company opened 417 new stores, globally. The company opened its second Teavana Fine Teas + Tea Bar in early December, bringing the elevated Tea Bar experience to Seattle's University Village following the October opening of the first Teavana concept in New York City. The company repurchased 0.6 million shares of common stock in Q1 FY14; approximately 26 million shares remain available for purchase under previous authorizations.
For fiscal year 2014, the company has anticipated at least a 10 percent revenue growth assuming around 5 to 6 percent growth in global comparable store sales, with an improvement in the consolidated operating income margin of nearly 150 to 200 bps throughout fiscal year 2013. Earnings per share for fiscal year 2014 are estimated to be in the range of $2.59 to $2.67. Quarterly estimates of earnings per share are $0.54 to $0.55 for the second quarter of fiscal year 2014, $0.64 to $0.66 for the third quarter of fiscal year 2014 and $0.7 to $0.75 for the fourth quarter of fiscal year 2014. Capital expenditures of around $1.2 billion are expected while the company has announced its plan to open approximately 1500 net new stores in fiscal year 2014. Out of these 1500 stores, 600 stores are expected to be opened in the Americas, 150 in the EMEA region and 750 in the CAP region.
Final Verdict
The key point success of the company is its enormous growth potential. Successful execution of business in China and India will be integral for the company to exhibit continuous revenue growth .The company is operating efficiently with its ingenuities in the tea market. In fiscal year 2013, the decline in coffee prices favored the company and allowed it to improve its margins, but currently coffee prices are trending upward. This can affect the company's margins in the near future, but this phenomenon can be tackled by the snowballing revenue base from new stores and expanding premium-priced products' range and prices. Looking forward, the next five years' expected growth rate is 19.46 percent per annum compared to the industry average of 12.83 percent per annum, and the company's estimated PEG ratio is 1.39 compared to the industry average ratio of 3.62. These figures show the confidence that investors and analysts have in management's efficacious execution of business plans and inexhaustible aptitude to utilize every available opportunity.
Incorporating its splendid past performance, robust current foothold and effectual preparation for future endeavors, I am quite optimistic about SBUX and my recommendation is buy.
Disclosure: I have no positions in any stocks mentioned, and no plans to initiate any positions within the next 72 hours.
Business relationship disclosure: The article has been written by a Blackstone Equity Research research analyst. Blackstone Equity Research is not receiving compensation for it (other than from Seeking Alpha). Blackstone Equity Research has no business relationship with any company whose stock is mentioned in this article