Yesterday Barron's Online reported on a rumor circulating that Cisco Systems (NASDAQ:CSCO) is "considering buying fiber optics component vendor Finisar (NASDAQ:FNSR) for $27 to $28."
I still like Finisar today and believe $28 to buy Finisar would be good for Cisco but far too low a price for Finisar to accept. At the very least, Finisar should get mid $40s to match its post financial meltdown high. Below I will make a case for why this is a fair price for Finisar based on valuation.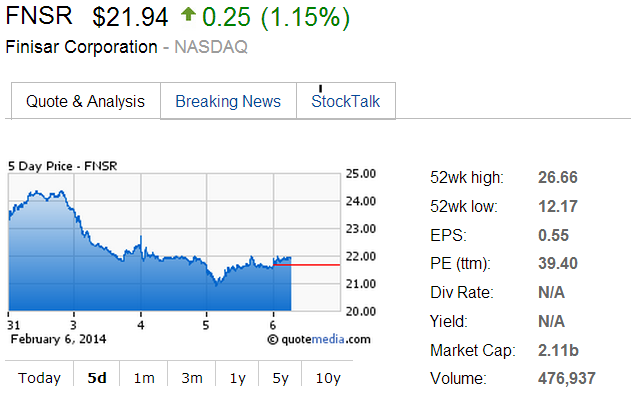 I last recommended Finisar here on Seeking Alpha in this March 27, 2012 article, "Apple, Is The Bandwagon Full? Consider Finisar" when Finisar was selling for $19.43 and Apple (NASDAQ:AAPL) was at $599.
As suggested in the article, I used the period of strength in Apple to take profits in my mutual funds and I put some of the profit taking dollars to work buying more shares of Finisar while it was down. I was correct then as Finisar is about 13% higher now while Apple is about 12% lower.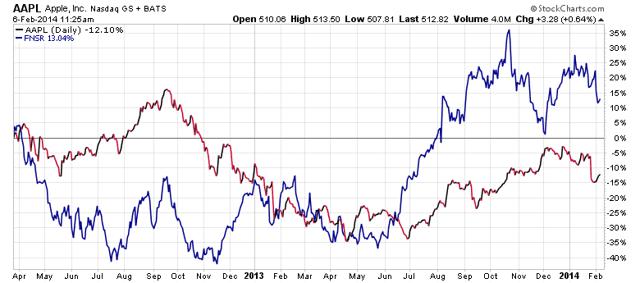 Valuation Argument:
Firstly, Cisco is growing slowly with forward growth estimates at only 8.38% according to Yahoo! finance while Finisar is growing earnings nearly four times faster at 23.9%. Cisco has $48B in cash while the market cap of Finisar at $21.94 is only $2.11B, a drop in Cisco's cash bucket. Cisco could easily afford to buy Finisar with cash currently getting little return for shareholders. Buying Finisar would save paying the markup to buy fiber optic components for Cisco products so it would immediately lower Cisco's costs and raise return. The question for Cisco becomes how much can they pay before the cost savings go away.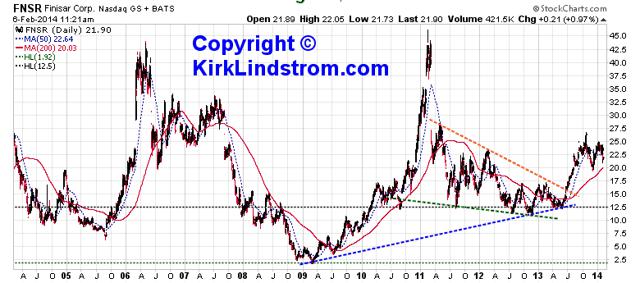 Next I look at what price I as a shareholder want to give up my shares in a cash buyout.
Assumptions according to Yahoo! Finance: Finisar has
Cash per share of $3.29
Outstanding Debt of $44.7M
Shares Outstanding: 96.13M
On a very simple basis, a "fair value" for a stock is a price to earnings ratio that equals its growth rate for a PEG (Price to earnings divided by growth rate) of 1.0. Using Yahoo!'s numbers below for a forward PE of 12.37, Finisar has a PEG of 0.57. To get to a PEG of 1.0, the price needs to rise to $38.49 ($21.94/0.57=$38.49)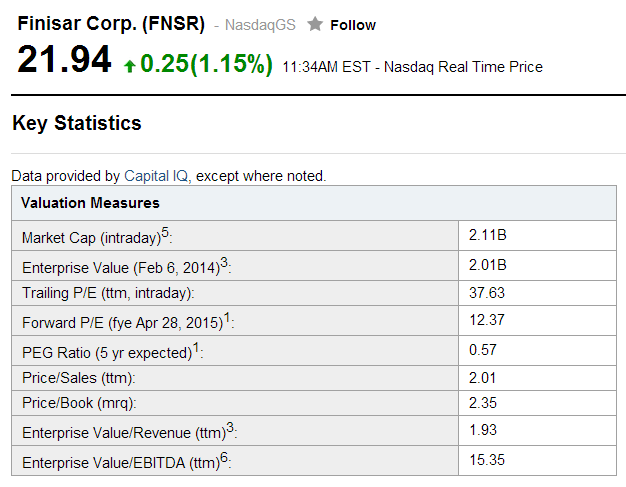 Using the valuation assumptions I use in my newsletter to that takes into account cash, debt along with future earnings estimates and growth rate, I calculate Finisar is easily worth $38 today assuming a conservative 20% earnings growth rate:

If you use 23% earnings growth rate, you get mid $40s for a 2015 target price:

Finisar will finish its fiscal 2014 in April. If earnings continue to grow at a 23% pace, then the target price for average fiscal 2016 earnings should be about 23% higher than $1.77 or $2.18.
Take $2.177 fiscal 2016 earnings, multiply it by 23 (5-year growth rate) and add $2.82 cash per share and you get my potential target for Finisar in the next two years of $52.89. Taking into account the time value of money and market risks, I might settle today for mid $40s for a stock I think will see mid $50s in a year or two.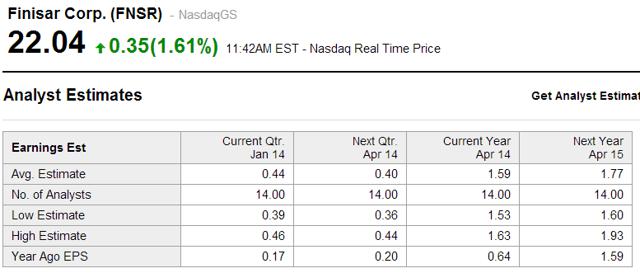 What price would you be willing to sell your long-term shares for?
Summary: Sadly, this rumor of Cisco considering buying Finisar may put a bottom in the price before the correction we've seen hits my next buy target. If you don't own shares, I would certainly get some here as the potential for a double is large while the downside risk is low due to valuation and basic fundamentals. The basic fundamentals are fiber is necessary to deliver the explosive growth in video demand from cell phones, tablets and TVs adding to the demand from regular computer users.
Disclosure: I own Finisar in several personal accounts and I recommend it in my newsletter where I trade it around a core position. I have preset target prices to take profits if it goes higher and I will buy more if it falls to my buy target. My last recommendations to subscribers were to buy shares at $20.20 on 12/2/13 and then sell them at $23.70 on 12/30/13. I am long FNSR. I wrote this article myself, and it expresses my own opinions. I am not receiving compensation for it (other than from Seeking Alpha). I have no business relationship with any company whose stock is mentioned in this article.