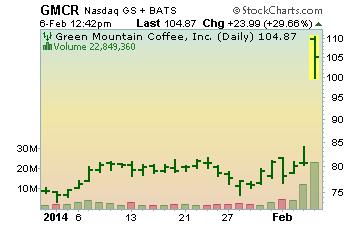 Coca-Cola's (NYSE:KO) 10-year contract with Green Mountain Coffee Roasters (NASDAQ:GMCR), along with an investment in the firm, is one of those unusual game changer announcements. Similar to an oil company discovering a large reserve or, perhaps even better, Steve Jobs announcing the iPad, GMCR's fundamentals changed overnight.
Better yet, those fundamentals cannot be calculated yet, so how well Green Mountain will fare (and how high GMCR will rise) is left up to investors' imaginations. As has happened before (even to Green Mountain), a new product with seemingly unlimited market potential can create a dramatic stock price run-up amid excitement and ever-expanding growth expectations.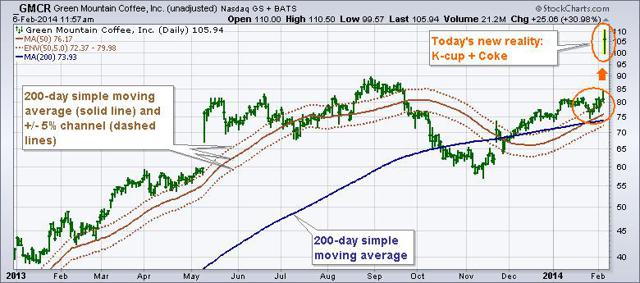 (Stock chart courtesy of StockCharts.com)
What about stock analysts?
Won't they provide a more realistic and conservative viewpoint? "Yes" to the second, but "no" to the first. The data is simply not available for analysts to create that realistic picture. As has happened with countless rapid growth situations, analysts fall short in their forecasts because they lack the supporting data, and they cannot create high growth outlooks simply from the news. However, they can give us a hint of what they see in their ratings. (So far today, two "Sell" ratings were upgraded: one to "Hold" and one to "Buy".)
Therefore, we investors win. With the analysts now ramping up their ratings and visions of Green Mountain's bright future forming in the minds of many, the stock is free to rise on the excitement.
But Green Mountain rose rapidly once before, only to plummet
Yes, but there are two reasons not to use that period to predict this one.
First, Green Mountain now has its proven K-cup system as a foundation, which has allowed the stock to retrace much of its climb, this time on observable fundamentals
Second, Green Mountain is not alone this time - its strong tie to Coca-Cola provides both safety and high potential.
What about that price gap?
Yes, it's huge: Closing Wednesday (2/6) as the known K-cup company at ~$80, GMCR opened Thursday as the "unknown" K-cup + Coke's at-home dispenser company at ~$110 (up 38%). The key is that the gap is based on real change, making the $80 price now irrelevant.
However, there is a price on GMCR's chart that is important: its all-time high of ~$116. If the stock rises above that price, it opens up the upside because there are no previous price barriers. It's also the area where every shareholder is a "winner" and, therefore, positive about the stock.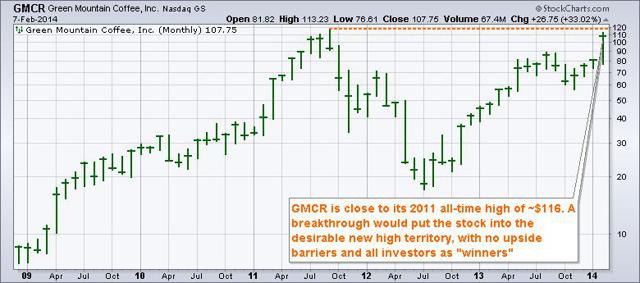 (Stock chart courtesy of StockCharts.com)
The bottom line
The Coca-Cola and Green Mountain Coffee Roasters 10-year pact is a game changer for both, but especially for Green Mountain. The idea of an in-home soda dispenser is excellent from many aspects. It looks to be a win-win product, making the market potential enormous.
Without fundamentals but only visions to work with, analysts will drive less of the forward expectations than investors themselves. That rapid growth situation typically results in desirable stock activity. With GMCR on the doorstep of its all-time high (above which there are no price barriers), it could be a 2014 stock leader.
What about Coca-Cola?
The discussion regarding KO's fundamentals is whether Green Mountain's soda system will simply substitute for bottle and can purchases. Management says it's not a zero-sum situation - that the in-home machines will reignite soda sales. But we'll have to wait and see - that risk will likely mute gains in KO. And remember that Coca-Cola now owns its bottlers again, so any movement from cans/bottles could negatively affect its sales/earnings. Therefore, it seems best to own Green Mountain and watch Coke.
But what about this market? Shouldn't we wait to buy?
No. As I explained after Monday's 326-point fall ("Stock Market's Plunge Lights Up Two 'Buy' Indicators - Now What?"), it looks like the stock market has bottomed.
The February 3 stock market drop triggered the two key indicators of attractive "buy low" prices. The fall took many stocks down to desirable purchase levels, with "desirable" being based on both fundamental and technical analysis. Yes, all the graphs look like the trend is pointing down, with more declines to come - and they might. However, all bottom periods have that look, so beware the comfort of sitting back, not acting and missing out. Instead, look back a month ago and imagine if you were offered today's prices then.
With the market down ~5% from its year-end high, and many desirable stocks ~10% below, there is little reason to wait and good reason to buy.
Disclosure: I am long GMCR. I wrote this article myself, and it expresses my own opinions. I am not receiving compensation for it (other than from Seeking Alpha). I have no business relationship with any company whose stock is mentioned in this article.