Royal Dutch Shell (NYSE:RDS.A), (NYSE:RDS.B) has been for the past few years a relatively safe income investment, like many of its oil major peers. However, its recent profit warning and consequent weak fourth quarter results were somewhat unexpected and may have changed investor perceptions of its dividend sustainability. Shell offers a high-dividend yield of 5.5%, which is below some of its closest peers like Total (NYSE:TOT) and Eni (NYSE:E), and therefore better value may exist elsewhere taking into account Shell's short-term woes.
Company Overview
Royal Dutch Shell, usually known as Shell, is an Anglo-Dutch multinational oil and gas company incorporated in the U.K. and headquartered in the Netherlands. Shell was created by the merger of Royal Dutch Petroleum and U.K.-based Shell Transport & Trading. It is one of the six non-state owned oil and gas supermajors, which also includes Exxon Mobil (XOM), BP (NYSE:BP), Chevron (NYSE:CVX), Total and ConocoPhilips (NYSE:COP). Shell has a primary listing on the London Stock Exchange, with secondary listings on Euronext Amsterdam and the New York Stock Exchange. Its market capitalization is about $215 billion.
Shell is vertically integrated and is active in every area of the oil and gas industry, including exploration and production, refining, distribution and marketing, petrochemicals, power generation and trading. It also has a small renewable energy operation in the form of biofuels. It has operations in over 90 countries, produces more than 3.1 million barrels of oil equivalent (boe) per day per day and has about 44,000 service stations worldwide. Its business segments are: Upstream Americas, Upstream International, Downstream, and, Projects and Technology.
One of the main challenges for any major oil company is how to balance growth and profitability as large projects that can have a significant impact on oil production may not deliver returns above the company's cost of capital. Shell went through an underinvestment phase until 2004 when it looked to rebuild its upstream operations following the revelation that Shell had been overstating its oil reserves. Following that, the company adopted a strategy of "invest through-cycle" instead of aggressive M&A activity. It focused on delivering new production volumes from existing resources and leveraging its technological leadership. Going forward, its discipline around capital allocation is one of the company's main focus, managing dynamically its asset portfolio.
Shell is spending a larger portion of its capital expenditures (capex) towards non-traditional projects than its closest peers, such as in liquified natural gas (LNG) projects. The company pioneered the LNG business in the 1970s and is already the leading company on LNG market, a position that was reinforced by its acquisition of Repsol's (OTCQX:REPYY) LNG assets for $6.7 billion a few months ago. It is also one of the leading players in the oil sands, which have good production growth prospects over the long-term. Shell is also restructuring its asset portfolio, being more selective on growth opportunities, and selling non-core assets.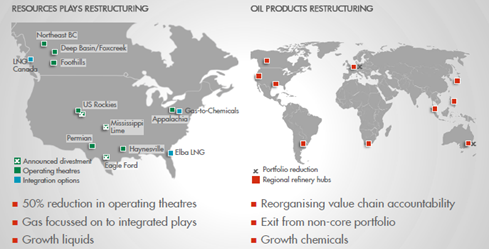 Sales of non-core assets in the past few years generated more than $20 billion in divestment proceeds. Asset sales are a key element of Shell's strategy, aiming to improve its capital efficiency by focusing investment on the most attractive growth opportunities. It has made several sales in downstream recycling which proceeds into upstream like many of its peers. Generally, mature or mid-life assets tend to be potential candidates for sales. Disposals over the next two years are expected to amount to $15 billion, which amounts to about 4% of the company's assets, aiming to improve its return on capital. Shell's return on average capital employed (ROACE) is among the lowest in its peer group, showing that its asset restructuring policy has not yet reached the coveted goals.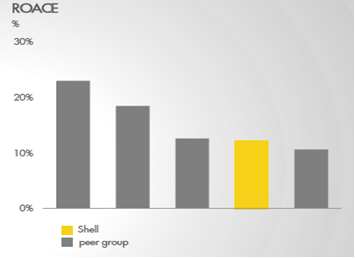 Regarding its financial performance, 2013 has not been a good year, which has culminated in last month's profit warning. The disappointment can be explained by weak refining margins, higher North American upstream costs, ongoing disruptions in Nigeria and new project costs. Its fourth quarter results were particularly poor, but this quarter was typically weak. Its Q4 earnings of $2.9 billion were down 48% year-on-year, and missed consensus estimates by more than 40%. As the new CEO took office at the beginning of 2014, this may be partially taken as cooling expectations to deliver over the next quarters. The loss of financial momentum is pushing a shift from ambitious growth to capital efficiency, which is key in a heavily capital-intensive business. For the full year 2013, Shell's revenues declined by 3.4% yoy to $450 billion and its earnings declined by 23% to $19.5 billion. Its upstream dividend was responsible for this decline, with earnings down by 25% yoy. Shell's earnings-per-share were $3.10, also declining 23% from 2012.
Dividends
Shell's dividend track record is outstanding, given that its dividend has never been cut over the past few decades. The company's stated policy is to grow its dividend over time in-line with underlying cash flows and in measured, affordable steps. This means once it increases its dividend it does not want to pull it back, so Shell should not rise substantially its dividend, but is expected to deliver a growing dividend over time. Its quarterly dividend was $0.45 per share, which will rise to $0.47 for the first quarter of 2014. This is a 4.4% increase and shows the company's commitment to a growing dividend despite its setbacks suffered recently. At its current share price, Shell offers a very interesting dividend yield of 5.5%. Shell's dividend payout ratio is 58% despite its earnings fall in 2013, an acceptable level despite being above its peers' average and only surpassed by Eni.
The company also has a scrip option that dilutes its shareholders' stake due to new shares issued. To offset the scrip dilution the company started share repurchases in 2010, targeting B-shares as a result of the withholding tax restrictions around the A-shares. During 2013, Shell bought back close to 145 million B-shares for a consideration of $5 billion, and issued 125 million A-shares under the scrip dividend. In case of greater surplus cash, there is the potential for greater share buybacks over the medium to long-term, but the company's shareholder remuneration should continue to be focused on dividends.
Like the other oil majors, Shell's dividend is supported by a strong cash flow generation, being one of the main reasons why income investors should own integrated oil companies over other industries and energy sub-sectors. Its operating cash flow amounted to $40 billion in 2013, a decrease from the previous year, but it should go up during the next couple of years as new projects become operational and asset acquisitions provide higher cash flows, such as Repsol LNG assets. Even though its overall cash outflows were higher than inflows during 2013, without considering acquisitions and share buybacks its cash flow from operations was near the amount spent on capex and dividends, which shows that the company's dividend is sustainable. Moreover, Shell's annual cash flow can be relatively volatile, but the company does not expect a cash flow shortfall to persist in the medium-term.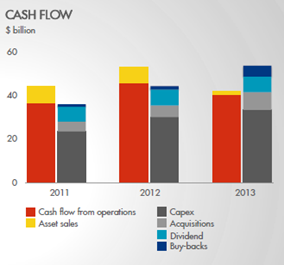 Shell had an operating cash flow target of $200 billion over 2012-2015 with oil prices at $100 per barrel, or about $175 billion with oil prices below $80 per barrel, but in its last earnings announcement its cash flow targets were scrapped. Nevertheless, Shell's cash flow generation should remain sound over the long-term enabling it to finance its growth and deliver an attractive shareholder remuneration.
Shell is still investing heavily to achieve its growth targets. In 2013, its capex amounted to more than $38 billion, excluding acquisitions, with most of it invested in upstream businesses representing about 80% of its capex. For 2014, the company expects organic capex to decrease by 8% to about $35 billion, plus $2 billion expected to spend on acquisitions. Its previous guidance for capex of $120-130 billion over 2012-2015 was also dropped. Despite Shell's high investment needs over the next few years, its dividend should not be in jeopardy because capex tends to be easier to cut than dividends, and if oil prices decline substantially most likely the company will review its spending plans than review downwards its dividend.
Furthermore, Shell has a very strong balance sheet which is also supportive for its dividend sustainability, given that is net debt amounts to about $35 billion representing a net debt-to-EBITDA ratio of only 0.6x. Its leverage remains among the lowest within its peers, and should remain low over the coming years due to its good cash flow generation and asset disposals expected. Its gearing ratio (net debt-to- total capital) is only 16%, within its targeted range of 0-30% through the cycle.
Conclusion
The oil industry can be quite volatile on a quarterly basis, as shown by Shell's recent weak Q4 2013 earnings. However, the industry value is found in its long-term stability and high profitability levels. Therefore, Shell's ability to cover both capex and a growing dividend over the medium to long-term, supported by a strong balance sheet, leaves the company well positioned to be a good opportunity for long-term income investors despite its short-term setbacks. Its recent focus on capital efficiency should also lead to higher profitability going forward, which is clearly a good factor for its dividend sustainability.
Disclosure: I have no positions in any stocks mentioned, but may initiate a long position in RDS.A over the next 72 hours. I wrote this article myself, and it expresses my own opinions. I am not receiving compensation for it (other than from Seeking Alpha). I have no business relationship with any company whose stock is mentioned in this article.