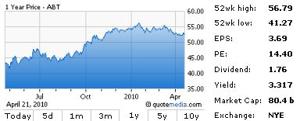 Click to enlargeAbbott Laboratories (NYSE:ABT) reported first quarter earnings of 81 cents per share, a penny above the Zacks Consensus Estimate and at the high end of the guidance provided by the company. First quarter 2010 earnings were negatively impacted by 3 cents due to US health care reform. Earnings increased 11% from the year-ago period (see conference call transcript here).
Revenues grew 14.6% to $7.7 billion. Revenues were positively impacted by foreign exchange (Fx) fluctuations (4.1%). However, higher Medicaid rebates under the US health care reform reduced revenues by $60 million.
Performance by Segments
Pharmaceutical division revenues were $4,103 million, up 12.9% and positively impacted by about 4.4% by Fx. Strong Humira and lipid franchise sales were offset by weak performance of Depakote, which is facing intense generic competition. Pharmaceutical revenues also included sales from the Solvay acquisition that was closed in mid-February 2010.
The lipid franchise posted sales of $496 million during the quarter. Abbott reported a favorable impact on Niaspan prescription trends following the release of data from the Arbiter-6 HALTS at the American Heart Association in November 2009.
Meanwhile, Humira recorded growth in both the US (32.4%) and international markets (39.2%) during the quarter. First quarter revenues increased 36.5% to $1.4 billion.
The Nutritional business posted first quarter revenues of $1,320 million, up 11.8%. The segment is enjoying strong growth in key emerging markets, including Latin America and Asia. Abbott Diagnostics posted sales of $915 million in the quarter, representing an increase of 12.1%.
The Vascular division continued to perform well, with revenues increasing 15.8% to $747 million. XIENCE V should continue performing well thanks to recent approvals in countries like Japan, China and Mexico. Meanwhile, other division sales totaled $613 million, representing growth of 39.2%.
Guidance Lowered Due to Health Care Reform
Management reduced their earnings guidance for 2010 in order to include the impact of the US health care reform. Abbott now expects to deliver earnings in the range of $4.13 - $4.18 per share, down from the earlier guidance of $4.20 to $4.25. The new guidance still represents double-digit earnings growth. The Zacks Consensus Estimate for 2010 currently stands at $4.23. Abbott also declared a quarterly dividend of 44 cents per share.
Abbott provided an update on its pipeline. The company stated that it expects to gain approval for five new products or additional indications in 2010. The company is working on boosting its vascular products portfolio and expects to launch more than 10 new products over the next five years.
We currently have a Neutral recommendation on Abbott. The company has some very strong business segments and a great late-stage pipeline. We believe Humira will continue to be a strong growth driver for years to come.
Disclosure: No positions