In the past several days, the stock market has experienced a significant pullback. Some of the major indexes are now off by about 7%. This is the "buying opportunity" that many investors were hoping for and yet it can be hard to find the courage to invest now, with the market acting so weak. Many stocks are cheap and very oversold. Some sectors are getting hit harder than others and that includes tobacco stocks. The market decline, coupled with news that a major drugstore would stop selling cigarettes, has created a near "perfect storm" in recent days for some tobacco stocks. As a contrarian investor, I look for opportunities like this and I believe it makes sense to take advantage of this significant pullback.
Altria Group, Inc. (NYSE:MO) is a leader in the tobacco, smokeless tobacco and wine industry. It owns top brands such as Marlboro, Virginia Slims, Parliament, Benson & Hedges, Copenhagen, Skoal, as well as a significant portfolio of wine brands which include: Chateau Ste. Michelle, Columbia Crest and many others. These tobacco and wine products are steady sellers and many of these brands are recognized around the world. In addition, Altria owns a company called NuMark which offers MarkTen e-cigarettes. These cigarette alternatives are gaining in popularity and offer significant growth potential.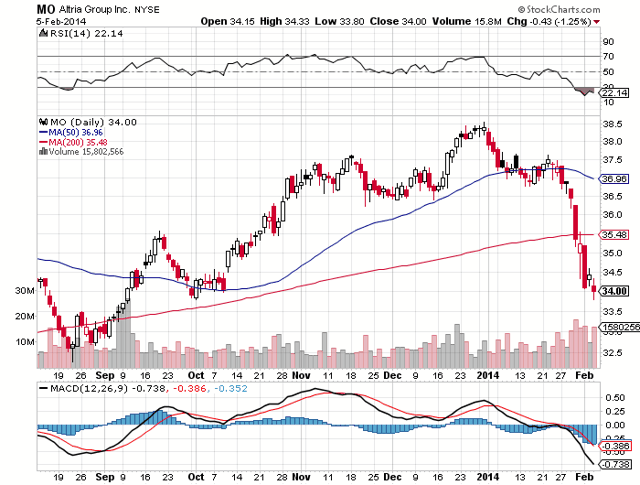 As the chart above shows, this stock is now significantly oversold with a relative strength index or "RSI" at just 22. Stocks with an RSI at 30 or less are considered very oversold and therefore could be ready to rebound. Altria Group shares now trade below the 200-day moving average which is $35.48. It is also trading below the 50-day moving average which is around $37 per share. When the market and this stock rebounds, it could be ready to (at least) reclaim the 200-day moving average of $35.48.
The recent news that CVS Caremark (NYSE:CVS) would stop selling tobacco products has received a significant amount of media attention. It also caused the tobacco stocks to decline further. However, this move is more likely to impact CVS Caremark rather than Altria Group because as Jim Cramer says, nobody walks out of a drugstore because it is selling tobacco. That means the benefit of ceasing sales of tobacco to a drugstore is probably not going to make financial sense. Furthermore, Altria Group sells its products all over the world so the impact is likely to be minimal when considering the big picture. It is likely that consumers will continue to buy tobacco products at stores that still offer them, which is one major reason why the additional pullback in the stock is a buying opportunity.
The downside risks for this stock appears limited in terms of tobacco litigation risk or the risk of reduced usage of tobacco products because it is also benefiting from the booming popularity of e-cigarettes. The company also has steady cash flow and a strong balance sheet with about $4.21 billion in cash and $14.88 billion in debt. With a few billion in cash and annual revenues of nearly $18 billion, this company has significant financial resources which reduces potential downside risks for investors. According to analysts, it has upside potential in terms of capital gains. If you consider the history of this company, it is also clear to see it has continued to be a great dividend growth stock.
Analysts at Stifel are bullish on Altria Group and on December 2, they reiterated a buy rating and raised the price target to $40 per share. Analysts at RBC Capital Markets are even more bullish as they have an outperform rating and a $42 price target. A few months ago, Altria raised the quarterly dividend by 9.1% to 48 cents per share. This generates a yield of about 5.5% based on the current stock price. With the S&P 500 Index (NYSEARCA:SPY) yielding just about 2%, Altria's generous and growing dividend is very compelling. Furthermore, Altria has a track record that few companies can beat as it has raised the dividend 47 times in the last 44 years.
Another positive factor to consider are share buybacks. Not long ago, Altria announced that it would expand its share buyback plan from the $300 million level and nearly triple it to a $1 billion buyback. Share buybacks can boost earnings and help increase future dividends since this reduces the number of outstanding shares. In summary, the downside risks appear limited, especially if this stock is bought on the current pullback. With a stable product line full of world-famous brands, a generous and growing yield, this stock appears to be a great pick for dividend investors. In this market pullback I have been very focused on finding great values in high yielding stocks. To read about another top dividend pick on a REIT with a yield over 7%, read this article.
Here are some key points for MO:
Current share price: $34
The 52 week range is $33.12 to $38.58
Earnings estimates for 2014: $2.57 per share
Earnings estimates for 2015: $2.76 per share
Annual dividend: $1.92 per share which yields 5.5%
Data is sourced from Yahoo Finance. No guarantees or representations
are made. Hawkinvest is not a registered investment advisor and does
not provide specific investment advice. The information is for
informational purposes only. You should always consult a financial
advisor.
Disclosure: I am long MO. I wrote this article myself, and it expresses my own opinions. I am not receiving compensation for it (other than from Seeking Alpha). I have no business relationship with any company whose stock is mentioned in this article.