The markets have continued to be much more volatile than they were throughout 2013. The good thing is that that's bringing more value into the market, which is great for any long-term buy and monitor investor. Lower prices now = better returns in the future. One company that has caught my eye during this drop has been Wal-Mart (NYSE:WMT). I've been looking for a chance to pick up shares at prices lower than my cost basis and currently I'm sitting on a 3% paper loss. Wal-Mart closed trading on Tuesday, February 4th at $72.73 and was offering a current yield of 2.58%.
Company Background (sourced from Yahoo! Finance):
Wal-Mart Stores, Inc. operates retail stores in various formats worldwide. The company operates in three segments: Walmart U.S., Walmart International, and Sam's Club. It operates retail stores, restaurants, discount stores, supermarkets, supercenters, hypermarkets, warehouse clubs, apparel stores, Sam''s Clubs, neighborhood markets, and other small formats, as well as walmart.com; and samsclub.com. As of October 15, 2013, the company operated approximately 11,000 stores under 69 banners in 27 countries and e-commerce Websites in 10 countries. Wal-Mart Stores, Inc. was founded in 1945 and is based in Bentonville, Arkansas.
DCF Valuation:
As of this writing, the 30 analysts tracked by Yahoo! Finance expect Wal-Mart to grow earnings 8.64% per year for the next five years and I've assumed it can grow at 2/3 of that, or 5.76%, for the next 3 years and continue to grow at 5.00% per year thereafter. Running these numbers through a three stage DCF analysis with a 10% discount rate yields a fair value price of $88.21. This means the shares are trading at a 17.6% discount to the discounted cash flow analysis.
Graham Number:
The Graham Number valuation method was conceived of by Benjamin Graham, the father of value investing, and calculates the maximum price one should pay for a company given the earnings and book value. Wal-Mart has earned $5.20 per share in the last twelve months and has a current book value per share of $22.64. The Graham Number is calculated to be $51.47, suggesting that Wal-Mart is overvalued by 41.3%.
Average High Dividend Yield:
Wal-Mart's average high dividend yield for the past 5 years is 2.64% and for the past 10 years is 2.13%. This gives target prices of $71.11 and $88.39, respectively, based on the current annual dividend of $1.88. Wal-Mart should be announcing an increase in the dividend during February and to get an idea of forward yield I'll assume an 8% increase from the $1.88 annual dividend to $2.03. This would give forward yield target prices of $76.79 and $95.46, respectively. I don't think we'll get back to seeing Wal-Mart trading for a 2% high yield unless somehow growth of Wal-Mart picks up to the 15%+ range. I'll only use the 5-year average based on the forward yield in my target entry price calculations. Wal-Mart is currently trading at a 5.3% discount to this price.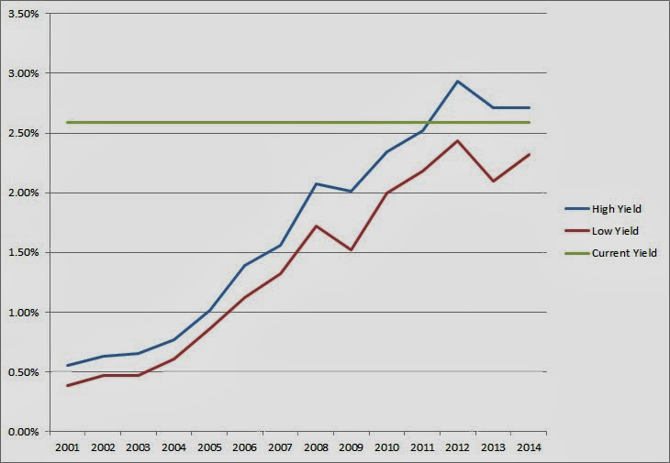 Average Low P/E Ratio:
Wal-Mart's average low P/E ratio for the past 5 years is 11.88 and for the past 10 years is 14.01. This corresponds to a price per share of $61.53 and $72.59, respectively, based off the analyst estimate of $5.18 per share for fiscal year 2014. Wal-Mart will be announcing results for FY 2014 later this month so let's look at what the price is on a forward earnings basis. Analysts expect Wal-Mart to earn $5.64 per share in FY 2015, which gives target entry prices based on the low P/E ratios of $66.99 and $79.04. I'll use the average of all four target prices giving a combined target entry price of $70.04. Wal-Mart is currently trading at a 3.8% premium to this price.
Average Low P/S Ratio:
Wal-Mart's average low P/S ratio for the past 5 years is 0.42 and for the past 10 years is 0.52. This corresponds to a price per share of $60.23 and $74.69, respectively, based off the analyst estimate for revenue growth from FY 2013 to FY 2014. Since FY 2014 is over and we're just waiting on the results from Q4, let's see what the price targets are based off the analyst estimate for FY 2015. The price targets don't include effects due to potential share buybacks, rather it's just based off the analyst estimate for revenue and growth, to be a bit conservative. The new price targets based off the estimated revenue growth of 3.70% are $62.46 and $77.46. Currently, the P/S ratio is 0.50 on a trailing twelve months basis. Once again, I'll use the average of the 4 low P/S numbers in my target entry price calculation, giving a target price of $68.71. Wal-Mart is trading at a 5.9% premium to this price.
Gordon Growth Model:
The Gordon Growth Model is a quick way to calculate the fair value of a company using the current dividend, the expected dividend growth rate, and your required rate of return or discount rate. Assuming a constant 7.00% dividend growth rate and a discount rate of 10.00%, the GGM valuation method yields a fair price of $71.67. Wal-Mart is currently trading for a 1.5% premium to this price.
Dividend Discount Model:
For the DDM, I assumed that Wal-Mart will be able to grow dividends for the next 5 years at the lowest of the 1, 3, 5 or 10-year growth rates or 15%. In this case, that would be 14.6%. After that, I assumed they can continue to raise dividends for 3 years at 75% of 14.6%, or 11.0%, and in perpetuity at 5.00%. The dividend growth rates are based off fiscal year payouts and don't necessarily correspond to quarter over quarter increases. To calculate the value I used a discount rate of 10%. Based on the DDM, Wal-Mart is worth $67.30, meaning it's overvalued by 8.1%.
P/E Ratios:
Wal-Mart's trailing P/E is 14.33 and it's forward P/E is 12.5. The P/E3 based on the average earnings for the last 3 years is 14.82. I like to see the P/E3 be less than 15, which Wal-Mart is currently right at. Compared to its industry peers Wal-Mart is undervalued against Costco (NASDAQ:COST) (23.8) and fairly valued versus Target (NYSE:TGT) (14.8). All comparisons are on a TTM basis.
Fundamentals:
Wal-Mart's gross margins for FY 2012 and FY 2013 were 26.8% and 26.7%, respectively, and it has averaged a 26.6% gross profit margin over the last 5 years. Net income margin for the same years were 3.5% and 3.8% with a five-year average of 3.6%. I typically like to see gross margins greater than 60% and at least higher than 40% with net income margins being 10% and at least 7%. Wal-Mart doesn't pass muster on either of the margin fronts; however, each industry is different and allows for different margins. The discount retail/grocery business is notorious for having very tight margins so let's see how Wal-Mart is doing compared to Costco and Target. Over the TTM, Costco's gross margin was 13% while Target's was 29%. Wal-Mart is sitting in the middle with a 25% gross margin over the last twelve months. On the net profit margin, Costco is at 1.9% and Target is at 3.3%. Wal-Mart is doing great here with a 3.6% net margin. That's well above both Costco and Target and is a testament to its operational excellence.
Share Buyback:
Since FY 2001 ended, Wal-Mart has done very well in terms of buying back shares. Things started off slow but really started to pick up in FY 2004. Over the last 10 years, Wal-Mart has decreased the share count by 23.7% from 4,446M to 3,389M good for an average annual decrease of 2.7%. Share buybacks aren't always the best use of shareholder capital, but it appears that Wal-Mart's management was very prudent in its buyback program and ramped it up right when shares were cheap. The cheaper the shares are the further each dollar of the buyback can go to maximize the benefit for owners.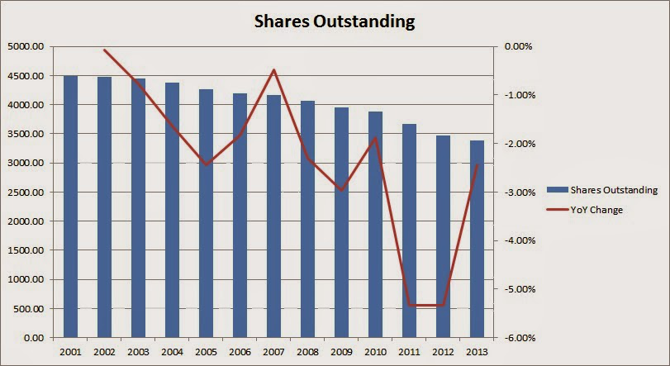 A negative number for the % change value means shares were bought back by the company and a positive value means the shares outstanding increased.
Dividend Analysis:
Wal-Mart is a dividend champion with 39 consecutive years of dividend increases and most certainly year 40 being announced later this month. Wal-Mart has increased the dividend at an 18.2%, 15.8%, 14.6%, and 18.0% rate over the last 1, 3, 5, and 10-year periods, respectively. Dividend increases are based off fiscal year payouts and don't necessarily correspond to annual payouts. The lowest increase they've had since FY 2004 has been 7.95%. I think I can live with that as a dividend growth investor. However, that's in the past and there's no guarantee the future will play out the same. Given the expected EPS growth of over 8% per year and an average decrease in the share count of 2% per year, Wal-Mart could still afford to increase the dividend by over 10% per year without increasing the payout ratio. That bodes well for future dividend growth in the short to medium term. The payout ratio has expanded since FY 2001 from 17.1% up to 30.7% in FY 2013. The dividend is currently well covered by earnings and there's plenty of room to continue to grow the dividend without sacrificing growth of the company.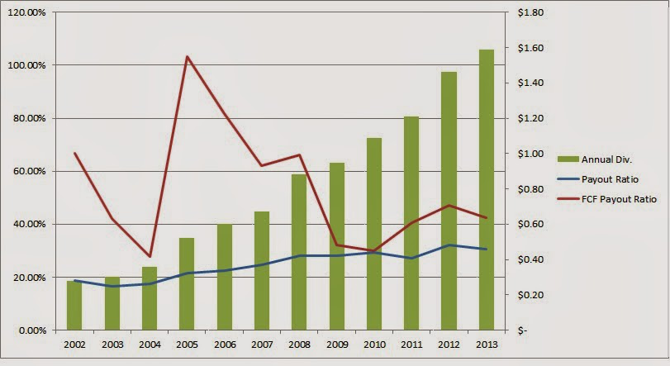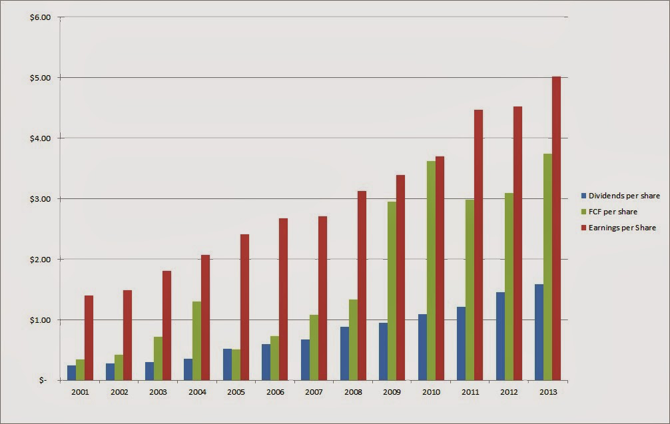 Wal-Mart's management has done a wonderful job in regards to cash flow. Operating cash flow has increased from $16.0B in FY 2004 to $25.6B in FY 2013. Capital expenditures have remained very consistent over the last 10 years, which has led to an overall increase in free cash flow. Free cash flow has increased from $5.7B in FY 2004 to $12.7B in FY 2013. That's an annual increase of 9.3%. The free cash flow after paying the dividend has been excellent as well, increasing from $4.1B to $7.3B. While lower than the FCF annual increase a 6.6% annual increase is still excellent. Wal-Mart FCF payout ratio isn't quite as good as the EPS payout and has been much more volatile as well. Over the last 10 years, the FCF payout ratio has averaged 53.3% but has been wonderful the last 5 years averaging 38.4%.

Return on Equity and Return on Capital Invested:
Wal-Mart's ROE has averaged a solid 21.1% over the last 10 years while the ROCI has averaged 14.8%. Return on equity has been fairly consistent too ranging from a high of 23.9% to a low of 18.3%. ROCI has ranged from 18.1% to 12.7%. The trend for both ROE and ROCI has been relatively flat which is the next best thing to increasing returns. This shows the consistency in Wal-Mart's operations and its ability to continually earn excellent returns for owners. However, the gap in ROE and ROCI has widened recently due to increased level, i.e. debt. Long-term debt has increased 500% since FY 2004 and consequently increased the LT debt-to-capitalization ratio from 12.7% in FY 2004 to 38.2% in FY 2013. Total debt to equity has increased as well from 0.39 to 0.67. The debt levels are still manageable but I'd like to see them start to come down when Wal-Mart reports earnings later this month.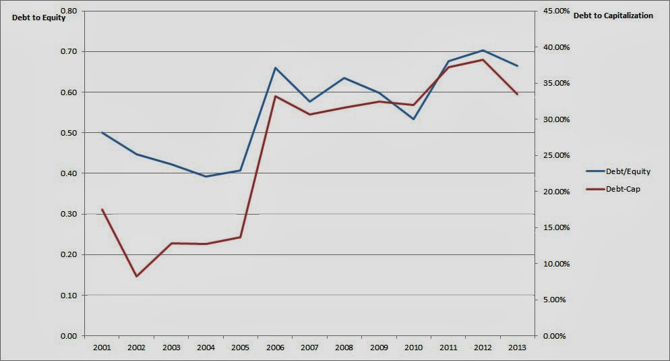 Revenue and Net Income:
Since the basis of dividend growth is revenue and net income growth, we'll now look at how Wal-Mart has done on that front. Revenue growth since the end of FY 2004 has been solid with a 7.0% annual increase growing revenue from $256.3B to $469.2 in FY 2013. Net income growth has outpaced revenue growth with a 7.3% annual growth rate increasing net income from $9.1B to $17.0B. Going forward revenue growth is expected to slow down to around 3.7%.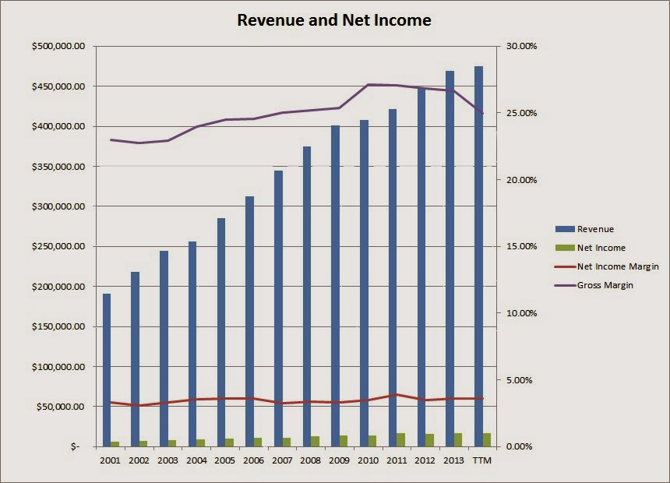 Forecast: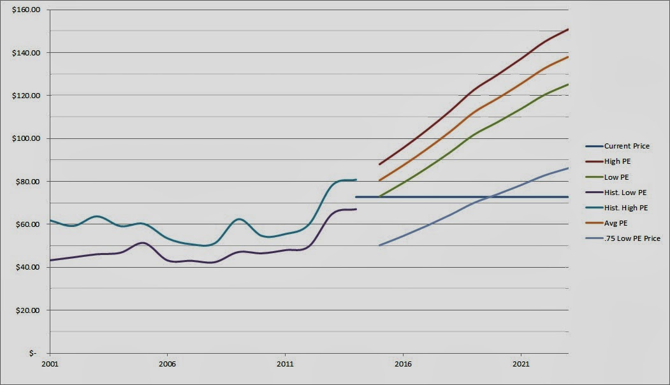 The chart shows the historical high and low prices since 2001 and the forecast based on the average P/E ratios and the expected EPS values. I have also included a forecast based off a P/E ratio that is only 75% of the average low P/E ratio. I like to the look to buy at the 75% Low P/E price or lower to provide for a larger margin of safety, although this price doesn't usually come around very often. In the case of Wal-Mart, the target low P/E is 12.95 and the 0.75 * P/E is 9.7. This corresponds to an entry price of $73.02 based off the expected earnings for FY 2014 of $5.64, with a 75% target price of $50.25.
Currently Wal-Mart is trading at a $22.48 premium to the 75% low P/E target price and a $0.29 discount to the low P/E price. If you look at the chart, you'll notice that the current price line intersects the average forward P/E line at 2014. That's good news for long-term investors and could mean that shares are currently trading at a good valuation as you're not paying for future growth at current prices.
Conclusion:
The average of all the valuation models gives a target entry price of $70.60, which means that Wal-Mart is currently trading at a 3.0% premium to the target entry price. I've also calculated it with the highest and lowest valuation methods thrown out. In this case, the DCF and Graham Number valuations are removed and the new average is $70.09. Wal-Mart is trading at a 2.6% premium to this price as well.
Assuming that Wal-Mart can grow earnings and dividends at the rates that I assumed, you're looking at solid returns over the next 10 years at current prices. In 2024, EPS would be $10.25 and slapping an average P/E of 14.27 gives a price of $139.29. Over the next 10 years, you'd also receive $39.32 per share in dividends for a total return of 145.6%, which is good for a 9.4% annualized rate if you purchase at the current price. If you purchase at the target entry price of $70.60, your projected 10-year total return increases to 153.0% for an annualized return of 9.7%.
According to Yahoo! Finance, the 1-year target estimate is at $83.32 suggesting that the share price has about 14.6% upside. Morningstar's fair value estimate is at $80.00 suggesting about 10% upside and has it rated as a 4 out of 5 star stock meaning it's under the fair value estimate.

There's not much to say about Wal-Mart as a company that hasn't already been said. It is the world's largest retailer, which speaks to the vision for Sam Walton. People want to buy things and if you can put it all in one place, even better. Whether you like the way Wal-Mart operates or not, Wal-Mart has been a great company for owners over the last 30 years. Wal-Mart's moat comes from its ability to demand cheaper prices on goods sold due to the size of its distribution network. If you want to get your products in front of the most people, you're going to have Wal-Mart carry your wares. Over the last decade Wal-Mart has started providing a full grocery store in most of the storefronts in order to draw more customers. How many other stores can you go and get your food for the next week, a bicycle, a garden hose, a dog toy, and a vacuum cleaner? There's not many and the one-stop shop experience draws in customers.
The biggest threat to Wal-Mart comes from Amazon (NASDAQ:AMZN) and its ability to undercut Wal-Mart on prices. Every year more and more sales are going to Amazon out because of the convenience factor. You can order whatever you need from your phone, tablet, or computer. This is something to keep an eye on in the future, but Wal-Mart has its own internet presence and plenty of time to work through its strategy to combat Amazon.
Overall, I feel that Wal-Mart offers pretty good value at current levels. Wal-Mart is trading at a discount to its peers of Costco and Target and on a historical relative basis to itself. Dividend growth should still be excellent in the short to medium term with annual growth in the 8-15% range. There's still room for further expansion both in the United States and abroad to provide further catalysts of growth. In the United States, stores are getting smaller and more concentrated; whereas in overseas expansion the super stores are the main layout as well as growth through acquisition.
What do you think about Wal-Mart as a dividend growth investment? How do you think the long-term dividend growth prospects are?
Disclosure: I am long WMT. I wrote this article myself, and it expresses my own opinions. I am not receiving compensation for it (other than from Seeking Alpha). I have no business relationship with any company whose stock is mentioned in this article.
Additional disclosure: I may add to my position in the next 72 hours. All charts/images are sourced from my personal stock analysis spreadsheet.