John A. Epeneter's C.A.R.E. Asset Management and Strategies, based in Maynard, Mass., is an independent fee-only financial advisory firm managing individual portfolios. John is an RIA and CFP who also has more than 40 years of public accounting experience, serving nonprofit organizations, software consulting and development firms, wholesalers, retailers, manufacturers, professionals, and high net worth individuals.
Seeking Alpha recently had the chance to ask John about his current highest-conviction holding.
To start with, please tell us a bit about your investment approach.

In addition to best-in-class mutual fund holdings, we favor selected world-class, franchise, high-barrier-to-entry companies. We also like to diversify into arbitrage funds, commodities, bonds and REITS.
We also specialize in tax minimization, retirement planning and college planning. Our goal is to make risk management the first priority, and return on investment secondary.
What is your highest conviction stock position, long or short?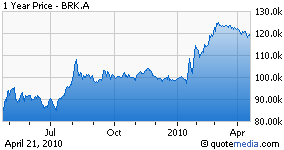 It's Berkshire Hathaway (NYSE:BRK.A), the holding company owning diverse subsidiaries. Operating decisions are made by managers of the business units with minimal direction from Warren Buffett and Charlie Munger. Profits are forwarded to the front office, where Buffett takes over the capital allocation function.
The overall gain in the price of the stock since 1964 is 434,057% or 20.3% compounded annual gain versus 5,430% or 9.3% for the S&P 500 with dividends included. The Class A and B shares sell for roughly 1.2 times book value. Buffett and Munger believe the company's book value understates intrinsic value, but they do not give their opinion of intrinsic value in the annual report, nor have they ever published it.
To what degree is this a pure bottom-up pick, as opposed to the sectors Berkshire's exposed to?
This is a bottom-up pick because of the wisdom and value-oriented philosophy of Warren Buffett and Charlie Munger, two of the brightest minds in the investment world. Their personal holdings of Berkshire stock constitute 98% and 80% of their own investment holdings, giving outside investors comfort in knowing how committed these two gentlemen are.
As far as I am concerned, Berkshire has a wide moat, has significant competitive advantages, and is a world-class franchise to own.
Let's talk about valuation. How does valuation compare to Berkshire's competitors?
Valuation is difficult to talk about because Berkshire is a conglomerate whereas other insurance companies tend to focus on just insurance. We have not attempted a comparative value of Berkshire on the basis of P/E or EBITDA, although others have attempted that analysis.
So how might you approach valuation differently from others? Like you note, others have tried but many critics say for example that EPS isn't a good tool to evaluate Berkshire - they'd rather look at metrics like book value growth.
We acquired Berkshire Hathaway Class B stock for most of our portfolios on Nov. 9, shortly after the Burlington Northern acquisition raised the distinct possibility that Berkshire Hathaway would have to be added to the S&P 500 to replace Burlington Northern. The assumption, which proved to be correct, was that index buying would raise the price enough to create some margin of safety. Frankly, a computed valuation was a distant second consideration in terms of a decision driver. The key assumption was that the businesses owned by Berkshire would improve as the economy improved.
We like the diverse management structure, the diversification of businesses and we like the Buffett-Munger combination at headquarters. We also wanted to own some of the consumer brand public companies indirectly, much like a decision to buy a certain mutual fund because of the type of holdings. After the Great Recession of 2007-2009, we are stressing diversification more and more.
That said, we believe the valuation on Dec. 31, 2009, is somewhat supportive of the purchase decision. We say "somewhat" because we don't believe it is possible to more strongly rely on anything less than a sophisticated approach to valuing this complex conglomerate. Let's consider what might drive the construction of a complex quantitative valuation model. Berkshire has over 70 diverse businesses with different historical P/E ratios, ROE ratios, profit margins, discounted cash flow, book value ratios, and earnings growth, just to mention a few differences.
In 2009 insurance premiums earned were only 24.7% of total revenues, so trying to characterize Berkshire as an insurance company won't work. Sales and services constitute 65.7% of revenues. Investment income makes up the rest. We guess the model would have to separately consider 68 different businesses, an insurance business, and an investment company business. Then find a way to weight the results. Is it any wonder that Warren and Charlie explicitly refuse to adopt any intrinsic valuation model? If they can't or won't do it, why would we attempt it?
Nevertheless, historical financial ratios can be useful in a less-than-confident attempt to compare Berkshire with other financial ratios. The reader should bear in mind that Buffett has said that book value far understates Berkshire's intrinsic value, although meaningless as an indicator of intrinsic value. Despite that disclaimer, here are a few of the historical ratios that provide some basis for comparison, the first of which is book value compared to the S&P 500 values:
| | | | |
| --- | --- | --- | --- |
| Berkshire financial ratio type | Ratio or Amount | Comparative to S&P 500 | Ratio or Amount |
| Book value at 12/31/2009 | $84,487 | Market value at 12/31/009 | $99,200 |
| Book value ratio, same date | 1.17 | Book value, same date | 2.2 |
| Highest book value ratio, last 10 years | 2.0 | Highest book value ratio, last 10 years | 3.3 |
| P/E Ratio, 12/31/2009 | 19.1 | P/E, 12/31/2009 | 25.1 |
| Average P/E ratio, 10 years | 18.9 | Average P/E fro 1871, according to J. Siegel's study | 15.0 |
| Price to cash flow, 12/31/2009 | 9.7 | Price to cash flow, 12/31/2009 | 9.1 |
| Price to sales, 12/31/2009 | 1.4 | Price to sales, 12/31/2009 | 1.2 |
When we look to the future's impact on valuation, we like the disciplined underwriting, the durable competitive advantages, excellent deployment of cash, and the stable predicted annual operating earnings growth of 7%. Margins have been trending higher in the last 15 to 20 years and we expect the trend to continue. We like the possibility of a recovery in consumer discretionary businesses, of which Berkshire has a significant share. We like the recent emphasis on energy-related investments and believe a spike in energy prices, as OPEC production drops, will benefit those businesses.
The book value per share gained an average of 14.5% during the post-recessionary period of 2003-2006 while the gain during the 1999 to 2002 period averaged 2.7%. We expect to see a duplication of the historical post-recession acceleration of book value per share during the next four years. Buffett expects to outperform the S&P 500, as he has since the inception of Berkshire, delivering at least $1 of increased market value for each $1 of increased book value.
A sampling of valuation methods gives us this range of values. A 14.5% rise in book value at the same ratio as existed at the end of 2009 indicates a market value of $113,500 by the end of 2010. An expansion of the book value ratio to a more "normal" 1.6 indicates a year-end value of $154,800. A P/E ratio of 19 times a 14.5% increase in net earnings would indicate a year-end value of $113,000. A 7% rise in revenue times the price to sales ratio of 1.4 would indicate a year-end value of $168,500.
Morningstar analysts give Berkshire a present value of $131,000. Class A shares are currently trading at $118,000 and Class B shares are trading at $78.96. Our own discounted cash flow estimate computed $146,000 per share, assuming 14.5% earnings growth, 10% cost of capital, and the same CAPEX as in 2009. As you can see, determining intrinsic value can be quite imprecise.
What is the current sentiment on Berkshire? How does your view differ from the consensus?
I would be guessing about sentiment in the marketplace. Clearly, Buffett has many admirers and I believe that carries over to the stock price. I can think of no company where the stockholders' annual meeting is attended by over 35,000 owners, has a five-hour Q&A period, needs to be held in a stadium which already is too small, generous allowance for shopping time for Berkshire products in a 194,300-square-foot hall, and basically has become the Woodstock for investors. [The 2010 meeting is set for May 1.]
So it's safe to say management plays the biggest role in your position.
The company's management is everything. I wouldn't be an investor in Berkshire if it wasn't for strong management. I will still hold the stock when Warren dies, because the management structure is a great model of effective and slimmed-down corporate headquarters staff.
They have only 21 people, including Warren and Charlie, in the Omaha home office. The business unit managers are all independently wealthy and are in it for the challenge, keeping them from choosing golf or fishing, as Warren likes to say. The price movement of the stock of this company is dependent on both the economy and management skill.
In addition, the trend in allocation of capital to energy-related businesses and away from strong consumer brand companies is instructive. Clearly, the wise, well thought out energy policy of this country (or lack thereof), worldwide demand, and scarcity have been influential in Buffett's recent decisions; particularly noteworthy is the Burlington Northern acquisition, and that is a change I am in favor of.
So will it make no difference to you whether a favorite like MidAmerican Energy Chairman David Sokol eventually takes the reins? If the key to Berkshire is allocating capital, can Sokol or anyone effectively fill Buffett's shoes?
Buffett has a succession plan, although he espouses a goal of outliving Methuselah. None of his stock will need to be sold to pay for estate taxes because he is giving most of it to foundations in installments over a dozen or more years. His family will help pick the two managers to replace him, one to be CEO in charge of operations, and the other an investment manager to oversee the investments.
Buffett has already made recommendations for these two individuals, and media attention has focused on David Sokol, who turned around Netjets. Ajit Jain, manager of National Indemnity's reinsurance operation, is mentioned as a superstar by Buffett, although the media has paid little attention to him. Of him, Buffett said, "If Charlie, I and Ajit are ever in a sinking boat - and you can only save one of us - swim to Ajit." Buffett also insists that succeeding managers will preserve the 13 owner-related principles that have guided Berkshire over the years.
It is certainly arguable that Buffett's ability to pounce on investments when fear is at a peak might be irreplaceable. However, as the businesses owned by Berkshire grow, the significance of initial margins of safety on new investments may become less important to the total picture.
What could go wrong?
I will offer a few things. A painfully slow economy, significantly higher tax rates to pay down the U.S. debt or reduce budget deficits, higher insurance claims, significantly higher interest rates, decline in the value of the dollar, increases in wholesale electricity, gas, and fuel not recoverable by rate increases which would affect mainly the MidAmerican subsidiary, and losses on derivative contracts.
What about those derivatives? Buffett once called derivatives "financial weapons of mass destruction," but then Berkshire has invested in them (for example, the long-term equity puts).
On Dec. 31, derivative contract assets amounted to $4.6 billion and derivative contract liabilities amounted to $9.2 billion. The contracts are entered into with the objective of making money and are not designated as hedges. Berkshire has had net gains during 2005-2009, even with the $6.8 billion loss in 2008.
There were no counterparty credit risks as premiums are received in full. Equity index put options protect the company against stock market declines. Credit default contracts protect the company against default risk on debt of state, municipal, and corporate issuers. The exposure does not concern us. We assume Buffett and his investment managers learned their lessons when they lost $6.8 billion in 2008.
Is there reason for Berkshire investors to be concerned about ongoing losses in the reinsurance market, and insurance markets in general?
Out of total revenues of $112 billion, reinsurance revenue for Berkshire totaled $12.5 billion during the latest year 2009. Reinsurance revenue has declined over the last three years, and of course that's a disturbing trend, but so has the economy. According to a Reinsurance Association of America report dated January 1, 2010, pricing is down from 5% to 15% due to ample supply of reinsurance capital. However, in a report dated March 11, 2010, Morningstar reports the market is "hardening."
Berkshire can pick and choose its contracts. It did that in 2009, and will probably do it again in 2010. We believe that it's reasonable to expect reinsurance premium revenue to at least stabilize in 2010 as the economy slowly recovers.
Thanks, John, for detailing your thesis for us.
Disclosure: C.A.R.E. Asset Management and Strategies is long BRK.A and BRK.B.
Read more High Conviction Picks »
If you are a fund manager and interested in doing an interview with us on your highest conviction stock holding, please email Rebecca Barnett.