By David Russell
Tesoro (NYSE:TSO) has fought back from bearish raids in recent sessions, and one trader is betting that the floor is in.
optionMONSTER's tracking systems detected the sale of 1,400 November 11 puts for $0.85 and 1,400 November 10 puts for $0.55. Volume was more than 10 times open interest in both strikes.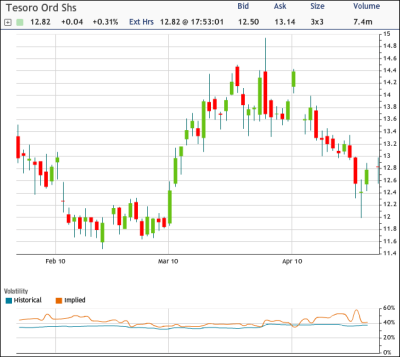 TSO rose 0.31 percent to $12.82 yesterday but is still around the same price where it traded when the stock market bottomed in March 2009. The oil refinery has been languishing along with most of its rivals as investors priced in weak demand and capacity cuts.
The option trade reflects a belief the stock has limited downside, taking place after bears drove the stock lower on Monday and yesterday. TSO quickly rebounded from both declines, suggesting that selling pressure is abating.
Short interest represented about 10 percent of the float as of March 31. Covering of those positions could help drive the shares higher if they begin to rally.
The put seller also stands to benefit from lower implied volatility on the stock, which will reduce the value of the contracts sold short. TSO's implied volatility stands at about 42 percent, compared with about 16 percent for the S&P 500.
The company is scheduled to report first-quarter results after the bell on April 29. Its last report was significantly worse than analysts had expected, prompting management to suspend dividend payments.
Overall options volume in TSO was about twice the average level yesterday.
(Chart courtesy of tradeMONSTER)