Shares of Career Education (NASDAQ:CECO) have been trapped below $40 since 2006, but one trader is positioning for a pop above that level this summer.
optionMONSTER's Heat Seeker tracking system detected the purchase of 3,800 July 40 calls for $1 at the same time that a block of 1,900 July 35 calls was sold for $2.80 against open interest.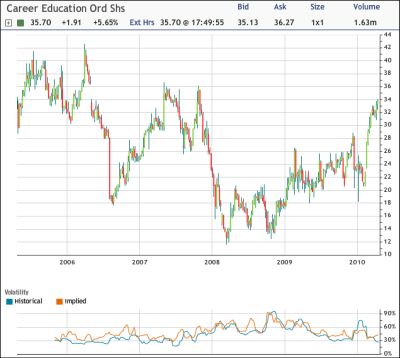 The transaction apparently resulted from an investor unloading an existing position in the calls and rolling up to a higher strike. The strategy allowed him or her to recover $0.80 of premium while providing more exposure to a big move because the number of contracts doubled.
CECO rose 5.65 percent to $35.70 yesterday and is up 51 percent this year. The for-profit education company has been ripping higher since February 18, when its earnings and revenue beat forecasts and management issued a bullish growth outlook. It received a further boost on April 13 when Credit Suisse upgraded rivals including DeVry (NYSE:DV), citing an improved regulatory backdrop.
The call roll on CECO will add leverage on a close above $45. If the shares rally to $50 by expiration, the new position will be worth $3.8 million while the old trade would have only been worth $2.85 million. At $55, the advantage will widen to $5.7 million versus $3.8 million.
It's also possible that the sale of the July 35 calls didn't represent the close of an existing position. In that case it would be a backspread, another strongly bullish strategy.
Overall options volume in CECO was 18 times greater than average yesterday, with calls accounting for 77 percent of the activity.
(Chart courtesy of tradeMONSTER)
By: David Russell