By Bryan McCormick
US stock index futures are lower after weak sessions in Asian, eurozone, and UK markets. Concerns persist over the tightening of China's economy, and the potential for yuan revaluation is pressuring Hong Kong stocks in particular.
In Europe, the Greek debt crisis has come back to prominence after the European Union suggested that the depth of the problems is worse than thought. Banking shares took a hit for the second day in a row because of those concerns. Credit Suisse (CS) turned in earnings results that were below expectations, sending its shares down well over 5 percent and lowering stocks in the sector across the region.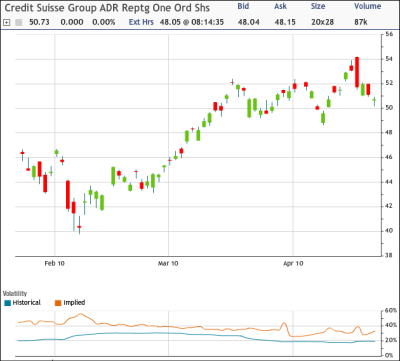 Weakness in financials is a theme that appears to be crossing into U.S. markets as well, but those stocks aren't the only trouble spot. Technology shares are also down after far worse-than-expected results from Nokia (NOK) and disappointing outlooks from Qualcomm (QCOM) and eBay (EBAY).
Stronger results from Starbucks (SBUX) and Netflix (NFLX) are not strong enough at the moment to overcome that weakness. Semiconductor names, which had managed to break out after Intel (INTC) reported last week, were adrift on mixed news in the group with Cree (CREE) setting the negative tone despite better results on the earnings front.
In sum, it is once again a mixed bag at a time when markets needed unified momentum to move substantially higher.
The thick of earnings news for the SP 500 this week will come today. A few of the more notable names reporting include Amazon.com (AMZN), American Express (AXP), Capital One (COF), Kimberly-Clark (KMB), Marriott (MAR), Microsoft (MSFT), Nucor (NUE), Philip Morris (PM), PepsiCo (PEP), Sherwin-Williams (SHW), Union Pacific (UNP), and Western Digital (WDC).
Disclosure: No positions