By Sumit Roy
Natural gas was last trading down by almost 2 percent to $4.95/mmbtu after the Energy Information Administration reported that operators withdrew 262 billion cubic feet from storage last week, below most analyst estimates, which were 270 bcf and above. However, the previous week's draw was revised up from 230 to 238 bcf.
The latest withdrawal was well above last year's draw of 118 bcf, and the five-year average draw of 139 bcf.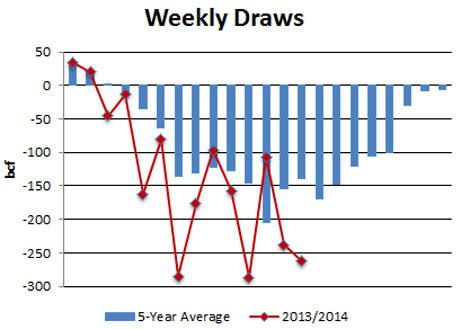 In turn, inventories now stand at 1,923 bcf, which is 761 bcf below the year-ago level and 579 bcf below the five-year average (calculated using a slightly different methodology than the EIA).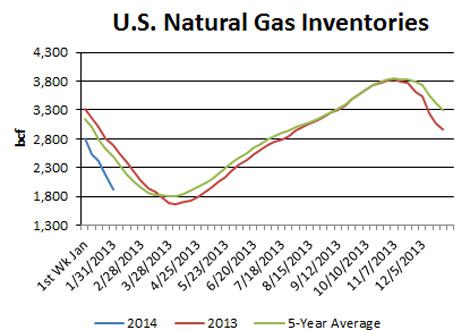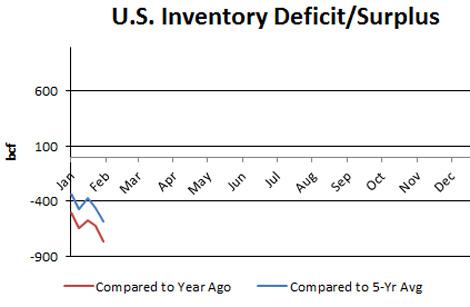 The weather last week was much colder than normal.
According to the Edison Electric Institute, utilities generated 85,687 GWh in the week ending Feb. 8, which was 12.2 percent above the same week a year ago.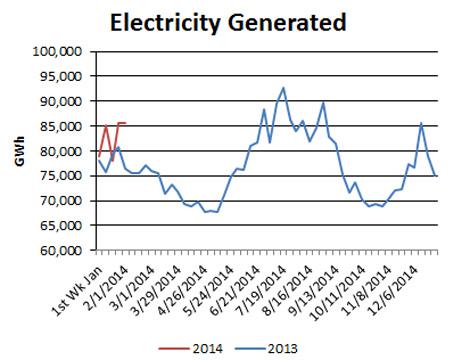 Looking forward, the NOAA's 6- to 10-day outlook calls for more colder-than-normal temperatures over the eastern half of the country, a trend consistently seen since December
NOAA 6- TO 10-DAY OUTLOOK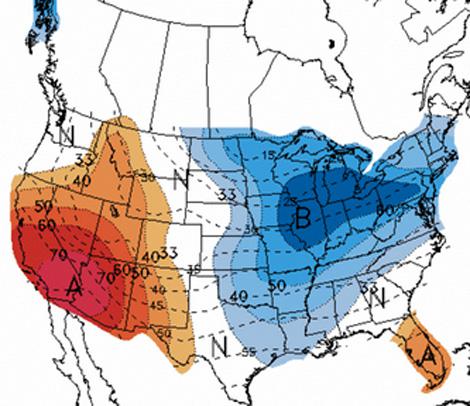 Meanwhile, the number of rigs drilling for natural gas in the U.S. rose by two to 358 last week.
Natural Gas Rig Count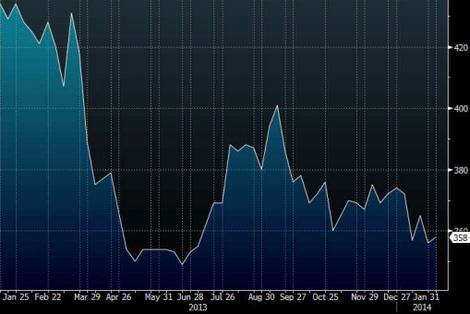 Natural Gas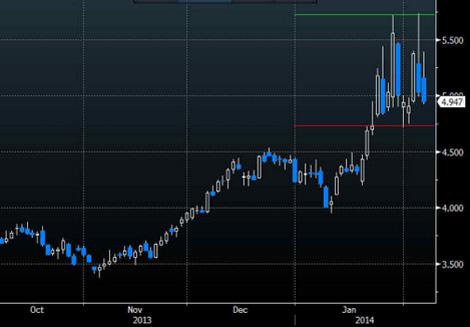 The latest inventory data from the EIA were bullish since the inventory deficit against the five-year average rose from 456 to 579 bcf.
Based on the weather forecasts, the deficit will continue to expand over the next two reporting weeks, and will likely end up between 700 and 800 bcf by mid-February. Assuming normal weather thereafter, inventories will be on pace to trough at 1,000 to 1,100 bcf in March.
The question now becomes whether cold weather will extend into the end of February and March - pushing inventories below 1,000 bcf-or not. And in either case, will we see rapid injections during the spring and summer in reaction to higher natural gas prices?
In our view, natural gas prices should be supported near $5 given the base case of a 1,000 bcf trough. If cold weather pushes inventories even lower, prices may rally above $6 in the short term.
But from the longer-term perspective, the pace of inventory injections in April and May are going to be the key driver of prices. Inventory builds must increase significantly from last year's pace to refill inventories, which will be 700 bcf or more below last year. The market anticipates it will happen, but if it doesn't, natural gas may surprise many by rallying in the low-demand shoulder season.
Bottom Line: The weather outlook for the second half of February and March will dictate short-term price movements, while the pace of injections in April and May will shape the outlook for the rest of the year.