With its year-end and fourth quarter earnings release conference call the management team from Plains All American Pipeline LP (NYSE:PAA) focused on the company's guidance for 2014. The take-away from the discussion is that PAA will stick with its policy of steady and moderate distribution growth to protect the company's financial strength against any problems that may develop in the crude oil E&P sector. With its conservative forecasts, Plains All American Pipeline provided EBITDA guidance that is lower than the results produced in 2013.
Note: Master limited partnerships are not corporations, so investors in an MLP own units and not shares. Income payments made to investors are distributions and not corporate dividends. However, to keep things moving along and not become repetitive, the words shares and dividends may be used in this article with an understanding that the use is not technically correct.
Decline in Commodity Based Results Expected
Plains All American Pipeline divides operations and financial results into three segments. Crude oil Transportation and Facilities - storage and fractionation - are both primarily fee based businesses, which makes up about 75% of EBITDA. The third segment, Supply & Logistics, is margin-based business with results based on the company's trading of crude oil and natural gas liquids. With its 2014 guidance, PAA expects fee based EBITDA to increase by 15%. However, the forecast results for the Supply & Logistics segment is an EBITDA drop of $338 million to $555 million, down from last year's $893 million. Total company EBITDA guidance for 2014 is $2.15 billion compared to $2.292 billion earned in 2013.
In the conference call, the reason for the drop was attributed to PAA's policy of basing the forecast on what the company considers to be "normal" results for the segment. As a result, the EBITDA guidance can be viewed as a baseline number with the possibility that results could be much better if the variable part of PAA's business is more profitable than in a typical year.
In spite of the lower forecast EBITDA, Plains All American Pipeline plans to increase the distribution rate by 10% over the year with at least a 1.1 distributable cash flow coverage ratio.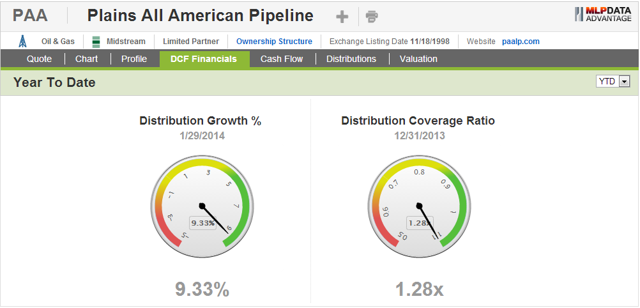 Click to enlarge
Extra Cash Flow Goes to Capital Spending
In the years when Plains All American Pipeline does end up with above guidance EBITDA, the company refrains from using the extra cash to boost the dividend rate. Instead, excess cash flow is used to pay for a portion of the capital growth spending for the year. For last year, PAA ended up with a 1.28 coverage ratio and $494 million of excess cash flow. During the conference call it was noted that the equity side of capital spending was funded entirely by the excess cash flow and the company's use of its ATM share issuance program. The use of excess cash flow towards capital spending should produce long-term benefits to investors of lower unit dilution to fund growth spending and stability of the distribution growth.
The 2014 guidance of lower EBITDA and distributable cash flow does raise the concern that a lower amount of excess cash flow - compared to recent years - could affect growth capital funding. With a lower amount of excess cash flow, equity capital must be raised by either a formal share offering or increased use of the ATM. If excess cash flow above guidance is realized, the results will show up in the 1st and 4th quarters of 2014.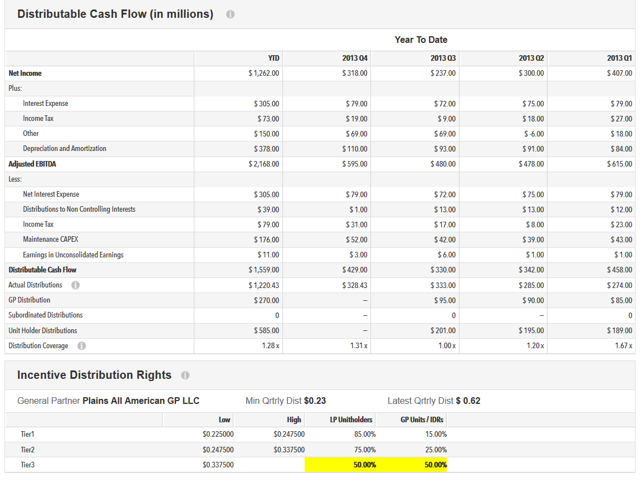 Click to enlarge
Conservative Balance Sheet Would Allow Opportune Acquisitions
Also discussed on the call was how the balance sheet had been managed to a current low level of debt relative to the company's target levels. The current 3.1 debt/EBITDA ratio is well below the 3.5 to 4.0 target range. Chairman and CEO Greg L. Armstrong noted that the low level of debt means that PAA could write a check for $1.5 billion to make an acquisition and still keep the ratio at 3.75, without consideration of any EBITDA the purchase would produce.
Armstrong further discussed that the purchasing power was being maintained to take advantage of any disruptions in the energy or financial markets that would allow PAA to buy assets without much competition for the purchases and possibly pick up complementary assets or complete companies at a discount to current valuations.
Conservative Distribution Growth to Count On
From both the 2014 guidance and the conference call discussion, it is apparent that a high priority for Plains All American Pipeline is to produce a 10% annual distribution increase even if the company's business faces unexpected headwinds over the next few years. The planned $1.7 billion of 2014 capital growth spending will produce increasing EBITDA in 2015. If problems arise in the oil patch due to low crude prices or other reasons, the company is set to jump in and make acquisitions.
PAA has a current yield of 4.8%, which means an investor will earn just over 5% over the next four quarters. The major appeal of PAA is the highly dependable 10% distribution growth, year after year. Also covered was the distribution guidance for recently IPO'd Plains GP Holdings LP (NYSE:PAGP). PAGP participates in the PAA general partner incentive distribution rights payments and the dividends should increase by 25% this year from the initial rate set at the IPO.
Disclosure: I have no positions in any stocks mentioned, and no plans to initiate any positions within the next 72 hours. I wrote this article myself, and it expresses my own opinions. I am not receiving compensation for it (other than from Seeking Alpha). I have no business relationship with any company whose stock is mentioned in this article.