Thursday's market action is reminding investors that risk is still an important issue to consider. For months, the market has continued to march higher with very few pullbacks and decreasing volatility. This kind of trade can lull investors toward complacency and make markets vulnerable to a sharp "shock to the system" when surprising news causes too many investors to hit the exits simultaneously.
One of the three most speculative (and potentially dangerous) areas appears to be investments in Chinese companies showing attractive growth. With the nation reporting strong GDP growth and the middle-class consumer population expanding rapidly, many investors are willing to pay exorbitant prices to get a piece of the action.
Ctrip.com Intl Ltd. (CTRP) is a healthy, growing China travel company with a business model similar to Expedia.com (NASDAQ:EXPE) or Priceline.com (NASDAQ:PCLN). The company has seen growth accelerate coming out of the financial crisis as China travel has gotten a healthy boost. In March, CTRP broke out to a new high, exciting the bulls – only to be turned back as China stocks fall under pressure.
There is a specific catalyst brewing which could technically become an Achilles heel for the stock on a short-term basis. On March 4, the company announced that they had sold 5.7 million ADRs to the public at a price of $36.00. Goldman Sachs (NYSE:GS) was the book runner on the deal and likely distributed the shares to favored clients. The deal was well accepted to begin with, and initially investors made a double digit percentage return on the new shares.
But as the stock trades lower, CTRP is once again approaching that break even price where investors picked up the new shares. There is nothing magical about the $36 price or any other point on the chart, but the interesting thing about markets is that they are dictated in the short-run by human emotions and cycles of fear and greed.
Investors who bought at $36 and were initially shown a strong profit, are much more likely to get discouraged and dump the shares if this price point is broken. This is just as true for institutional investors as it is for individuals – I know – I've been on both sides of the desk… So if CTRP crosses below this line, it could be a catalyst which would ignite a much more dangerous drop in the stock.
Valuation and Sentiment Add Fuel to the Fire
For quite some time now, CTRP has been trading at a valuation that some consider unsustainable. At today's price, investors are paying $40 for every dollar CTRP is expected to earn in 2010, and it's difficult to have much confidence in the 30% gain projected for 2011. Such high valuation isn't necessarily enough reason for investors to immediately sell, but if the pattern changes and the trend becomes negative, investors will have a harder time justifying a position in a stock with a multiple of 40.
Sentiment surrounding China is also a bit of a concern. From all that I read, it appears that investors are anxious to gain exposure to this vibrant growing economy. But the political risks, currency issues, fiscal policy disconnects between China and the US, and the mounting evidence of a real estate bubble in China all cause concern.
This week CTRP has had two high volume negative days as the stock broke through the 50 day average and has briefly touched the $36 level. I would suggest watching this price point carefully as the immediate danger would be for the stock to trade to its February low of $30 – and potentially much farther if broad sentiment begins to shift.
As always, manage your risk carefully. There are many ways to structure a short play on CTRP – including using options, inverse ETFs or other methodologies to offset risk. The danger of CTRP breaking to a new high should not be ignored, but the shifting trend appears to favor the bears on this speculative name.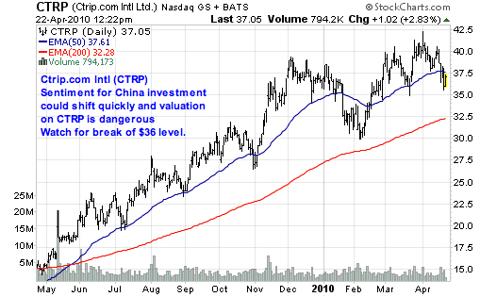 Click to enlarge
Full Disclosure: Author has short positions in client accounts