BreitBurn Energy Partners (BBEP) is increasing its total oil reserve to improve profitability, as the crude price is improving in the U.S. BreitBurn is shifting its focus towards oil to offset the lower price of natural gas. With continuous acquisitions, BreitBurn successfully added oil reserve since the beginning of last year and expects to continue the same this year too. BreitBurn increased its total proved reserves to 190.8 million barrels of oil equivalent (mmboe) in 2013 from 149.4 mmboe in 2012. The company's current reserve includes 57% of oil, 38% of gas, and 5% of NGL, with a long production life of more than 15 years, signifying long-term production availability from its wells. As the total reserve contains higher percentage of oil, BreitBurn is expected to increase its oil production in coming quarters. Also, as the U.S. crude price is improving, I expect the company to strengthen its financial performance going forward. As a result of its increasing reserve base, it had 94% improvement year over year in its total liquid production to 1.9 mmboe during third quarter.
To continue increasing reserve, BreitBurn will acquire mature acreage with long reserve life that reduces the volatility of a well's production level. The company has a strong presence in various oil- and gas-producing fields, such as in Texas, Wyoming, Michigan, and Oklahoma. Moreover, as these acquired acreages mature, BreitBurn will maintain low capital expenditure on well maintenance, which in turn will help the company to spend more on acquisitions. As the company is engaged in acquiring high-quality oil and gas assets in major U.S. oil fields, I expect BreitBurn will grow its total reserve robustly. Also, with increased reserve capacity and expected production growth, it should continue its steady distribution over the longer term.
Why Permian?
The Permian shale in Texas is the only operating region of BreitBurn, which is also the key growth driver for the company. The company had spent most of its capital in this basin in 2013 and expects to continue the trend as shown below. Currently, the Permian basin is booming in total oil production and is estimated to account for 22% of total cumulative tight oil production between 2012 and 2040.

Source: Company presentation
BreitBurn has total net acreage of 8,791 in its Permian shale, with 90 gross producing wells. The company's Permian formation resource mix is diversified, constituting 59% oil, 20% NGL, and 21% gas as shown below. BreitBurn focused more on the Permian basin than on other assets to meet its target increase in total oil reserve. Fifty-nine percent of this formation currently consists of oil and BreitBurn is expected to increase its total oil reserve with this going forward. I expect with the increasing oil reserve, BreitBurn will increase its total oil production in coming quarters and thus strengthen its top line.
Permian Estimated proved reserves by resource mix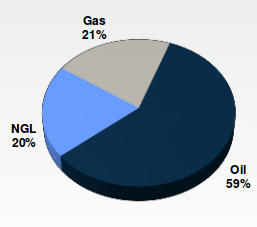 Source: Company presentation
Recently, BreitBurn closed an acquisition agreement with CrownRock LP to acquire some of its Permian acreage. This successful acquisition enables BreitBurn to increase its total estimated reserve base by 16.6 mmboe. This acquired acreage reported 2,900 barrels of oil equivalent per day (boepd), constituting around 60% of oil. Moreover, this acquired asset will provide BreitBurn around 300 potential drilling locations and 93 currently producing wells. The company will likely witness a higher liquid production in coming quarters with these acquired Permian wells along with a long estimated reserve life of 15 years.
Apart from this, BreitBurn also completed another acquisition -- Lynden Energy (OTCPK:LVLEF) -- in January. Through this acquisition, BreitBurn extended its Permian acreage and total proven reserve of around 1.1 mmboe. Lynden reported total production of 190 to 200 boepd in the 403 acres it sold. So with the added acreage and proven reserve BreitBurn can increase its total oil production, which in turn will help the company to increase its total distribution to unit holders.
Continue growth in distribution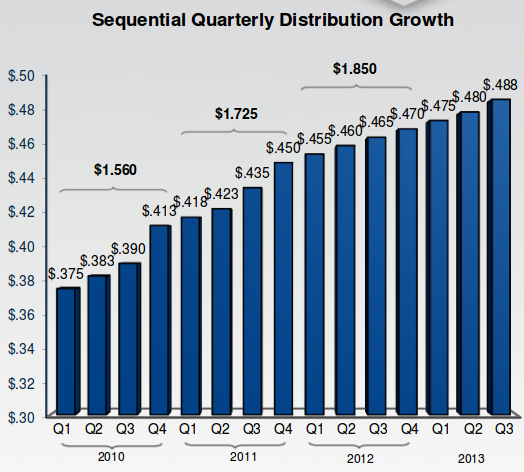 Source: Company presentation
Along with its growing oil production and total estimated reserve base, BreitBurn successfully increased its cash distribution to the unit holders since 2010. Its acquisition of matured and producing well acreages drive the company's cash flow, that has helped BreitBurn to increase its distribution to unit holders in every quarter. BreitBurn has also maintained a steady debt repayment structure through last year despite higher cash distribution, a positive long-term sign for the company. Previously, BreitBurn distributed cash quarterly, but the company started cash distribution monthly in November. This is impressive from the investor's perspective. Its monthly distribution in January was $0.1642, for a distribution yield of 10.24%. This increased distribution clearly indicates that the BreitBurn's focus on matured and increasing oil-producing assets will also ensure improve long-term financial performance of the company moving ahead.
Conclusion
With its increasing oil reserve base, BreitBurn is expected to strengthen its production in coming quarters, and increasing its footprint in Permian acreages through acquisitions will provide long-term growth. Moreover, I expect the company's robust growth in reserve base and production will continue strengthen its distribution in coming quarters also. I recommend a buy on this stock.
Disclosure: I have no positions in any stocks mentioned, and no plans to initiate any positions within the next 72 hours. I wrote this article myself, and it expresses my own opinions. I am not receiving compensation for it (other than from Seeking Alpha). I have no business relationship with any company whose stock is mentioned in this article.