Phillips 66 (PSX) is strengthening its long-term financial performance with its growing refining segment. This segment witnessed earnings of $450 million in the recent quarter, which compensated the effect of the $2 million loss in the previous quarter. This improvement in refining earnings was possible due to the higher margin realized on crude of around $10.75 per barrel worldwide, which is higher than the margin realized during third quarter of around $6.14.
Phillips 66 has witnessed refinery margin improvement largely in its U.S.-based refineries, which include the Gulf Coast, central corridor and western Pacific. This improvement in the U.S. refining margin counterbalanced the lower refining margin in its Atlantic Basin refinery of $5.12, which was comparatively lower than $6.59 during its third quarter. The crude type used in the company's Atlantic Basin refinery is priced upon Brent. As the Brent crude price is higher than any other types of crude, the realized refining margin was less for Phillips 66 in this region.
Although in October, the refining margin was lower due to the strong crude prices against weaker gasoline, and a higher Renewable Identification Number (RIN) price, the U.S. Gulf coast region crude margin was still up by $0.2 per barrel. Continuing with that, in the recently disclosed quarter result, Phillips 66 realized $9.84 per barrel as the refining margin was more than double compared to previous quarter. As U.S. domestic crude oil production is flourishing in Eagle Ford and Bakken, the company's position in the U.S. Gulf coast will be favorable. It will help to access lower-priced domestic crude, which in turn helps to achieve a steady refining margin. Additionally, Phillips 66 will reduce its dependency on crude oil imports with the new TransCanada (TRP) pipeline. This pipeline will supply crude from the oil hub in Cushing, Oklahoma, to the U.S. Gulf coast refineries, including Phillips 66's. It has the maximum potential to transport 830,000 barrels of crude oil per day, although this company is projecting to transport 520,000 barrels per day for the first year. It will help the company to access more cost-advantaged crude and increase the refining margin. So, I expect Phillips 66 will improve margins with these advancements in coming quarters.
In the last quarter, Phillips 66 U.S. refineries added light and medium crudes in its crude slate. Crude slate is the list of all crude types processed by the refinery. The company added the most advantaged U.S. crude, such as Light Louisiana sweet (LLS) and Alaska North slope (ANS). These crudes are traded on heavy discount to Brent at $16.01 per barrel, $5 per barrel respectively. As a result, the total US advantaged crude slate grew to 94% from 66% quarter over quarter as shown below. Apart from that, the company primarily uses Western Texas Intermediate (WTI) crude for its refinery purpose. WTI is also traded at a discount to Brent, of around $12.94.
Phillips 66 U.S. advantaged crude slate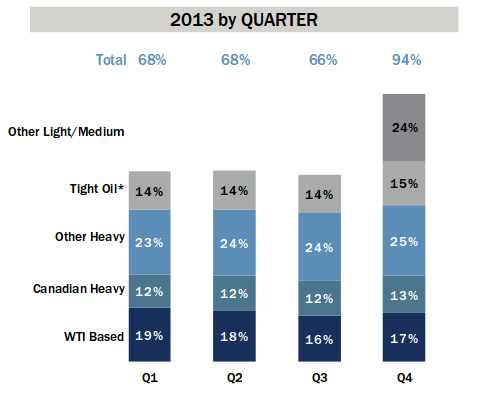 Source: Company presentation
Although Phillips 66 has witnessed a lower margin in its Atlantic Basin and overseas refineries due to the high Brent crude price, it still has a promising outlook in coming quarters with its U.S. based refineries. With the new pipeline transport and increasing oil production in the Eagle Ford and Bakken, more oil will be directed towards the Gulf Coast for refinery purposes. So, it would help Phillips 66 to access more cost-advantaged crudes in coming quarters along with a better refinery margin in its U.S.-based refineries.
Will the EPS grow with share buyback?
Phillips 66 continues with its share buyback program to increase the return to its shareholders. The company had already bought $2 billion worth of shares as of October 2013 under its $5 billion authorized share buyback program since the third quarter of 2012. To continue it, Phillips 66 initiated another share buyback program worth $2 billion for this year.
Phillips 66 has repurchased 36.5 million shares, amounting to $2.2 billion during 2013, including 9.9 million shares worth $644 million in the fourth quarter. Currently, it has outstanding shares of around 600 million in the market. Moreover, Warren Buffet's Berkshire Hathaway (BRK.A) (BRK.B) announced it will buy a Phillips 66 subsidiary by swapping 19 million shares out of 27.1 million of Phillips 66 shares that was held by Berkshire. This swap is expected to be around $1.4 billion. So, the total number of outstanding Phillips 66 shares in the market will be reduced, and the opportunity of earnings per share (EPS) growth becomes brighter.
For 2013, it generated EPS of $5.89 and with the additional share repurchase, the EPS will grow in coming quarters. Apart from the expected EPS growth, the company has also maintained a steady dividend payment history with 25% growth in the recently ended quarter. It distributed $232 million in dividends in the fourth quarter and $807 million in dividends for 2013. I expect the company's realization of a growing refining margin and fewer outstanding shares will ensure a better EPS and dividend generation.
Conclusion
With the increasing spread between WTI, LLS, and Brent, I expect that in the next quarter the realization of refining margin will be higher. Phillips 66's continuous activity in its share repurchase program is expected to provide a better EPS, and the company should realize a better financial position with its refining segment. So, I would recommend investors go long on this stock and expect a better return ahead.
Disclosure: I have no positions in any stocks mentioned, and no plans to initiate any positions within the next 72 hours. I wrote this article myself, and it expresses my own opinions. I am not receiving compensation for it (other than from Seeking Alpha). I have no business relationship with any company whose stock is mentioned in this article.