Nowadays, Google (NASDAQ:GOOG) is in news because of its actions to improve its intellectual property portfolio. In just a week Google entered two patent related deals, one with its hardware partner Samsung Electronics Company (OTC:SSNLF) and the other with Lenovo Group Ltd. (OTCPK:LNVGY). In this article, I will delve into the details of the agreements to find what benefits Google will receive from the deals.
Google selling Motorola to Lenovo
Google has agreed to sell its Motorola Mobility handset division to Lenovo Group Ltd. Google purchased Motorola less than 3 years ago. The agreement will be settled at a consideration of $2.9 billion that will be paid to Google in the form of $660 million cash and $750 million worth of Lenovo's ordinary shares. The remaining $1.5 billion will be paid in the form of a 3-year promissory note.
Google bought Motorola back in 2012 for $12.5 billion and also inherited a cash pile of $3.2 billion and $2.4 billion in deferred tax assets, leaving $6.9 billion as the net cost of acquisition to the company. Moreover, Google has already recovered part of its cost by selling Motorola's cable television set top box business to Arris Group Inc. for $2.35 billion and its factories to Flextronics for $750 million. This reduced its cost of acquisition to $3.85 billion, $2.9 billion of which will come from the sale of the handset division to Lenovo. This deal will leave Motorola's major patents with Google and Lenovo will receive Motorola Mobility, the Motorola brand and its smartphones including Moto X and Moto G and the DROID TM Ultra Series. It is clear that Lenovo is not buying Motorola's phones, but rather the brand. In crux, the patent portfolio that Google retained has a cost of less than a billion for Google and it was estimated to be $5.5 billion at the time of its acquisition.
However, Motorola's acquisition by Google should not have been interpreted as a move into the handset business. Instead, it was a precautionary move to secure the company's valuable patents from increasing legal battles in the technology sector at that time. Later, the company started to operate Motorola as a separate company. After adding operating losses of approximately $2 billion during its period of ownership, Google finally gave up moving into the mobile hardware industry realizing the cut-throat competition offered by Apple (NASDAQ:AAPL) and Samsung.
This deal is good for Google from many perspectives, including the recovery of acquisition costs. Other than this, Google sought out a solution to get rid of this "headache asset" by selling it off and removing a loss-maker from its balance sheet. This is because since the day Google acquired Motorola, its losses as a percentage of revenue generated were expanding as shown in the figure below.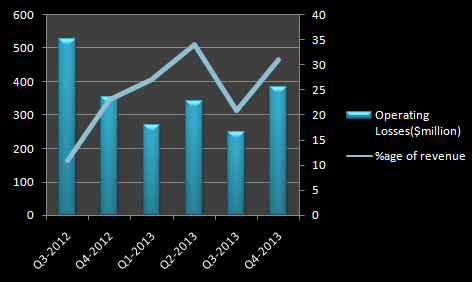 Source: Google's earning releases
As Google's Chief Executive Officer, Larry Page said, "Google will be best served by focusing on smartphone software rather than devices". This indicates that Google will be using all of its expertise on enhancing and bolstering Android software and stepping back from the handset arena. Other than the outright cash consideration received, the operating profits of the company will also be strengthened due to the sale of Motorola, its bottom line will be bolstered and the stock price performance will be positively impacted. Google's stock price experienced an increase of 0.89% just after the company announced the deal.

Source: Y-charts
Cross-Licensing Deal with Samsung
Another deal earlier this month lowered tensions between Goggle and Samsung; the largest and most powerful Android handset maker. Korean-based Samsung entered a massive cross-licensing deal with Google that covers past and future patents. A series of broad agreements at CES will streamline Samsung and Google's view of Android. This deal will tie the two partners more closely and reduce the chances of potential litigation against them.
While the exact details of the agreements are not yet publicly available, according to some sources Samsung will be making some concessions to Google in the form of altering the Magazine UX interface in future devices. In addition to this, Samsung will let go of its in-house developed software and will offer Google's suite of apps on its devices. This can be seen as step-up effort by Google to influence device makers to use its suite of services either with or without the core Android operating system. Google has tightened the conditions for providing its proprietary Google Play services. It will no longer allow the handset manufacturers to pick and choose just one app to include on their phones. They will now have to adopt the whole package of apps.
Consistency across software is welcomed by users, as Google apps are interweaved so that tasks flow naturally from one app to the next. The tighter conditions through which Google will offer its apps, starting with this deal, will definitely aid Google in bolstering its position against smartphone competitor Apple Inc. The following figure shows that mobile phones containing Android software are selling more but the quality provided by iOS is higher than that of Android. This deal is an opportunity for Google to increase the quality of its Android software. Moreover, this collaboration will create barriers to success for small and independent app makers.

Source: TIME Tech
The Road Ahead
Both of the moves by Google's management will re-energize the company. Focusing on innovations in the Android ecosystem will eventually benefit the growing number of smartphone users everywhere in the world. The sale of Motorola will positively impact Google's performance in the future, and the peace between Google and Samsung will bolster the ongoing collaboration between the two companies. The strengthened co-operation is a win-win approach for both companies, but for Google it is a smart move as it is using its intellectual property trove as a defense against litigations. This tremendous double move by the company tempts me to rate this stock as buy.
Disclosure: I have no positions in any stocks mentioned, and no plans to initiate any positions within the next 72 hours.
Business relationship disclosure: The article has been written by a Blackstone Equity Research research analyst. Blackstone Equity Research is not receiving compensation for it (other than from Seeking Alpha). Blackstone Equity Research has no business relationship with any company whose stock is mentioned in this article