Thursday morning, cigarette giant Philip Morris (NYSE:PM) reported its fiscal fourth quarter results. Results were basically in line with expectations, and the company reiterated its 2014 currency-neutral EPS forecast. Philip Morris did announce some news with this report that was a bit surprising, and will have consequences for 2014. Today, I'll break down the report, the balance sheet, the big news, and detail what investors need to do now.
Fourth quarter results:
Philip Morris reported net revenues after excise taxes of $7.789 billion, basically in line with expectations for $7.79 billion. Revenues were down 1.3% over the prior-year period, but would have been up 2.5% if not for currency headwinds. Cigarette shipment volumes were down by 4.3%, or 1.9% when excluding the Philippines. Operating income was down by 1.8%, but would have been up 4.7% if not for the currency impact.
On the bottom line, Philip Morris reported $1.24 in EPS, down a penny from the prior-year period. This included an $0.11 hit from currencies. Adjusted diluted EPS were $1.37, up from $1.24 in the year-ago period. Adjusted EPS were hurt $0.24 by currencies. Analysts were looking for $1.37, so Philip Morris came in right as expected with its adjusted results. You can see all of Philip Morris' 2013 quarterly reports, with more detailed information, right here.
2014 forecast:
Philip Morris spooked investors back in November 2013 when it warned 2014 earnings growth would be light. Philip Morris stated that 2014 would be used as an investment year to launch new products later this year and in early 2015. The company stated that currency-neutral EPS growth would be 6-8%, but that the company was targeting 10-12% growth in 2015 and beyond. Philip Morris shares went into that news a little over $91, but closed at just $76.90 on Wednesday. A 52-week low was set at $75.28 recently. This recent selloff pushed shares below $80 for the first time in nearly two years, and I stated that might provide an opportunity.
Detailed in the press release linked in my opening, Philip Morris provided the following guidance for 2014:
Forecasts 2014 full-year reported diluted earnings per share to be in a range of $5.02 to $5.12, at prevailing exchange rates, versus $5.26 in 2013. Excluding an unfavorable currency impact, at prevailing exchange rates, of approximately $0.71 for the full-year 2014, the reported diluted earnings per share range represents a projected increase of 6% to 8% versus adjusted diluted earnings per share of $5.40 in 2013 as detailed in the attached Schedule 16.
Forecast includes a one-year gross productivity and cost savings target for 2014 of approximately $300 million.
Forecast includes a share repurchase target for 2014 of $4.0 billion.
The EPS forecast is what the company said it would be for currency neutral EPS. It's interesting to note that the currency impact was $0.34 in 2013 and now the company is guiding for a currency impact of $0.71 in 2014. That's rather large, more than double the impact in 2013. This is based on prevailing rates, so Philip Morris investors should hope that rates come back a bit. Even a negative impact of $0.60 would be seen as a huge positive right now. The biggest news here is the buyback target, and I'll cover that later.
Balance sheet update:
In the table below, I've compiled a number of important ratios or values from Philip Morris' balance sheet going back to the end of 2010. Dollar values in millions.

Click to enlarge
You'll notice that the company's cash balance dipped a bit at the end of the year, and debt rose even more. The company took out some debt in November, which helped to cover the dividend and the buyback. Philip Morris spent $1.5 billion on the buyback in Q4, unfortunately at prices a bit higher than where the stock is currently. The company also paid out around the same amount in dividends, perhaps just a little more.
There are a couple of items that I've focused on when it comes to this balance sheet. First is the debt (liabilities to assets ratio). A chart of this ratio is seen below.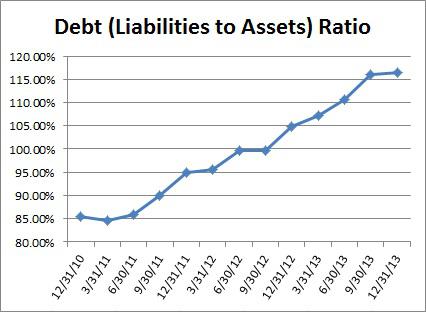 This ratio did get slightly worse in Q4, although the pace of increase has certainly slowed. Philip Morris has taken out a lot of debt in recent years for the dividend and the buyback. The debt ratio stands at more than 116.4% now, meaning Philip Morris has more than $1.16 of liabilities for every $1.00 of assets. The book value of shareholder's equity is a negative $6.274 billion. On the face of it, this doesn't look good, but in the next section, I'll detail why the picture is improving a bit. The second ratio, and it's a group of them, are the debt to EBITDA ratios. These ratios represent the total debt and net debt as a comparison to the company's EBITDA, which is earnings before income taxes, interest, depreciation, amortization, and in this case some special items as well. The chart below shows these two ratios over time.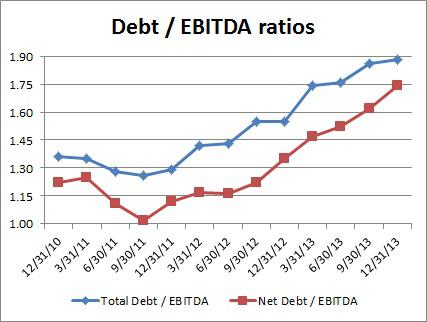 These ratios are getting worse, and I'd like to point out that these numbers are specifically given to investors in the earnings report. This is not a set of numbers I calculated on my own. A year ago, the total and net debt to EBITDA ratios stood at 1.54 and 1.34, respectively. At the end of 2013, they were 1.88 and 1.74. Philip Morris is not in any financial trouble at the moment, but you would hope that these numbers eventually start to level off a bit or decline. I probably won't start to panic as long as these ratios stay under 3 or maybe a little higher than that, depending on where the rest of the business stands. There have been a lot of concerns about the debt pile of Philip Morris, which I'll address in the next section.
2014 big news:
Philip Morris has been a very shareholder friendly company. The company has more than doubled its dividend since the spinoff in 2008, and at the end of 2013, nearly $34 billion had been spent on buybacks. A little more than $9.1 billion remained on the current 3-year, $18 billion program at the end of 2013. That program was initially expected to end during the middle of 2015. Philip Morris spent $6 billion on this program in 2013.
You would have thought that the company would spend $6 billion on the buyback in 2014, since 3 years at $18 billion is $6 billion a year. Well, as I showed above, the company is only targeting $4 billion in buybacks this year. Those that have read my continuing coverage of Philip Morris know that I've stated that I thought the buyback would slow down to $4 billion to $5 billion a year once the current plan ends. It looks like the slowdown has started, but I think it will pick up a little in 2015. I may change my long-term view of the buyback as we get closer to the end of this program.
On the face of it, this slowdown would appear to be a huge negative, but I don't believe that it really is. First, free cash flow for Philip Morris was $9.355 billion in 2013, and that was up about a billion from 2012 levels. The company spent $6 billion on the buyback. The company spent $4.2 billion on dividends in the first 9 months of 2013, as per the 10-Q filing. As I stated above, Q4 dividends were a little more than $1.5 billion it looks like. Between the dividend and the buyback, that totals about $11.7 billion, nearly $2.5 billion more than free cash flow. That is one reason why debt has risen a bit. By slowing down the buyback by $2 billion in 2014, the company won't need to take out as much debt for the dividend and the buyback.
But the other reason I think the buyback was slowed down is because as I stated above, 2014 is going to be an investment year. Philip Morris will be launching new products. Philip Morris also made the following business development moves late in 2013:
The previously announced sale by Grupo Carso, S.A.B. de C. V. to PMI of its 20% interest in PMI's Mexican tobacco business was completed on September 30, 2013, for $703 million. The transaction, which resulted in PMI owning 100% of its Mexican business, was marginally accretive to PMI's earnings per share as of the fourth quarter of 2013.
On September 30, 2013, PMI announced its entry into a definitive agreement to acquire 49% of the shares of United Arab Emirates-based Arab Investors-TA (FZC) (AITA) for $625 million. Through its acquisition of 49% of the shares of AITA, PMI secured an almost 25% economic interest in the Société des Tabacs Algéro-Emiratie, a joint venture which is 51% owned by AITA and 49% by the Algerian state-owned Société Nationale des Tabacs et Allumettes SpA. This equity investment in AITA will provide PMI with enhanced earnings from Algeria and is projected to be accretive to PMIs earnings per share as of the first quarter of 2014.
On December 4, 2013, PMI announced its agreement to acquire a 20% equity interest in Megapolis Distribution BV, the holding company of CJSC TK Megapolis, PMI's distributor in Russia, for $750 million. In addition to enhanced earnings and cash flow for PMI, this investment paves the way for infrastructure expansion and improved operating efficiencies in the distribution of PMI's products in Russia. The transaction was completed on December 12, 2013, and is projected to be accretive to PMIs earnings per share as of the first quarter of 2014.
On December 20, 2013, PMI announced the establishment of a strategic framework with Altria Group, Inc. (NYSE:MO) ("Altria") to commercialize reduced-risk products and e-cigarettes. Under the terms of a set of licensing, supply and cooperation agreements, Altria will make available its e-cigarette products exclusively to PMI for commercialization outside the United States and PMI will make available two of its candidate reduced-risk tobacco products exclusively to Altria for commercialization in the United States.
Philip Morris made those deals towards the end of 2013. Because revenues have been stagnant or slightly lower, the company decided to do something about it. Also, significant capital expenditures will be made in 2014. For those reasons, it probably isn't a surprise that the buyback rate was cut a bit. I like this move because the company is investing in the business for a year, which should help revenues, earnings, and cash flow in the long run. The first three deals above cost over $2 billion, which happens to be about the difference between the 2013 buyback and 2014 buyback target. Management basically confirmed this on the conference call. On the call, management also said that they didn't want to impact the company's credit rating by having too much more debt. That's another reason for the buyback slowdown.
Once we get into 2015, when the company doesn't need to spend as much, and hopefully results have improved, the company will probably finish off the current buyback, at $5 billion or so. But for now, the company has shifted capital return money to business investment money, and I think that's a logical move. Another thing to consider is that this is just the first set of guidance for 2014. If results turn out to be better than expected, or management believes more shares need to be bought back at these low levels, maybe the buyback target is increased. It's only February 7th, so we have a long way to go in 2014.
I also think the move to reduce the buyback for a year will ease some of the debt concerns. However, I would take out some debt now if I were leading the company. Interest rates have come back down for the moment, with the 10 and 30-year US treasuries about 30-35 basis points off their highs. As a result, I think Philip Morris could take this opportunity to refinance some of its higher interest rate debt and push maturities further out. If the company does this, it could save hundreds of millions of dollars over the next few decades, and that money would go back to paying off debt, increased capital returns, or further business development.
Not the only show in town:
For investors looking for solid value investments, generally ones with high dividend yields, the cigarette space is perfect. For those looking purely for income, Altria has an annual dividend yield over 5.50%. I recently covered Altria as a great low risk high yielder. Investors that get into Altria around these levels may have a chance to pick up more than 6% in yield over the next year, depending on the potential dividend raise later this year. In that article, I also discussed how Altria may be the lowest risk name in this group.
I also cover two other names in the space, Lorillard (NYSE:LO) and Reynolds American (NYSE:RAI). Lorillard offers the most complete package of all of these names. Lorillard has the lowest dividend yield, but offers the most potential growth, which I'll get to in a minute. Lorillard has done well with its e-cigarettes, and shares have been a solid winner in the past year. Philip Morris will be looking to take advantage of the ever growing reduced risk product line as part of its investment year. Lorillard may announce a dividend raise in the next couple of weeks. The final name on my list, Reynolds, is my least favorite in the group. Reynolds doesn't offer a lot of growth, but it does have the second highest dividend yield right now and will probably announce a dividend increase during the spring.
In the table below, I've compared these four names in terms of growth and valuations for 2014, as well as dividend yield. The growth numbers are analyst estimates as of Thursday morning, so pre-earnings for Philip Morris. With Philip Morris reporting results basically in-line, I don't see how estimates will change much. Valuations and dividend yields are based on Thursday's closing prices for each name. Only Philip Morris and Altria have reported Q4 2013 results so far. The other two names report next week.

On the face of it, these numbers don't look good for Philip Morris. However, if you look at Philip Morris' adjusted earnings growth target of 6% to 8% in 2014, the numbers appear a bit better. Additionally, Philip Morris will have one of the better buybacks in 2014, even at the reduced rate. Philip Morris still trades at a premium to the space, but remember, this stock was only spun off a few years ago. Investors have been willing to pay a premium for some time, and the premium has come down. Also, if you believe that Philip Morris' results will start to improve in late 2014 or early 2015, now might be the time to scoop up some shares.
Being negative just to be negative?
I missed this the other day because it didn't make any of the headline pages I saw. Philip Morris was initiated with a Sell rating at Societe Generale with a $75 price target. I don't really understand this analyst's rating. Usually, price targets are a year out. The day before, Philip Morris closed at $79.44. If Philip Morris does not raise its dividend this year, the company will pay out $3.76 in dividends. If the company raises the dividend to $1.00 (from $0.94 currently) for the last two payments, shareholders will receive $3.88. The net effect is what, a little more than a 50 cent net loss for investors - if Philip Morris goes to $75, but you get $3.88 in dividends. I could see a Sell rating if the price target was say $65, but $75? I don't get it.
Entering Thursday, the mean and median price targets were around $91 a share. Given the reduced buyback, I wouldn't be surprised if analysts take down their targets a little. Maybe the average/median comes down to $88. That would still represent about $10 of upside, and again, this doesn't include dividends.
Final thoughts:
Philip Morris reported a decent quarter overall. Results were in line with expectations, which is pretty good given the recent fall in the stock. Perhaps expectations were for an even worse report, and that did not happen, which is why shares have bounced off their recent lows. Revenues are declining at the moment, but should start to improve later in 2014 when the company launches its set of next generation products.
Perhaps the biggest news in this report was that the company is only targeting $4 billion in share repurchases, down from $6 billion in 2013. This should ease some of the concerns about the balance sheet, which did get weaker, but could have gotten a lot worse. Philip Morris has announced a lot of business deals lately, so I believe the company is spending money on acquisitions instead of buybacks. For the moment, I believe that is the way to go, and I applaud the company for its vision. I do believe that if results improve during 2014, there is potential for more than $4 billion this year, and I think in 2015 the target will probably be $5 billion.
Philip Morris shares rebounded a little on Thursday, and sit a few bucks off the recent 52-week low. Shares are still down about $13 from where they sat in November when the company gave the earnings warning for 2014. At these levels, I feel pretty good about Philip Morris. The dividend yield is nearly 5%, and you might get that over the next year if the 2014 dividend raise is large enough. In the mid to upper $70s, Philip Morris seems like a very solid long-term investment. While the growth story won't be great for the short term, the company is making sizable investments in its future, which should reward investors in the long run. Plus, this isn't a $90 stock anymore, so expectations are not that high.
Disclosure: I have no positions in any stocks mentioned, and no plans to initiate any positions within the next 72 hours. I wrote this article myself, and it expresses my own opinions. I am not receiving compensation for it (other than from Seeking Alpha). I have no business relationship with any company whose stock is mentioned in this article.
Additional disclosure: Investors are always reminded that before making any investment, you should do your own proper due diligence on any name directly or indirectly mentioned in this article. Investors should also consider seeking advice from a broker or financial adviser before making any investment decisions. Any material in this article should be considered general information, and not relied on as a formal investment recommendation.