The Tokyo Stock Exchange is currently in a crash situation, which is somehow unexpected. These periods show us that all kinds of surprises can be expected in the financial markets. And for now, this is not even a big shock as the situation could be worse.
On April 22, I wrote an article about the Nikkei, and iShares MSCI Japan Index ETF (NYSEARCA:EWJ). In that piece, I have stated my opinion about the distance at which this indices were of a bull market scenario. Then, the reason for the optimism on the Japanese market was due to the adoption of a large-scale economic stimulus package in early 2013. The EWJ's chart which is shown below explains by itself the situation in question.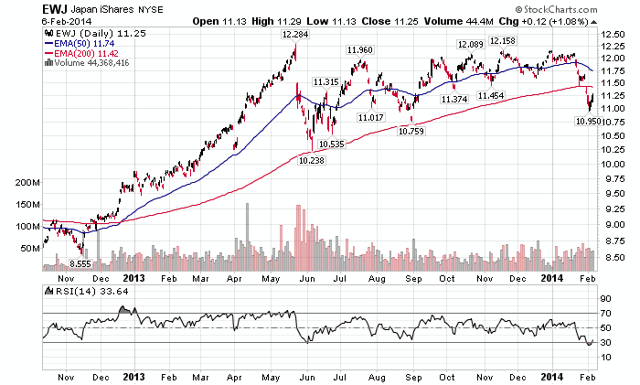 Charts courtesy of StockCharts.com
Until May 2013 the euphoria was evident, then after several tops at $12-$12.15 EWJ prices couldn't manage to break that strong resistance.
In fact, despite a clear improvement in the Japanese economic situation, the possible targets to begin a bull market - Nikkei above 18,300, and EWJ higher than $14 - stayed far from being achieved.
Since then, the economic situation has continued to improve, but suddenly a crisis in the emerging markets suddenly changed the whole situation, and the Japanese stock market sank down. What were the reasons?
First of all, it seems that the financial markets didn't believe totally in the consistency of the measures that were being taken. Furthermore, unlike what has happened with the United States monetary stimulus, money thrown to the economy no longer could support assets like shares. At least for now.
However, more important than everything else, it's crucial to analyze the fundamentals of the Japanese economy in all its magnitude and draw the appropriate conclusions:
1) Japan aims to devalue substantially its currency against the dollar, initially pointing to a level of 100, but eventually trying to get it close to 120. Currently, the yen has appreciated a bit, and is now at 102.30 from 105 six weeks ago.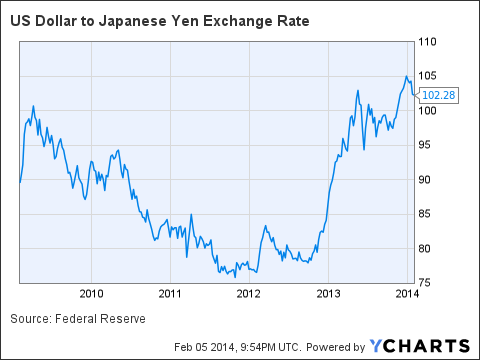 US Dollar to Japanese Yen Exchange Rate data by YCharts
2) Another goal of Abenomics is to set an inflation target of 2 percent trying to end many years of deflation. Last week, Japan reported a 1.3 percent on-year rise in its nationwide core consumer price index (CPI) for the month of December. This is a sign of progress, and shows a path in the right direction.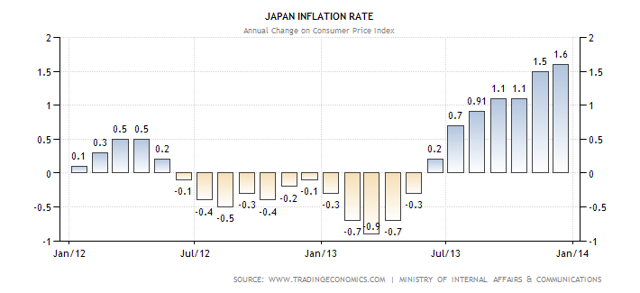 3) Japan's GDP expanded 0.3 percent in the third quarter of 2013 from the previous quarter, government data showed on December 9th. With a target to reach more than 2%, the revised GDP figure translates into an annualised 1.1 percent growth, well below expectations.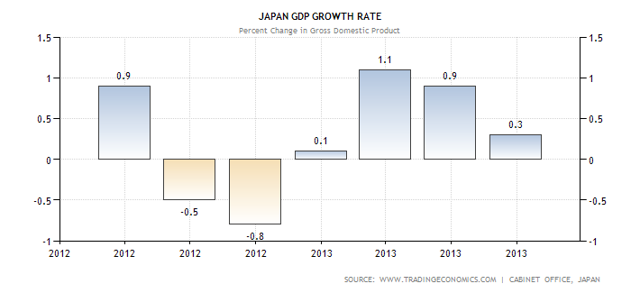 www.tradingeconomics.com
While Japan may have concerns over steep declines in emerging markets, and two-thirds of the down drag in Japanese markets is from global spillover, we have to find answers elsewhere.
Though indicators are improving not as fast as one would think, it has been clear over the past couple of weeks that the Bank of Japan is at risk of becoming complacent. This is the most important explanation for what is happening.
Then, there is a more obvious reason: at this juncture, the abrupt decline in U.S. indices turned the Japanese investors averse to risk.
I think this situation may remain for some time with fluctuations that may be unexpected. However, if there is a more positive evolution of the U.S. indexes the Japanese market will soon recover from this sharp correction. Especially because Japanese companies have shown very good results in general, and the country's economy has progressed in a very satisfactory way.
Disclosure: I have no positions in any stocks mentioned, and no plans to initiate any positions within the next 72 hours. I wrote this article myself, and it expresses my own opinions. I am not receiving compensation for it (other than from Seeking Alpha). I have no business relationship with any company whose stock is mentioned in this article.