In late 2013, there were much discussions concerning the fate of Red Lobster. Red Lobster is an American casual dining restaurant chain founded in 1968 by Bill Darden. The restaurant chain is under the ownership of a holding company, Darden Restaurants, Inc. (NYSE:DRI) that additionally owns Olive Garden, Longhorn Steakhouse and other fine-dining establishments.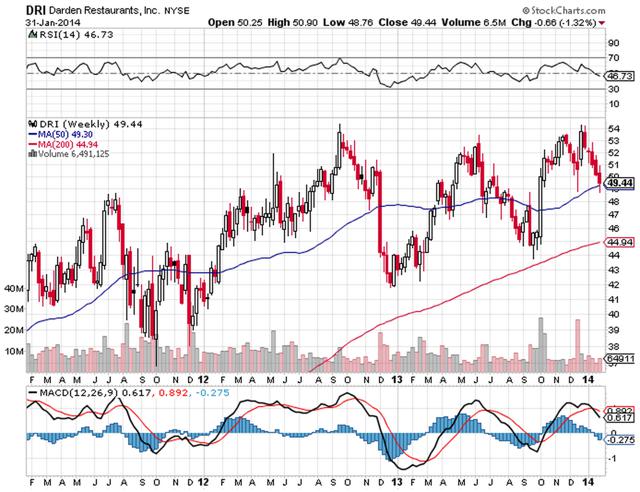 Click to enlargeSource: StockCharts
Darden has demonstrated its mission to serve delicious high-end foods spiced with an element of exceptional customer service. Over the decades, the restaurateur enjoyed the fruits of growth and expansion resulting from the successful duplication of its business recipe. Nevertheless, it is true that any celebration would have to come to an end at some point. I believe that the feast celebrating by Darden -previously a fast grower that created substantial value for its shareholders - has approached its consummation.
According to the illustrious investor, Peter Lynch, all fast growers live exciting lives; then, they transform into stalwarts and subsequently into slow growers. I believe that the glory days of successful growth and expansion of Darden (and especially Red Lobster) are long gone. The company has entered into either the slow growth or no growth stage. Further, Darden's competitors like Panera Bread (NASDAQ:PNRA) and Chipotle (NYSE:CMG), are winning over the taste buds of Darden's foodies. For instance, Panera transformed their atmosphere into a "homely" environment in the effort to retain existing customers, as well as, to attract new ones to join their feast. In my opinion, Panera fares better than Darden competitively. Nevertheless, Panera is also not free from the pressure exerted by Chipotle.
Pertaining to Chipotle, the Mexican Grill utilizes predominantly organic ingredients produced by local farmers as part the company's food with integrity ("FWI") concept. I believe that FWI enabled Chipotle to capture the "middle ground", thus pressuring the fast-food industry to cook up more health-conscious menus. This transformational pressure is reflective in the menu changes (over the years) from various fast food operators such as McDonald (NYSE:MCD), Burger King (BKC), and Wendy (NYSE:WEN). For instance, McDonalds implemented nutritional labels for their meals, salads, Asian inspirations, McWrap, and etc. Furthermore, FWI improved Chipotle's public image and trust, thereby, helping to increase new diners, as well as, to retain existing patrons. The exceptional business model utilizes by Chipotle are reflective in the company's ability to recognize consecutive growth increased in annual earnings.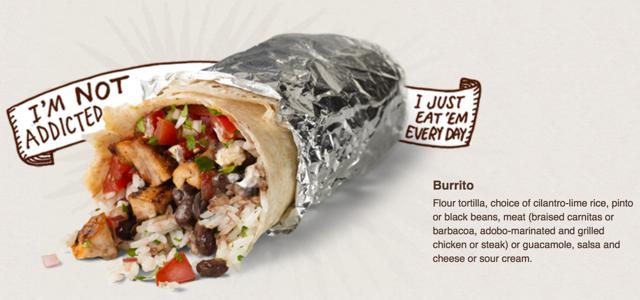 Click to enlargeSource: Chipotle
In contrast to positive earnings posted by its competitor Chipotle, Darden declared discouraging earning reports for the previous years. The company recognized $412million in FY13 and $476million in FY12, representing 16% decline in year-over-year earnings. Despite Darden's lackluster net earnings, the company managed to procure increasing sales for the same periods. As reflected in their 2013 Annual Report shown below, Darden recognized $8.55billion, $7.99billion and $7.5billion in annual sales for the corresponding FY13, FY12, and FY11, respectively. These figures represented the corresponding 7% and 6% increase in sales for FY13 and FY12.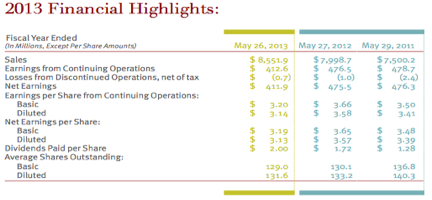 Source: Darden
For the FY13, there was a 2.1% increase in sales pertaining to Darden's Specialty Restaurant Group ("DRSG") - The Capital Grille, Bahama Breeze and Seasons 52. Similar to DRSG, Olive Garden and Long Horn contributed to the increased in total sales of 2.9% and 10.3% for FY13 and FY12, correspondingly.
Despite Darden's sales increased, Red Lobster did not contribute to the aforementioned improvements in sales. On the contrary, Red Lobster recognized only $2.62billion in sales for FY13, which were 1.7% below the FY12 corresponding figures.
One of the critical factors of concern was that the US same-store sales decreased by 2.2% compared to FY12. Furthermore, the latest quarterly report indicated that this trend is worsening … for the same store sales for Q2 FY14 were $561million, which represented 4.9% decline compared to similar figures for Q2 FY13.
With respect to Darden's efforts to grow via the addition of new restaurant units, Red Lobster was only able to open seven new units and one new unit in FY12 and FY13, respectively.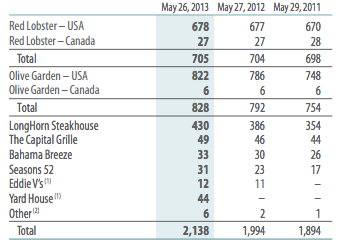 Source: Darden
Based on the evidence that I presented, I believe that Red Lobster is one of the dead weights dragging down Darden. Clarence Otis Jr., JD, Darden's Chairman and CEO, stated in the 2013 annual report that the company's sales and earnings for FY2013 was certainty "disappointing" and "well below" expectations.
On December 19, 2013, Darden stated that the company planned to spinoff Red Lobster, as it has been a drag to Darden's operational performance. The plan would be initiated on May 2014 with a targeted date of completion in early 2015:
"At our other brands, we are working to increase visits from those who love what we offer today, while also attracting new guests who have other expectations," Otis continued. "To achieve this broader reach, we are fundamentally reshaping and enhancing the experiences we provide, and making needed investments in new, shared marketing, technology and operational capabilities. By separating a business whose strategy and operational requirements diverge substantially from those of our other brands, we will be able to more aggressively and effectively pursue these initiatives and create value for our shareholders."

Following the separation of Red Lobster, together with the other actions announced today, Darden expects that its financial dynamics will be meaningfully different. In particular, the company believes it will be able to achieve higher and more consistent same restaurant sales and new restaurant sales growth, higher and more consistent earnings per share growth, and generate significant free cash flow that is returned to shareholders though dividends and share repurchase.
It is important to note that Darden is heavily influenced by two activist hedge funds, namely Starboard Value Capital and Barrngton Capital. Beside the plan to spinoff Red Lobster, Starboard Value is pushing the management to break up Olive Garden and to subsequently create a real estate investment trust ("REIT") to house Olive Garden.
In my opinion, I question whether the hedge funds plus Darden's management have the experience to manage REIT. Moreover, I question whether the fundamental of the real estate market would support profitability for REITs. Given that current interest rates are affordable, I question how long would these interest rates remain low? What are the consequences to the profitability of REITs once interest rates start their ascension?
I am not sure how the battles between the activist funds versus Darden's management would turn out … whether Olive Garden would also be split-off besides Red Lobster. Nevertheless, the company issued their statements on Jan 21, 2014, to proceed with their original plan to exclusively spinoff Red Lobsters:
Darden's Board of Directors and management team are focused on creating value for all Darden shareholders. While we appreciate the views of our shareholders, we have completed a comprehensive evaluation of alternatives available to enhance shareholder value, including those suggested by Starboard and others. That review included advice from financial and legal advisors that are knowledgeable on these matters, as well as input from Darden shareholders.

Based on this review, we believe the comprehensive plan we announced in December is in the best interest of all Darden shareholders, and we are moving forward with that plan. Our plan addresses changing industry dynamics and leverages the benefits of the Company's position as the premier casual dining restaurant company. It includes separating Red Lobster, reducing new unit growth, suspending acquisitions, increasing operating support cost savings, increasing return of capital to shareholders, and refining our compensation and incentive programs.
When analyzing restaurants, I tend to focus on three critical factors that would "make or break" a company. These factors include earnings and sales, same restaurant sales growth, and growth via adding new units. Pertaining to Darden, I expect the company to exhibit continuing downward trends including net earnings, same unit sales growth, as well as, growth via expansion. Furthermore, I believe that Red Lobster would continue to underperform in the earnings report that would be release in March. Likewise, I believe that Olive Garden would suffer similar fate as Red Lobster.
In the spirit of promoting transparency, I have nothing personal against Darden, its management, or the activist hedge funds. With that being said, Darden was actually the first stock that I purchased back in 2007, and this investment returned approximately 40% in capital appreciation. Guided by my "integrated investing" approach, I have been monitoring Darden over the years, and my research pointed to the unfortunate conclusion that the glory days for Darden are long gone. Darden, once a growth company that delivered tremendous value for its shareholders, has become either a slow grower or a no grower at all. Consequently, this is a point in the life cycle of a company that an "integrated investor" should depart to avoid negative financial consequences.
Further, It is essential to note that there is no assurance to the validity of my research. After all, investment research (similar to medicine) is both an art and a science. Therefore, I might be wrong in my research thesis and Darden would be successful in its turnaround plans. The earnings trend to-be-released could be better than I predicted. The company might also discover alternative solutions to increase the profitability of Red Lobster, Olive Garden, and TSRG. Further, the company might abolish the spinoff plan for Red Lobster. Moreover, Starboard Value and/or Barington Capital might be successful in breaking up Olive Garden beside Red Lobster … and the REIT that would be form could be a success. Similar to my thought process of benefits versus risks when I prescribed medicines to my patients, you should go through your similar thought processes of weighing the benefits of investing in Darden versus the risks if the company fails to implement successful turnaround plans.
The bottom line is that I neither recommend you to short nor to purchase Darden. Instead, I recommend you to sell DRI if it constitutes a significant percent in your portfolio. As I learned from other accomplished fellow SA contributors whose wisdom span beyond that of my own, it is prudent to take profits from Darden and to reallocate it to better investing opportunities available. This way, you could benefit from the power of compounding growth. However, if you decided to hold on Darden in seeing how this story would play out (or if you decided to short the stock) … I suggest that you keep an eye on the company's same stores sale growth, the addition of new stores, and the company's turnaround efforts. It is also critical to monitor the "friction" between the management and the aforementioned activist hedge funds. Lastly, if you have an excellent plan to help rejuvenate the company, I highly recommend you to draft/to send your letter to the management and the activist hedge funds. I would be happy to help you edit your letters.
"Integrity, Ingenuity, Essence … Essentially All Else Follows"
Disclosure: I am long CMG, PNRA. I wrote this article myself, and it expresses my own opinions. I am not receiving compensation for it (other than from Seeking Alpha). I have no business relationship with any company whose stock is mentioned in this article. I would like to thank TP for helping me draft up this research. TP analysis has been dead-on accurate thus far. I also wanted to show my gratitude to Peter Lynch for his generosity in sharing his wisdom through his books. Lastly, I would like to show my appreciation to my readers for you guys are the reasons that I write.