(Editors' Note: This article covers a micro-cap stock. Please be aware of the risks associated with these stocks.)
For those of you who have been following my work on here, Truett-Hurst Inc. (NASDAQ:THST) should be a familiar name. I first covered them about eight weeks ago in my article "Growth: Small Fry to King Salmon?" At that time they were trading in the $3.50 - $3.60 range and quick look at the chart below shows how the recommendation went.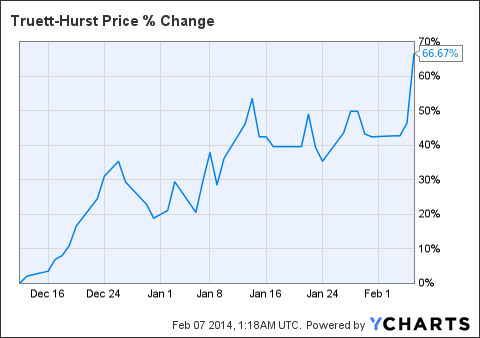 THST data by YCharts
Yesterday morning they announced Q2 2014 earnings before the bell. By most calculations earnings came in below analysts' estimates and the stock did not respond at all. At 10 am (PST) the company held its conference call and the stock finished the day 15% up, having traded at an all time high of $6.15 during the session. This high came on a day when volumes were approximately six times the ten day average. So here is a look at what was said.
First off, Truett-Hurst Inc. swung from an operating loss in Q1 2014 to profitability in Q2. This was not only for the quarter; they are profitable for the first six months of the year. This is an unusual position to be in for a company this young. Similar endeavors all too often run up large deficits as they funnel money into sales and marketing trying to gain market share and become viable entities. The fact that Truett is able to expand sales and marketing, launch new products, have real growth; all while still making a profit is a definite bonus. If you consider that they are also expanding margins at the same time, management deserves a pat on the back.
I would like to take a look at a few of the slides from this morning's conference call.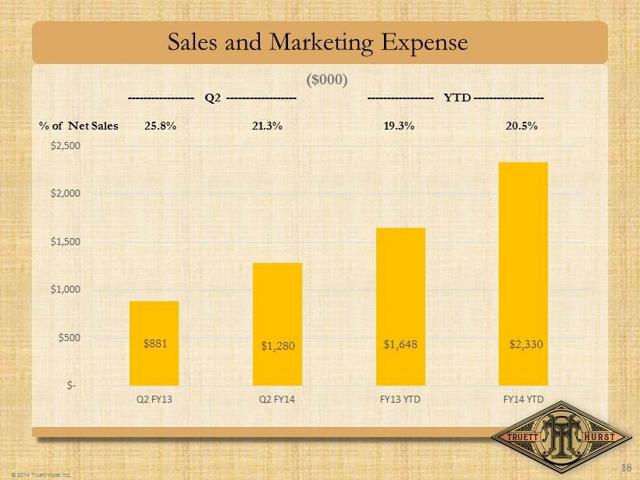 Click to enlarge
As we can see the company has increased spending on sales and marketing. It is a significant increase in monetary terms and yet represents a declining percentage of Net Sales. This is indicative of why I think the company will do well going forward. They did not just increase spending on marketing as a whole and hope for the best, it was obviously targeted. They have focused on areas that have driven revenues and more than justified the additional expenditure. Time to take at look at where the growth came from.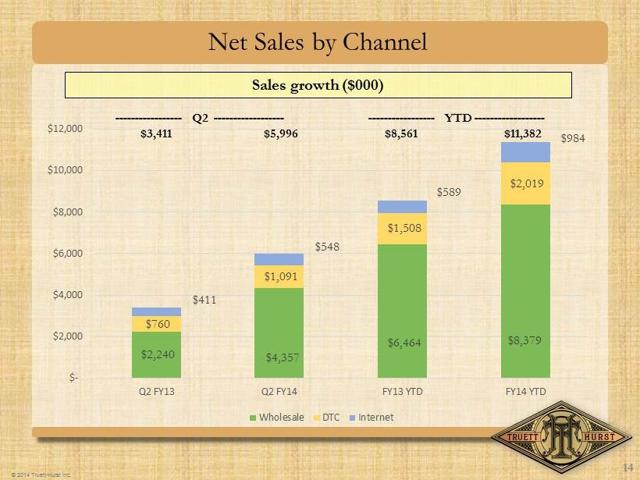 Click to enlarge
By far the largest increase for the second quarter came from wholesale, almost doubling on a YOY basis. In my last article I covered the company's ability launch new products nationally through their partnerships with Trader Joes and Safeway (NYSE:SWY). It is these partnerships with the retailers that have helped to drive wholesale sales. During the conference call there was strong emphasis placed on the distribution contract they have with Southern Wine and Spirit. They were also keen to point out that in was Southern who had approached them. I have to admit that I knew very little about Southern Wine and Spirit, so here is what I found on their website.
"Southern Wine and Spirits of America, Inc. is the country's single largest wine and spirits distributor-with operations in 35 states. As such, the Company naturally has had a longstanding commitment to and interest in the nation's set of alcoholic beverage laws and regulations at both the state and federal levels.
American historians have described the nation's regulatory framework for the production, distribution and retail sales of wine, spirits and beer as a three-tier distribution system. This means that a wine, distilled spirits or beer product moves in a legally sanctioned series of transactions from the producer to a designated distributor at the state level and then on to a legally licensed retail, restaurant or bar. Under this highly regulated chain, distillers, vintners and brewers are collectively known as the first tier; wholesalers and distributors are recognized as the second tier; and individual and/or chain retail, bar and restaurants are characterized together as the so-called third tier."
Sales are Good, How about Margin.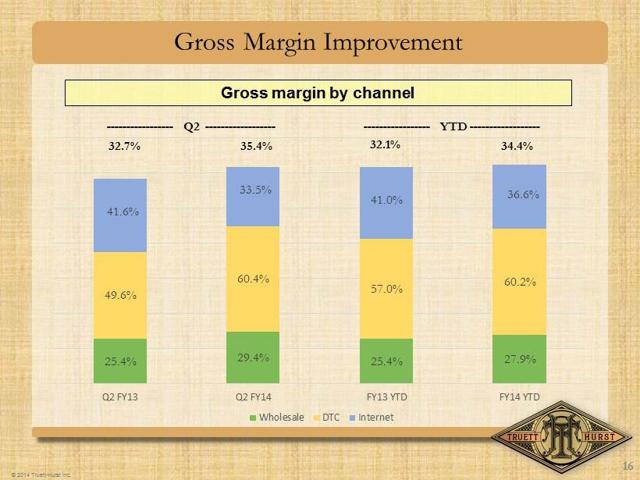 Click to enlarge
We can see that the large increase in wholesale sales did not come at the expense of margins. Margin for wholesale products increased by 4% in the second quarter compared to the same quarter a year ago. When this is combined with the afore mentioned increase in sales, it paints a bright picture. In dollar terms the wholesale segment of Gross Profits increased from $569K in Q2 2013 to $1.28 million for Q2 2014; that is more than double.
The Product.
After my last article more than one question related to the quality of the wine. At that time I had not had the opportunity to sample it. I would also point out that I am far from being a wine connoisseur and not sure that my opinion on these matters should carry any weight anyway. The company has however received recognition from Wine Spectator and Robert Parker. In fact Robert Parker Goes as far as to say;
"This publication does not give awards for label design, but I must say the intricate and creative labels of VML Winery were fascinating to study."

"These are the most individually crafted and designed wines I have seen. The real test is what's in the bottle and these wines…deliver."
The VML wines are at the higher end of the company's price range, but they all received good scores.
During the Q & A section of the conference call there were two things I would like to highlight.
The company is based in California and does have some exposure to the current drought conditions that currently exist there. It was suggested that a clearer understanding of exactly what that exposure may be would continue to develop from now through the end of March. The next couple of months are the best hope for some rainfall prior to another summer.
Someone suggested that the quarter leading up to Christmas typically saw the largest portion of sales in this industry. When asked if this is what we should expect, management indicated that they felt they could maintain an even distribution throughout the year. They felt that the continued introduction of new brandings through the year would help them to achieve this. Once again this emphasizes the importance of the national distribution partnerships the company has already put in place.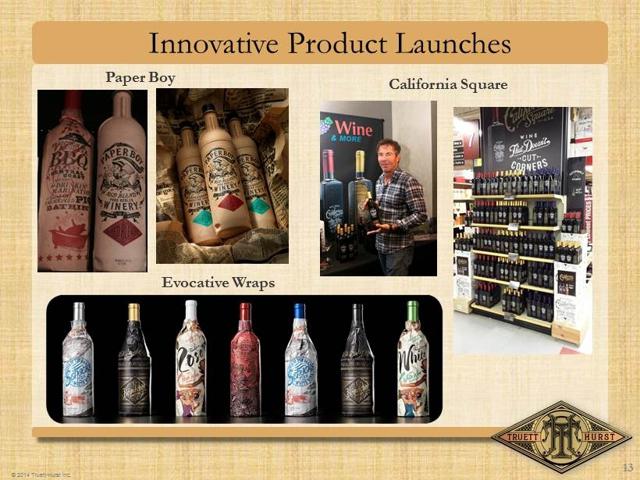 Click to enlarge
Conclusions
The company currently trades close to the valuation it was given at IPO last summer. Although this is significantly higher than when we recommended it in December, it does not account for the remarkable progress the company has made since it first began trading. I am happy to maintain my price target of $9 for August 2014 and anticipate a move above $11 by this time next year.
As always I urge some caution especially with such a small float. I would note that as this company continues to report, it is building up a track record. The lack of information regarding the company prior to this year has kept many investors at arm's length. As we go forward and that record is created in anticipate more interest. At that point the small float could cause oversized gains and may in fact be of benefit to current shareholders. All of the slides came from the company's Conference Call today.
Here is a link to the raw data and their release. If you read the whole thing you will also see the company has raised its guidance for the rest of 2014.
Disclosure: I am long THST. I wrote this article myself, and it expresses my own opinions. I am not receiving compensation for it (other than from Seeking Alpha). I have no business relationship with any company whose stock is mentioned in this article. This article may contain certain forward-looking statements. I have tried, whenever possible, to identify these forward-looking statements using words such as "anticipates," "believes," "estimates," "expects," "plans," "intends," "potential" and similar expressions. These statements reflect my current beliefs and are based on information currently available. Accordingly, such forward-looking statements involve known and unknown risks, uncertainties and other factors which could cause actual results, performance or achievements to differ materially from those expressed in or implied by such statements. I undertake no obligation to update or provide advice in the event of any change, addition or alteration to the information contained in this article including such forward-looking statements