The market will start trading Friday on the back of the second significantly disappointing monthly jobs report in a row. Although it appears "bad" is "good" again; at least for a day.
In addition, growth in Germany looks like it is slowing based on recent poor industrial production readings as well as declining imports & exports.
Despite yesterday's big rally, I think we have a ways to go on the downside. Equities look overbought after 2013's ~30% rally especially if global growth expectations get ratcheted down. Domestically, I have never bought the consensus forecast calling for 3% GDP growth in 2014 and believe this will be another economic "false dawn" that has plagued domestic job & economic growth for five years now.
One stock that has not pulled back despite the volatile nature of the markets early in the New Year is Bank of America (NYSE:BAC). As can been in the chart below, the stock has been remarkably solid in 2014.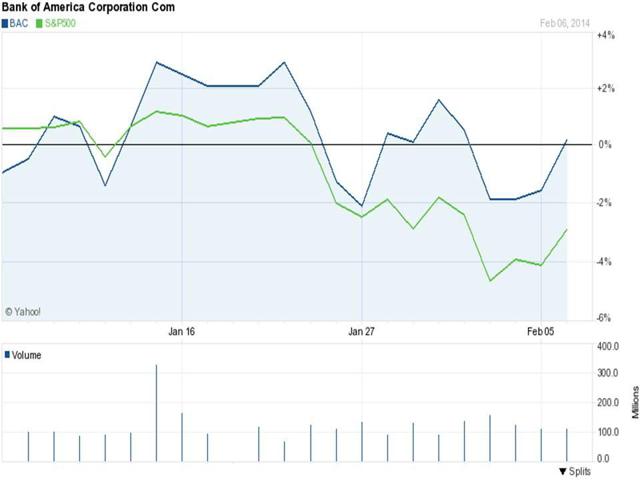 Click to enlarge
Provided the Federal Reserve does not panic again and stop the "taper", I believe equities will post a significant sell-off in the coming months and hopefully I will be able to add to my position in what I consider one of the best long term values in the market. There are myriad reasons for my long term optimism.
Earnings Trajectory:
As can be seen below, the company is seeing a substantial upward trajectory in earning over the past several years which should continue for years. Even at the consensus FY2015's projections of $1.60 a share of earnings; this is less than 40% of what Bank of America made in profit per share in 2005 & 2006.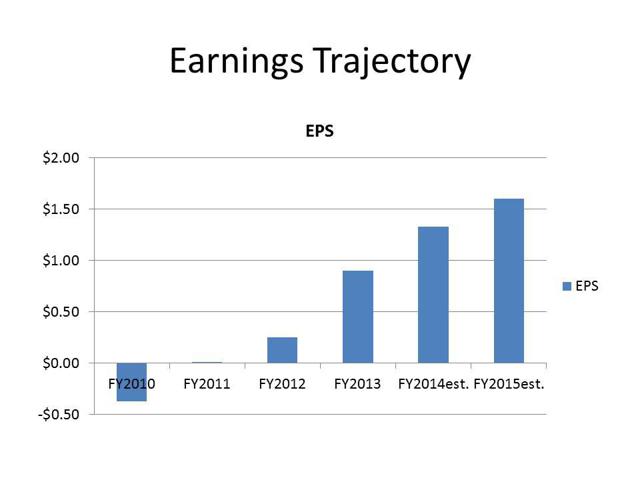 Click to enlarge
Yes, the rules have changed for banks and returns on equity can be expected to be lower in the future than they were prior to the financial crisis. That being said, the bank is a much bigger company that it was prior to the financial crisis and has new growth drivers as well (ex. Merrill Lynch).
Catalysts:
I also believe the company will have at least two significant catalysts that will improve the sentiment on the bank in 2014. First, it should finally put the majority of the litigation & civil actions emanating from the financial crisis behind it this year. The next major step in that process is a $8.5B mortgage settlement that should soon be approved. The continuing housing recovery is obviously another positive.
In addition, once "stress tests" are past in the first half of the year; the bank should ask and receive permission from the Federal Reserve to significantly increase its dividend payouts. The bank was a steady ~4% dividend payer prior the crisis. Although I don't think it will request that sort of the payout, I believe it will be allowed to pay at least half that.
Valuation:
The shares trade just over tangible book value. In addition, earnings are projected to increase by more than 30% in FY2014 and 20% in FY2015. The bank has also easily beat earnings estimates on the bottom line for three straight quarters. Given the bank's coming catalysts and earnings growth; just over 10x FY2015's consensus earnings estimates is an attractive valuation on this improving story on this major financial institution.
Disclosure: I am long BAC. I wrote this article myself, and it expresses my own opinions. I am not receiving compensation for it (other than from Seeking Alpha). I have no business relationship with any company whose stock is mentioned in this article.