Yee Ong is a CFA and the principal of YSO Capital Management of Burlingame, Calif.,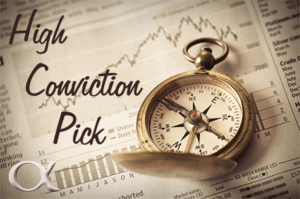 founded in 2004 and specializing in equity investment for high net worth individual and institutional investors. With more than 10 years' professional financial experience, his goal is constructing and managing portfolios that generate solid returns while minimizing risks and vulnerability to market volatility.
The firm addresses those conservative goals with portfolios that are typically between 15 and 30 positions - investments in companies with long-term profit potential - and also employ short positions, cash and options.
Seeking Alpha recently had the chance to ask Yee about his current highest-conviction holding.
What is your highest conviction U.S. stock position in your fund?
This is actually a tougher question than it sounds because my areas of expertise are in three main regions – China, the U.S., and Japan. Also, the correlation between my stocks is an important consideration in my portfolio construction process and choosing just one stock will disregard that. I do stress-test in my portfolio, so that under various scenarios the gain from a few stocks in my portfolio should more than offset the losses from the other positions. Of course, the stress test itself is subject to its own risks. But readers of my recently published book (The Strategist's Mind: The Art of High Return, Low Risk Investing) would understand the importance of risk control in the above practice.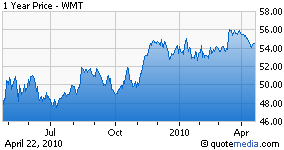 Now, back to answering the question, if I can choose only one U.S. stock, it would be Wal-Mart (NYSE:WMT). While Wal-Mart is a boring stock and most likely not going to be the one that yields the best return in my portfolio, the risk-return profile of the stock is very attractive in the current global economic environment.
Tell us a bit more about what leads you to pick Wal-Mart.
Wal-Mart - the world's largest retailer, which needs little introduction - runs a chain of large, discount department stores throughout the U.S. and globally. The company has more than 7,800 stores worldwide.
There are three principal reasons for me choosing Wal-Mart:
Wal-Mart will benefit from the current U.S. economic environment.
It is well positioned to expand in this global economy.
It has very attractive valuation.
Rob Walton, the son of the company's founder and current chairman of the board, says that, "My dad built Wal-Mart for these times." Wal-Mart is a giant discounter that thrives at times when saving is the focus of consumers.
In today's tough economy where the unemployment rate stands at 9.7%, the company is well positioned to gain market share as consumers are increasingly looking for value in their purchases. If you divide U.S. consumer consumption into three broad categories - low-end, middle, and high-end – it should be no surprise that the market share of retailers in the first category is increasing, while the high-end category goes in the opposite direction. So market share is drifting toward the left. U.S. consumers are shifting their consumption pattern to being more value-oriented and thus the leaders in the first category would greatly benefit from this trend.
The current environment creates an opportunity for Wal-Mart to solidify and grow its market share, as Vice Chairman Eduardo Castro-Wright attests that "more people have shopped at Wal-Mart (in 2009 in the U.S.) than ever before." Wal-Mart pulled in $408.2 billion in revenue last year and just this month it has reclaimed the top spot from Exxon Mobil Corp. (NYSE:XOM) in the Fortune 500 ranking of biggest companies, based on annual revenue.
The second reason for my confidence in the company is its international expansion potential. Most people know of Wal-Mart as a giant discount retailer in the United States. But what many investors failed to see is beyond the U.S. boundary where international sales are rapidly expanding for the company. Fully 24.6% of Wal-Mart's sales in the past fiscal year actually came from international sales. Revenues outside the United States increased 9.1% in 2009 to $98.645 billion.
Its international segment comprises its wholly owned subsidiaries operating in Argentina, Brazil, Canada, Japan, Puerto Rico and the United Kingdom, its majority-owned subsidiaries operating in Mexico and five other countries in Central America as well as Chile, its joint ventures in India and China and its other controlled subsidiaries in China. It currently operates at over 650 locations in China, India, and Japan and is accelerating expansion in Asia as the region's economy outperforms other markets.
Wal-Mart's international ambition can be derived not only from its year-after-year growth in international sales, but also the appointment of Mike Duke as president and CEO of the company. Mike is only the third CEO of Wal-Mart to succeed Sam Walton; he most recently ran the international operation of the company. His success with international expansion brought him the crown at Wal-Mart and portrays the company's determined international expansion vision.
Looking at the two reasons above, the home market in the U.S. is a good value play, while Wal-Mart's international expansion would be a key growth driver for the company. Both of them are reasons that make Wal-Mart an attractive company to invest in.
Last but certainly not least is the attractive valuation of the company, at its current price of $54.49 per share and market capitalization of nearly $205 billion.
How much is Wal-Mart an "industry pick" as opposed to a pure bottom-up pick?
It is definitely both, but more of a bottom-up pick. My outlook for the retail sector is not the brightest, to say the least. Wal-Mart does have a competitive advantage in this market, however, and its global expansion strategies would further differentiate it from its competitors.
Can you describe Wal-Mart's competitive environment? How is the company positioned vis-a-vis its competitors?
The company faces fierce competition domestically and internationally from companies such as Costco (NASDAQ:COST), Carrefour (CRERY.PK), Best Buy (NYSE:BBY), Target (NYSE:TGT) and Safeway (NYSE:SWY). However, most are not comparable in size to Wal-Mart, and even the larger ones are often not as well operated.
One of the key strengths of Wal-Mart is that it has better pricing power than its competitors, as its size allows it to exert stronger influence over its suppliers. The depth of its understanding of the retail industry is also a major stronghold of the company. Not many companies understand the retail industry the way Wal-Mart does.
Can you talk about valuation? How does valuation compare with competitors?
Its current P/E ratio of 14.7 tells me that the market has not realized nor captured the underlying growth potential of its earnings. Many of its competitors, in contrast, trade at a higher P/E multiple - such as Costco at 23.22 and Target at 17.5.
In an environment where consumers have tight budgets, net sales and net income for Wal-Mart have continued to increase. The company increased its annual dividend in March by 11% to $1.21 per share. Wal-Mart has increased its dividend every year since the first dividend was declared in March 1974.
Its strong balance sheet, and especially its cash flow and healthy level of debt, allows Wal-Mart to satisfy its dividend responsibility for its investors easily as well as keep the company growing around the world through opening of new stores, strategic partnership, and acquisition.
What is the current sentiment on Wal-Mart? How does your view differ from the consensus?
Wal-Mart is often fraught with bad publicity and lawsuits due to accusations of its questionable labor and community practices. Various groups including labor unions, community groups, environmentalists and religious organizations protest against the company's policies and business practices. Many money managers and investors shun the stock for that reason.
Another reason why investors often ignore a stock like Wal-Mart is that it is not as exciting and sexy as companies such as Apple (NASDAQ:AAPL) or Google (NASDAQ:GOOG). But as a value investor, sometimes you need to look at companies that are unpopular or unexciting to find good value investments. After all, popular and exciting companies do not translate into good investments.
While many investors cast a blind eye on Wal-Mart, a top-tier manager like Warren Buffett increased his holdings of the company earlier this year. In my point of view, Wal-Mart is one of the few investments that has great value and yet hasn't gone up much in price.
Does Wal-Mart's management play a role in your position? If so, how?
Wal-Mart is a well-managed company which has always chosen its leaders carefully. All who have led Wal-Mart in the past shared the vision and values of the company and were very capable leaders. So is Mike Duke - possibly even more so due to his international expansion success.
What catalysts do you see that could move the stock this year?
The stock movement of Wal-Mart is very interesting. It is not highly correlated with the stock market, and oftentimes it even has a negative correlation with it. For instance, its stock fell 4.7% in New York Stock Exchange composite trading last year, making it one of the six Dow stocks to post a negative return in 2009 while the overall market rallied. On the other hand, Wal-Mart was also one of the few companies that gained in 2008, a dismal year for the stock market due to the financial crisis.
The market has been getting a bit ahead of itself as investors gain excessive confidence in an economy that many fail to understand. I believe there will be some adjustments in the marketplace and going forward investors will realize the value of a good value stock such as Wal-Mart. Its success with international expansion will also contribute to its stock movement.
What could go wrong with this pick?
Just like any business, various risk factors need to be considered as they contribute to a company's bottom line. The chief domestic risk that Wal-Mart faces will come from drastic measures by our increasingly powerful government, such as the healthcare overhaul, unemployment benefits extension, tax breaks for small-business owners, and programs that help home buyers.
Political risk is an important consideration when it comes to international expansion for any company. For instance, if the U.S. relationship with China continues to be strained or Wal-Mart is barred from operating in the U.K., the company's international growth could be constrained.
Of course, the above are not the only risks involved. But they are probably items that I would watch most carefully when investing in Wal-Mart.
Thanks for sharing your pick with us, Yee.
Disclosure: YSO Capital Management is long WMT.
Read more High Conviction Picks »
If you are a fund manager and interested in doing an interview with us on your highest conviction stock holding, please email Rebecca Barnett.