Despite issuing a weaker than expected guidance last week, I remain bullish on Apple's (NASDAQ:AAPL) stock for reasons that extend beyond numbers.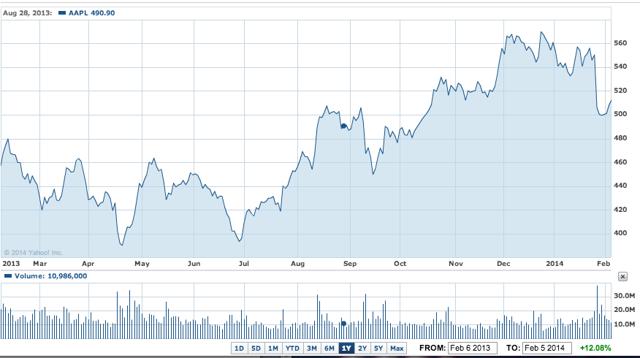 Figure 1: Source- Yahoo Finance
The day after Apple's earnings legendary investor Carl Icahn tweeted:

Figure 2- Source- Carl Icahn Twitter
While many investors believe in the idea of "don't catch a falling knife" i.e. a stock price falling like Apple's after earnings, Icahn went out an added $500 million of Apple when its stock price threatened to fall below $500. As a rule of thumb I would never encourage investing into a company solely because a legendary investor does, however, when that legendary investor has what seems to be unlimited capital on hand it certainly limits the downside of a company. Additionally, when that investor has called for shareholder-friendly actions such as a stock buyback program and/or an increased dividend, everyone benefits. In this case, Icahn has made it crystal clear that he will buy as many shares as he can until Apple agrees to his demand of an increased dividend and/or a huge stock repurchasing program. This leads me to conclude that Apple's downside is somewhat limited because Carl Icahn will buy millions of shares of Apple if it ever threatens to fall below the $500 mark.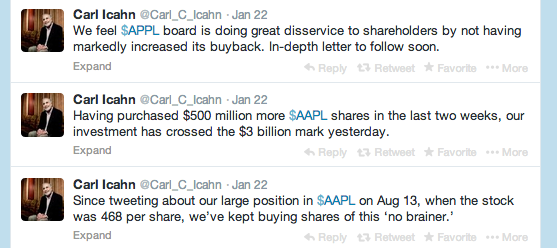 Figure 3: Source- Carl Icahn Twitter
Carl Icahn has said that he will work with the board of directors to improve shareholder value. As can be read in the following link, Icahn wrote a letter to Apple shareholders on why Apple should increase the rate at which the company is buying back its stock.
What are Icahn's chances of success? Well, it seems that Carl Icahn is dealing with people who agree that shareholder value is important, and for that reason I believe that Icahn, and Apple investors, have a good chance of getting what they want. Taking a look at Apple's board and the people who sit on it we come across some familiar names who have a strong history with improving shareholder value of some pretty big companies:
1) One member of the board is Chairman and CEO of Walt Disney (NYSE:DIS), Robert Iger. In September, the company announced they were increasing their stock buyback by 33% for fiscal 2014. Since the announcement, Disney's stock has risen by more than 15%.
2) Secondly, Millard Drexler, Chairman and CEO of J. Crew had his company taken private in 2010. While, the company's stock was having a tough year and many saw further declines ahead, Drexler got an almost 20% premium for his company and investors applauded the decision.
3) Thirdly, Ronald D. Sugar, the former CEO and Chairman of Northrop Grumman (NYSE:NOC), also has a history of improving shareholder value prior to retiring in 2010. In 2007 the company announced it was buying back up $2.5 billion worth of shares, or almost 8% of shares outstanding.
4) Lastly, Arthur D Levinson, Chairman of Genentech, had a history of increasing shareholder value through stock buybacks. Prior to being acquired in 2009, Genentech announced stock buybacks virtually every year culminating in an up to $10 billion repurchase program.
What am I getting at? Apple's board is made up of individuals who have demonstrated that they have been willing to improve the value for shareholders of the companies they ran. It seems like a match made in heaven for Apple investors. With Carl Icahn willing to buy millions of shares, Apple has limited downside, but has tremendous upside should the shareholder-friendly board agree to a huge stock buyback and/or an increased dividend. Considering the composition of the board and Apple's enormous cash position I believe Apple shareholders will hear some positive news about a stock buyback and/or an increased dividend.
Disclosure: I have no positions in any stocks mentioned, and no plans to initiate any positions within the next 72 hours. I wrote this article myself, and it expresses my own opinions. I am not receiving compensation for it (other than from Seeking Alpha). I have no business relationship with any company whose stock is mentioned in this article.