Aerospace and defense bellwether Boeing (NYSE:BA) recently reported relatively disappointing fourth-quarter results. Revenue advanced 7% in the period, but core operating earnings were flat versus the prior-year quarter due to a 50 basis-point headwind in its core operating margin.
Our in-depth experience with Boeing is that the firm tends to face share-price pressure when financing or emerging-market scares become prominent, the latter taking center stage in recent days-the Argentine peso collapsed and the South African rand continues to face pressure due to an unexpected rate hike. News about China-including a slowdown in manufacturing, banking concerns, and a sizzling (but more vulnerable) real estate market-isn't helping either. Boeing is more exposed to these "news" items than most companies, particularly given the company's financing arm and its emerging-market heavy backlog. Most new airplane demand in the coming decades, for example, is expected to come from the Asia-Pacific region, which we believe is more susceptible to currency scares than most.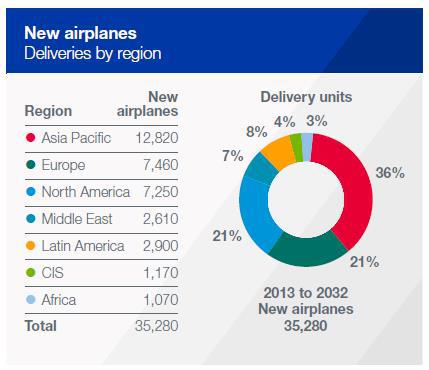 Image Source: Boeing
We think much of the recent macroeconomic news flow is partly responsible for Boeing's conservative 2014 outlook, though we note the pace of fourth-quarter earnings expansion wasn't stellar. For 2014, the firm's core earnings per share is expected to come in between $7.00-$7.20 on revenue of $87.5-$90.5 billion and commercial deliveries of 715-725. The midpoint of the respective guidance ranges reveals modest growth in revenue and earnings, but an impressive increase in commercial deliveries (648 in 2013 and 601 in 2012). Total company backlog at year-end was a record $441 billion, up from $415 billion at the beginning of the quarter. Operating cash flow (before pensions) isn't expected to be as robust in 2014 as it was in 2013, but Boeing's guidance for approximately $7 billion is certainly healthy. The company ended the year with $15.3 billion in cash and investments and $9.6 billion in debt.
Valuentum's Take
The commercial aerospace cycle remains in a definitive upswing, and we continue to think opportunities in the supply chain will benefit, particularly firms with ubiquitous products such as Precision Castparts (NYSE:PCP). Though Boeing's shares may face pressure on macroeconomic headlines, the company's fundamentals remain healthy. The firm is not included in our Best Ideas portfolio.
Disclosure: I have no positions in any stocks mentioned, and no plans to initiate any positions within the next 72 hours. I wrote this article myself, and it expresses my own opinions. I am not receiving compensation for it (other than from Seeking Alpha). I have no business relationship with any company whose stock is mentioned in this article.
Additional disclosure: PCP is included in the portfolio of our Best Ideas Newsletter.