2014 will be an interesting year for the smartphone market. Strategy Analytics and Canalys recently published their summary of 2013 smartphone markets. Both firms found Android dominant and Windows phone the fastest growing OS with iOS continuing to lose market share.
The shifting mix of growth among regions will have a major effect of how 2014 turns out. India and China will be the largest markets by a country mile, and upstart Firefox OS will make an impression among new users in Latin America. At least those are the predictions published in The Guardian in an article by Charles Arthur on January 13, 2013 based on data from Mediacells.
Arthur's article predicts 1.03 billion smartphones will be sold in 2014, about what was sold in 2013 based on the IDC estimates published just after year end.
For the first time in 2014, the markets in China and India will dominate making up over half the total market for smartphones. Those vendors who have the greatest success in these two markets will gain share at the expense of those who do not. It is worth a look at how the regional shifts in growth will affect Android, iOS, Windows phone and BlackBerry based on their current relative strength in each key region.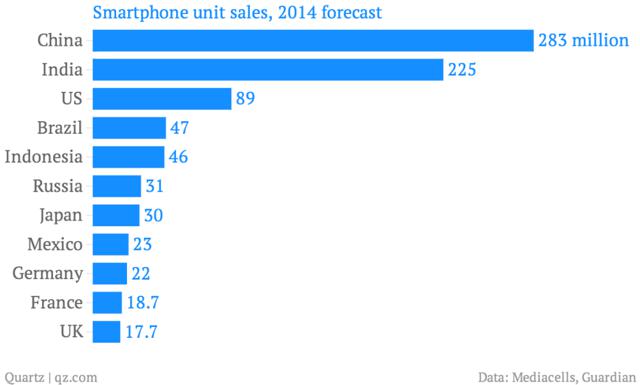 Click to enlarge
Source: QZ.com
To estimate the impact of regional growth on major suppliers I built a simple model using 2013 market share data. Charles Arthur's Guardian article gives enough granularities in the data to build up a model country by country and provides a split between replacement demand and new users.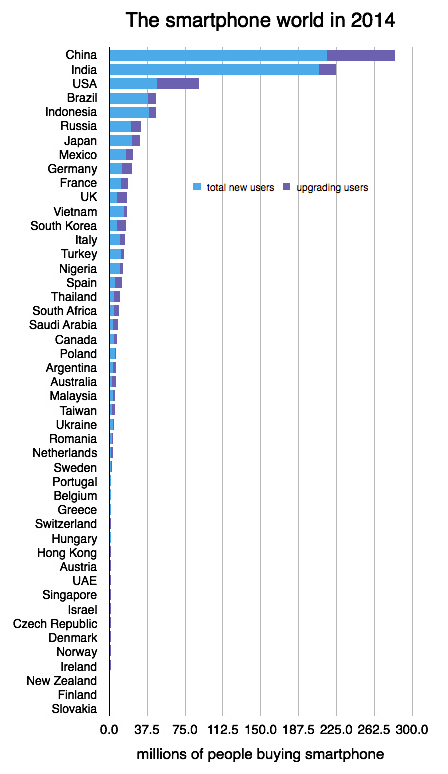 Source: The Guardian
I combined the data from the Charles Arthur article with market share data for each country which I estimated after a review of a variety of sources including Kantar, IDC, Deloitte and local estimates. The data are far from perfect but they are reasonable and representative.
The result shows Android holding on to 71% of the global market with Apple (NASDAQ:AAPL) at about 17% and Microsoft (NASDAQ:MSFT) Windows phone climbing to 6% while BlackBerry (NASDAQ:BBRY) remains at less than 4%.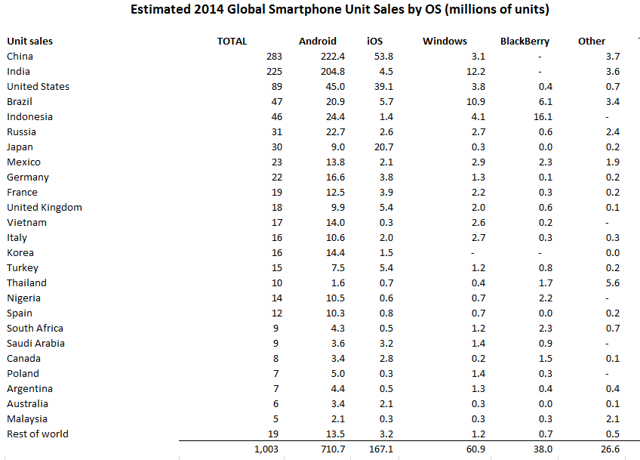 Click to enlarge
Source: Michael Blair analysis
If the forecast is anywhere close investors should take note of the implications:
Google's Android OS should continue to thrive. Google (NASDAQ:GOOG) should benefit through its search revenues as the installed base of Android devices continues its relentless climb.
Microsoft Windows phone will benefit from growth in emerging markets where it has a stronger presence, raising its overall market share just by holding its current share in each market, with Windows phone passing 6% of the global smartphone market.
Apple market share will continue to be flat or declining with the big bet on China a key determinant of whether it will hold ground or start on a downward trend.
BlackBerry will remain virtually irrelevant in all markets except Brazil, Indonesia, Mexico, Thailand, Nigeria, South Africa, Saudi Arabia and Canada where it still has presence. John Chen's announcement of the Foxconn partnership to produce lower cost BlackBerry devices for emerging markets will be a key factor in whether BlackBerry can stem the relentless erosion of its customer base in recent years.
Other operating systems will begin to see some gains. Firefox OS is making headway in Latin America and I expect Tizen OS from Samsung to show some gains in Asian markets while legacy Nokia OS Symbian may continue to have a presence in some areas.
In a series of future articles I will build on the smartphone regional market share differences to demonstrate that:
Google should continue to benefit from shifts in demand for smart connected devices,
Microsoft Windows phone will gain traction and reach a meaningful global market share within a few years,
Apple is in danger of seeing unit sales begin to stagnate or even decline,
BlackBerry is likely to survive and may even begin to grow again if it can hold on to its share in Indonesia, South Africa and Nigeria.
In the face of these trends, I am long Microsoft and short Apple and have no position in Google.
Disclosure: I am long MSFT. I wrote this article myself, and it expresses my own opinions. I am not receiving compensation for it (other than from Seeking Alpha). I have no business relationship with any company whose stock is mentioned in this article.
Additional disclosure: I hold calls on Microsoft and am short Apple stock and calls and hold Apple puts