To end 2013, I wrote an article called "Time is the Friend of Herbalife Shorts". My main thesis was that some great shorts - just like some great long positions - take time to develop and unwind. I stood by my short position on the company and, just like we've seen with the macro markets, we've seen a bit of a sea change in the Herbalife (NYSE:HLF) story to start 2014.
Bill Ackman is attacking from all angles at this point, and this is arguably the most traction his short thesis has had since his original presentation. After Ackman initially disclosed his original thesis on Herbalife and why he thought the company was a pyramid scheme, he went under the radar for a year or so.
To start 2014, he's coming out swinging - and he's not alone.
The company has responded recently with a puzzling buyback, which appears forced due to the financing method which the company plans on using to execute it.
Aside from the buyback, the company has already guided for a poor first quarter, blaming currency fluctuations.
It was announced earlier this week that LULAC (League of United Latin American Citizens) met with the FTC Chairwoman Edith Ramirez on Wednesday of this week. Bloomberg reported:
A Latino advocacy group supporting hedge-fund manager Bill Ackman's claim that Herbalife Ltd. (HLF) is a pyramid scheme said it met with a federal regulator yesterday to push for an investigation of the nutrition maker.

The League of United Latin American Citizens, or LULAC, met with U.S. Federal Trade Commission Chairwoman Edith Ramirez to detail alleged abuses, it said. At an earlier press conference, LULAC said Herbalife deceives Latinos and other disadvantaged consumers with false promises of wealth and success. Peter Kaplan, a spokesman for the agency, declined to comment or confirm the meeting's content.
Shortly thereafter, LULAC Executive Director Brent Wilkes made an appearance on Bloomberg TV pressing for a federal investigation into the company after he had the chance to meet with several Herbalife top executives. He threw around words like "fraudulent" and "scam" right off the bat.
You can view the video here.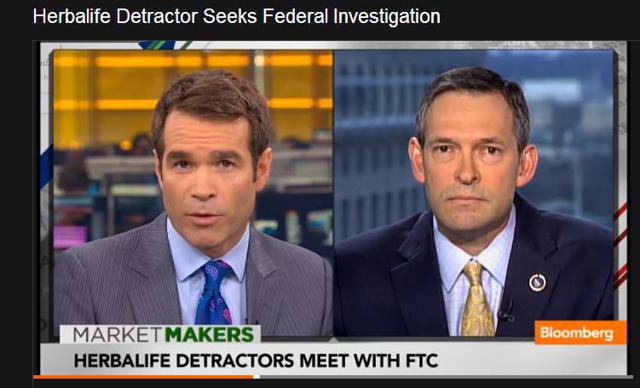 Among his points:
"88% of Latino distributors make absolutely nothing as Herbalife distributors"
LULAC received their information and metrics directly from Herbalife
"99.5% of Latinos getting less than a livable working wage"
"The biggest scam out there penetrating the Latino market, bar none"
"Latinos are being recruited into a fraudulent business opportunity"
"The money [Latinos] lose is what funds Herbalife's profits"
"The company in their own statement of average gross compensation says that 73% of their distributors don't want to distribute, they're consumers - and we find that fraudulent"
"These folks are not telling the truth...I thought they were dishonest, I thought they were bending the truth"
"We're asking the government to execute the law"
Additionally, while U.S. Senators, the government of Canada, and the FTC have their ears perked up as to Herbalife's business plan, Ackman is taking another angle at the same time - he's going after some of Herbalife's most "successful" distributors. Not only that, he's outing them for lead generation schemes they allegedly ran.
(click to enlarge - herbalifeisapyramid.com)
Case in point is Doran Andry, who is plastered all over Herbalife success stories for making millions from the company.
The NY Post reported:
Andry, who Ackman claims was the No. 1 Herbalife distributor in recent years, runs a so-called lead-generation business named Financial Success System (NYSE:FSS).

Andry created FSS after a similar business was sued for fraud in 2002, along with Herbalife and Andry, Pershing Square said. The case was settled for $6 million, according to the statement.

Lead generation is the practice of collecting names of those interested in a "business opportunity" like Herbalife and selling those contact details to junior distributors as possible recruits. Andry sold the leads for up to $130 a pop, Pershing Square alleges.

Lead generation has been the source of hundreds of complaints to the FTC, according to records obtained from the regulator through the Freedom of Information Act.

Many of the leads were worthless, former distributors told The Post.
At some point, when the message continues to grow louder and louder with regards to Herbalife, you have to ask how long the FTC can sit idly by. The FTC's purpose, by definition, is to promote consumer protection and eliminate anticompetitive business practices.
Herbalife's goose has been cooked for a year now with regards to its business practices - and the more time goes by, the more information comes to light, the tougher it's going to be for the FTC to simply stand by. I have absolutely zero doubt that if the FTC prods below the surface and looks at how Herbalife makes its money that it will be forced to take some type of action.
Again, on my 2014 scorecard for critics against Herbalife, the list now looks like this:
Chinese scrutiny over Nu Skin (NYSE:NUS) forcing media scrutiny of Herbalife and MLMs - both stocks show investor nerves as they're hit hard on news of the report.
NY Post reporting that Canada has launched a probe into Herbalife's business model - has not been confirmed from another source, yet.
A letter written by U.S. Senator Ed Markey urging the FTC to investigate Herbalife.
Rep. Linda Sanchez held a briefing on pyramid schemes with lawmakers from several other states.
FTC meets with critics of the company - backhandedly acknowledging that they are at least somewhat "on the case".
LULAC Executive Director goes on national television and, after admitting he's had no direct contact with Bill Ackman, calls the company "fraudulent" and a "scam".
Bill Ackman is doing an end around - while the public starts to put more and more focus on Herbalife's business model, Ackman is going for the guts shedding light on individuals that have allegedly perpetrated the scheme.
The market continues to keep the Herbalife multiple roped in at current trading levels. Despite the recent buyback (which I claim appeared a bit forced), people have been reluctant to pile into the stock since then.
Put simply, the market doesn't seem to trust Herbalife any further than it can throw it.
Yes, the numbers Herbalife has been posting have been good, but this is a classic case of looking past the P&L and balance sheet. You have to see the forest through the trees here - what is going on below the surface at Herbalife?
And, most importantly, how much pressure is it going to take for the FTC to step in? Why investors would risk money on companies under scrutiny like Herbalife puzzles me.
I continue to be short Herbalife and will likely add to my short at any points that Herbalife moves upwards. I continue to think there's extreme risk with going long Herbalife, and I find that the company is likely to be interfered with, if not shut down, by regulators.
Disclosure: I am short HLF. I wrote this article myself, and it expresses my own opinions. I am not receiving compensation for it (other than from Seeking Alpha). I have no business relationship with any company whose stock is mentioned in this article. I am long various Herbalife puts with different strikes & calendar dates.