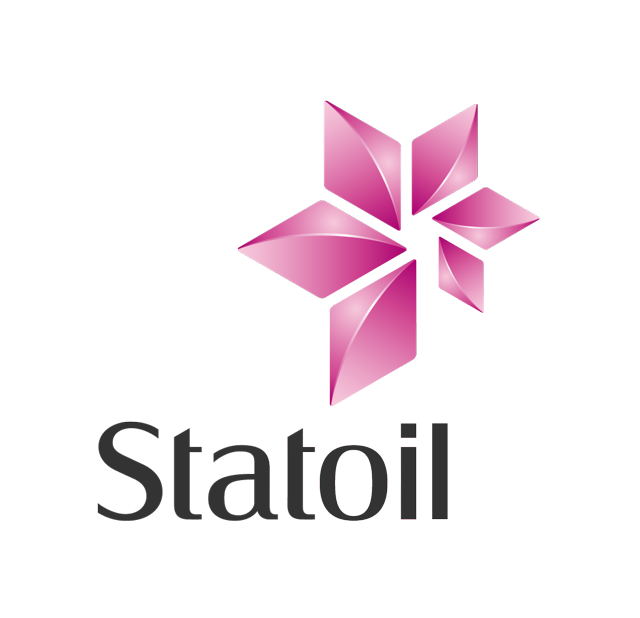 Click to enlargeStatoil (NYSE:STO) announced Q4 results this morning. Production was down by 64,000 boe/day but net income was up 14% compared to the same quarter last year. The production decline was partly do to asset dispositions. But what will move the stock is what CEO Helge Lund announced in this Bloomberg interview. Statoil will cut cap-ex by $5 billion in 2014 and slow its production growth plans to increase shareholders returns. The 2013 dividend was raised to 7 kroner/share ($1.27US). More importantly, the company finally announced the Board of Directors has proposed transitioning to a quarterly dividend. If accepted, the proposal means an additional two dividend payments for shareholders in 2014 in addition to the 2013 yearly payout. These are very positive catalysts that will unleash shareholder value and increase total returns. It's a game changer. I have a price target of $28/share. Combined with its $1.27US dividend (based on current currency rates), the stock could yield a total return approaching 20% in 2014.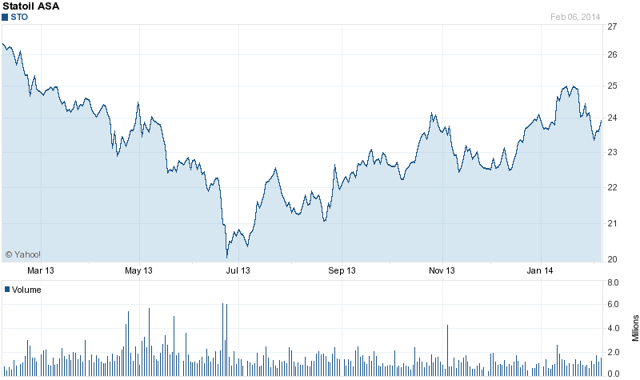 Click to enlarge
The US ADR closed yesterday at $23.94. A US $1.27/share dividend, minus 15% foreign tax, means a yield of 4.5%. The two additional quarterly dividends have not been specified (nor approved yet), but a rough guess might be $0.30/share for the two quarters, or an additional $0.60. Minus the 15% tax withholding, that means an additional 2% for ADR holders, or total 6.5% yield based on yesterday's close.
The company also announced a commitment to capital distribution. STO will "more actively" use share buybacks going forward.
As I reported earlier in the article What Company Found the Most Oil and Gas in 2014?, STO has had awesome success with the drill bit over the last few years. It has a bevy of oil and gas discoveries to tap in the coming years and has long-term running room. STO said it delivered an organic reserve replacement ratio of 147% in 2013.
Summary and Conclusion
I have been campaigning for years for STO to change to a quarterly dividend payout to smooth out its share price over the course of the year and to get in-line with the company's peer group. Not only has the company proposed doing so (I think this is a slam dunk at the annual meeting), but if the proposal passes it means existing shareholders will receive the full 2013 annual dividend in 2014 plus two additional quarterly payouts. I expect a PE boost because of it. The slow down in capital expenditures and the easing back of the company's goal of delivering 2.5 million boe/day by 2020 means improved cash-flow, more prudent cost efficient investments and subsequently higher shareholder returns.
StatOil is finally taking steps to address its extreme share price under-performance over the last few years. Combined with the company's awesome E&P results and asset base, I no longer view STO as a "bond" and income producer. Shareholders now will begin to see some share price appreciation. I have a $28/share price target based on PE expansion and dividend yield. I expect a total return of ~20% for STO in 2014. STO is a STRONG BUY.
Disclosure: I am long STO. I wrote this article myself, and it expresses my own opinions. I am not receiving compensation for it (other than from Seeking Alpha). I have no business relationship with any company whose stock is mentioned in this article.
Additional disclosure: I am an engineer, not a CFA. The information and data presented in this article was obtained from company documents and/or sources believed to be reliable, but has not been independently verified. Therefore, the author cannot guarantee its accuracy. Please do your own research and contact a qualified investment advisor. I am not responsible for investment decisions you make. Thanks for reading and good luck!