Unilever (NYSE:UL) (NYSE:UN) is a supplier of fast moving consumer goods with sales of its products in 190 countries. Unilever, along with Procter & Gamble (NYSE:PG), is one of the most popular companies around the world in the consumer goods sector.
Company Profile (from FinViz)
The company operates through four segments: Personal Care, Foods, Refreshment and Home Care. The Personal Care segment offers skincare and haircare products, deodorants and oral care products. The Foods segment provides soups, bouillons, sauces, snacks, mayonnaise, salad dressings, margarines and spreads. The Refreshment segment offers ice cream, tea-based beverages, weight-management products and nutritionally enhanced staples. The Home Care segment provides home care products such as laundry tablets, powders and liquids, soap bars, and various cleaning products. Unilever PLC offers its products under various brand names, such as Axe, Becel, Flora, Ben & Jerry's, Bertolli, Blue Band, Rama, Brylcreem, Cif, Clear, Comfort, Domestos, Dove, Fissan, Heartbrand, Hellmann's, Amora, Knorr, Lifebuoy, Lipton, Lux, Omo, Pond's, Radox, Rexona, Signal, Closeup, Simple, St Ives, Sunlight, Sunsilk, Surf, TRESemm, Timotei, VO5 and Vaseline. The company was founded in 1885 and is headquartered in London, the United Kingdom. Unilever PLC is a subsidiary of The Unilever Group.
Corporate structure:
Unilever operates as a single business entity. NV and PLC are the two parent companies of the Unilever Group, having separate legal identities and separate stock exchange listings for their shares. To ensure unity of governance and management, they have the same Directors and are linked by agreements. The Equalization Agreement regulates the mutual rights of the two sets of shareholders, including dividends. There is a one-for-one equivalence between the shares.
Stock Information
Unilever shares are traded on the following stock exchanges - AMS: UNA, LON: ULVR, NYSE: UN, NYSE: UL.
Competition and Industry Peers
Unilever's direct competitors include Procter & Gamble, Nestle (OTCPK:NSRGY), Reckitt Benckiser Group plc (Pvt).
Other industry peers include L'Oreal SA (OTCPK:LRLCY), Kimberly-Clark Corporation (NYSE:KMB), Henkel AG & Co (OTCPK:HENOY), Estee Lauder Companies Inc (NYSE:EL), Beiersdorf Aktiengesellschaft (OTC:BDRFF), Svenska Cellulosa AB (OTCPK:SVCBF), Clorox Company (NYSE:CLX), Church & Dwight Company Inc (NYSE:CHD) etc.
Dividend Yield and Growth
Because Unilever trades on multiple markets under different symbols, I'll will be using the Unilever plc ADR for the discussion about dividends. For North Americans, the advantage of owning UL rather than UN for dividend income resides in the fact that the ADR for UL is UK-based. Due to favorable tax treatments and agreements with UK, no withholding taxes need to be paid if the security is held in a tax-sheltered account.
The current dividend yield at Unilever is approximately 3.75%, which is a good rate for anyone looking for a decent dividend. Unilever is also a dividend grower that has been raising dividends for a number of years. The 5-yr dividend rate is 8.49%. The growth trendline has remained on the uptrend. Future dividend raises are plausible as the current payout ratio is 61%.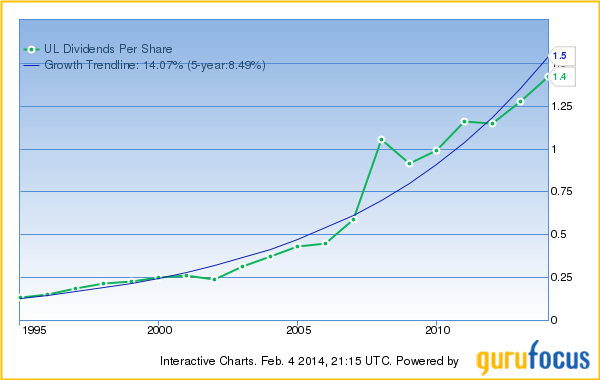 The Bull Case
Unilever products are fast moving consumer staples, so the products are used on a daily basis. The company has a global reach and at least 2 billion people use a Unilever product on any given day. And this is spread over the whole world - with Unilever products being used in 190 countries. So, any local setbacks in countries and regions are localized and do not have as huge effect an effect on the bottom line of the company's financials.
The company has been expanding its business aggressively in the emerging market. As of the end of 2012, 55% of the companies revenues came from growing economies such as countries in China, India, etc. Recently, the company, in search of growth, has hinted at expanding into frontier markets such as Africa, Southeast Asia and Latin America, etc. The company already has brand recognition in some of these economies, so Unilever should be able to translate this to achieve growth.

The Bear Case
It's not all easy-sailing in Unilever-world. The company has had a challenging 2013, with sales peaking out and finding growth has become harder. The highlights after the release of the latest financials show that the sales have been flat or a bit lower in the Americas and Europe, while most growth came from emerging markets. With a bigger push in the emerging markets over the past few years, the company has been able to achieve enough sales, but falling currencies have hurt overall revenues. This is expected to continue at least for a little while longer with the emerging markets in turmoil and their currencies see-sawing.

Unilever has always looked for growth in these emerging markets to raise their bottom line, but the falling currencies, coupled with local inflation and thin margins might result in the company wanting to raise its prices. Unilever does not have a monopoly on the market products and there are plenty of alternatives out there. The emerging economies may resort to switching brands when faced with rising prices.
Looking at the trends, over the last 10 years Unilever had a revenue growth of 3%, EBIT growth of 4.7%, FCF growth of 2.4% and a book value growth of 8.9%. These numbers are hardly impressive for a company the size and potential of Unilever.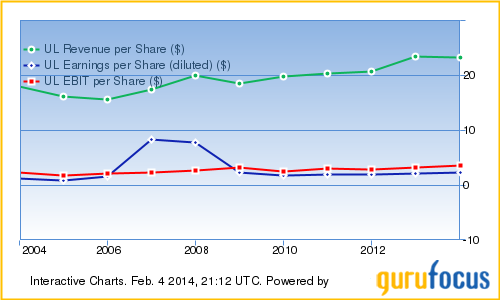 Looking a bit further into the books, after the drop in 2008, some of the fundamentals such as return-on-equity (ROE), return-on-assets (ROA) and operating margin, although appearing to improve, seem to be fairly flat (and some ratios even showing a bit of a downtrend).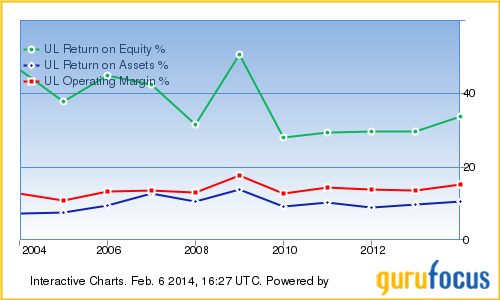 Conclusion
Unilever is a great company with global reach. The company has the brand recognition and the potential for growth. The company has been expanding its business aggressively in growing emerging economies, which constitutes over 55% of its revenue (at the end of 2012). But with the ongoing turmoil in emerging markets, Unilever faces some headwinds. The dividends are stable and plenty of room to grow. The company may be able to turn things around with its growth in the emerging and frontier economies, but currently faces a crisis, especially with the currency exchange rates wrecking havoc on the company's financials.
Disclosure: None. My full list of holdings can be found here.
Disclosure: I have no positions in any stocks mentioned, and no plans to initiate any positions within the next 72 hours. I wrote this article myself, and it expresses my own opinions. I am not receiving compensation for it (other than from Seeking Alpha). I have no business relationship with any company whose stock is mentioned in this article.