With a market value sub-$100 million, Anika Therapeutics (NASDAQ:ANIK) is a hidden growth story in the biotech arena. Since ANIK represents a potentially good opportunity, I featured the company this week at Rx Investors.
click to enlarge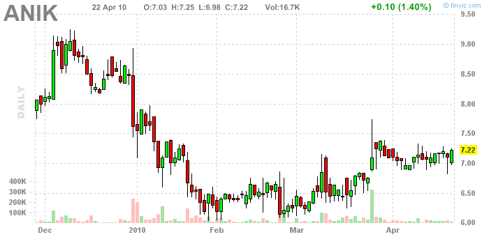 FINANCIALLY SOUND
ANIK is trading at low valuations compared to other biotech companies. The company is currently trading at 22.5 X earnings, 2.4 X sales, and 3.97 X its cash value. Unfortunately, ANIK is NOT optionable.
ANIK has been profitable for each of the past seven years. I don't care who you are, that's an impressive track record for a biotech company.
With only 13.4 million shares, shares are thinly traded. So exercise some discretion at entry and exit points. Additionally, ANIK's short interest is relatively low to other biotech stocks at 0.58%.
PRODUCT PORTFOLIO
The company's products are primarily derived from hyaluronic acid (HA). HA is a naturally occurring biocompatible polymer found in the body.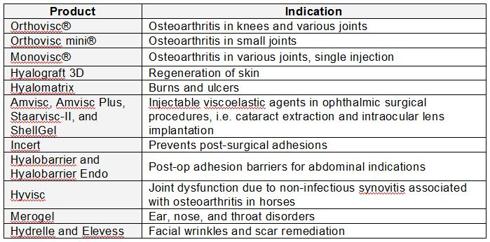 2009
Stronger sales of Orthovisc products and their aesthetic dermatology products drove sales growth in 2009.

2010
Potential Catalyst: In the second half of 2010 or no later than December 31, 2010, ANIK expects to receive a decision from the FDA on their Monovisc PMA. Monovisc is a single-injection treatment that is indicated for osteoarthritis. Upon FDA approval, the company expects to launch the single-injection treatment in 2010.
Potential Catalyst: ANIK also plans to seek regulatory approval for Fidia Advanced Biopolymers' or FAB's, orthopedic products in 2010. ANIK acquired FAB in 2009. It is worth noting that the company expects to generate a profit from the FAB acquisition by FY 2011.
Continued Growth: During 2010, the company also expects to see continued growth in both Orthovisc and Monovisc products.
Souce: ANIK's 2009 Annual Report
CONCLUSION
In 2010, the company should continue to grow its revenue between 10-20% as well as obtain regulatory approval for Monovisc, single-injection.
While trading at such low valuations compared to its peers, ANIK appears to be a good opportunity, and one that investors should give consideration.
2010 Price Target: $9.00+
Disclosure: No position