With the drop in Whole Foods (NASDAQ:WFM) stock price since the November '13 earnings report (from the $65 price level to today's low $50's trading range), which was the occasion WFM lowered 2014 guidance for comp's (5% range) as well as revenue and earnings per share (EPS) estimates for 2014, WFM has been building a base in the low $50's.
Retail and Consumer Discretionary sectors have been hit hard since mid-November '13 partly because of the seasonal trade (ironically retailers don't typically trade well during December, despite the holiday shopping focus), and then the brutal Midwest and East Coast winters have added to consumers being less mobile and more prone to stay home.
The point being expectations have been lowered coming into WFM's report, which is often a positive.
WFM reports their Q1 '14 quarter, Wednesday night, February 12th after the closing bell. Analyst consensus (per ThomsonReuters) is expecting $0.44 in earnings per share on $4.29 billion in revenue for expected year-over-year (y/y) growth of 13% and 11% respectively.
When WFM gave initial guidance for fiscal 2014 on November 13's conference call, WFM management lowered their comp expectations to 5.5% - 7% for the year, and lowered their EPS guidance for the year to $1.65 - $1.69.
I'd think that WFM comp's for the fiscal first quarter would be between 4% - 5.5% allowing for some weather weakness. SBUX printed a 5% quarterly comp in late January and there is a close correlation between Starbucks (NASDAQ:SBUX) and WFM comps, so use SBUX as your leading indicator.
Current 2014 EPS consensus (also per ThomsonReuters as of Friday, 2/7/14) is looking for $1.68 in EPS, which is at the higher end of management's guidance, and for $14.5 billion in revenue, which would be full y/y growth of 14% and 12% respectively.
That is still a very respectable year for WFM, although below historical growth rates for both EPS and revenues.
From a longer-term investment perspective, the most bullish case for a long-term holder of the stock is that WFM management recently raised their total store objective from 1,000 to 1,2000 stores. WFM has roughly 360 stores open currently in terms of their comp base. (In the late 1990's when I first started following the stock, WFM had an original operating goal of 300 stores.)
Using very rough, back-of-the-envelope math, with $15 billion in revenues currently as of fiscal 2013, and the expectation that WFM can quadruple their store base, would leave WFM with roughly $60 billion in annual revenues when they run out of retail room.
Since most retailers are thought to be fairly valued at 1(x) 4-quarter trailing revenues, with a market cap of $20 billion currently and $53 per share, conceivably (with that store base estimate) we could see a $150 share price on WFM and a $60 billion market cap on the stock, before WFM becomes a 3% secular grower.
Again, that is a VERY rough calculation of WFM's potential value using the store base estimate and the expected revenues with those stores.
Our earnings-based intrinsic value estimate for WFM as of last quarter was $116 per share, while Morningstar's conservative discounted cash-flow valuation model puts an intrinsic value estimate on WFM closer to $43 per share. (Readers can quickly see the flaw in valuation model methodology, i.e. ultimately an intrinsic value estimate is still just an opinion.)
We use an average our model and Morningstar's intrinsic value estimate to get a reasonable price target for our holdings, where we might want to reduce a full position in a stock, which for WFM would be roughly $75 per share.
Even if we use more conservative estimates, the case could be made for the stock to double from here over the long run, if that store growth estimate is too aggressive.
We've written about WFM on our blog with the recent pullback in the stock but we were too early when writing about it in mid-January '14. (Actually WFM raised their long-term store growth goal to 1,200 in December '13, which we didn't catch with our Jan. '14 blog update.)
From a valuation perspective, WFM is trading at 31(x) and 27(x) the Street consensus of $1.68 and $1.97 EPS estimates for WFM for fiscal '14 and '15, for expected growth of 14% and 17% respectively.
WFM is also trading at 1.4(x) revenues too.
On a cash-flow valuation basis, at 15(x) cash-flow and using the above earnings data, there is little that is attractive about WFM from an "absolute" valuation basis. Relatively, the last time WFM looked like a screaming buy at 6(x) cash-flow was late 2009, and it was generating negative free-cash-flow off the 2008 Great Recession.
On our spreadsheet, the one interesting item about cash-flow and free-cash-flow was that WFM is only returning about 30% - 35% of its free-cash-flow to shareholders. I don't know if it makes sense for WFM to repurchase a lot of their stock at these valuation levels, but we will likely see continued dividend increases with the payout ratio in the high 20%, low 30% payout range.
Technically, WFM is trying to hold on to its 50-week moving average at $52.75. The thought is that the $49 - $50 area should also be a strong support area.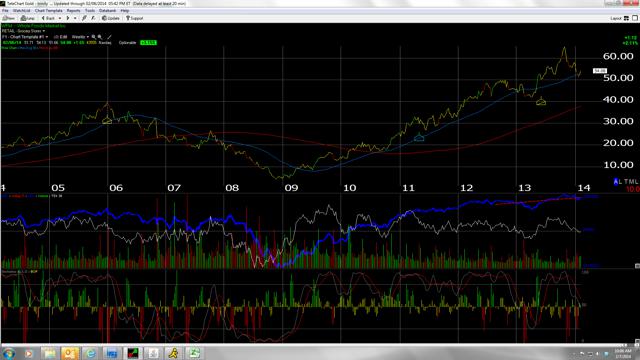 To conclude, with the Midwest weather, I thought analysts would have turned more sour on WFM's quarter but the estimates still indicate decent growth. 2014 as well, shows decent revenue and EPS growth.
Secular growth stories like WFM are sometimes only reasonably valued and investors have to use longer-term pullbacks to buy the stock. Assuming the 1,200 estimated store growth is not a figment of an overly bullish management, WFM's secular growth story remains intact.
We'd be a buyer lower and I actually hope WFM scares investors a little more and we get one more opportunity to pick up the shares. In the last few weeks we've added to our WFM positions between $51 - $52.5 trading levels, during this recent general equity market weakness.
WFM is a great brand and management is a solid operator. The long-term secular growth opportunities look to remain in place.
Disclosure: I am long WFM, SBUX. I wrote this article myself, and it expresses my own opinions. I am not receiving compensation for it (other than from Seeking Alpha). I have no business relationship with any company whose stock is mentioned in this article.