By Bryan McCormick
US stock index futures clawed back from negative to positive this morning at the time of this writing.
While Asia remained mixed to down, European and UK markets bounced back as Greece announced its request for the bailout from the European Union and the International Monetary Fund. This helped to turn the euro slightly positive, but the impact was largest in equity markets, with indexes up close to a percent across the board.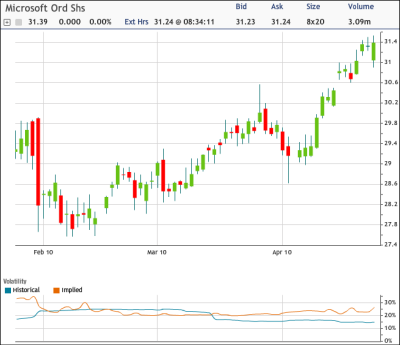 The higher sentiment in Europe, fueled as well by positive economic news this morning, helped to turn US futures higher. The German Ifo index, a measure of business sentiment, rose sharply as an expression of confidence that Germany's economy is fully exiting the financial crisis slump.
In terms of stock action, one thing that has helped the Nasdaq 100 futures is the snap-back, so far at least, in Microsoft (NASDAQ:MSFT) shares. In yesterday's post-market MSFT fell nearly 5 percent after its earnings report, but shares are now down less than 2 percent. That may of course change again, but for now it has helped keep the futures from slipping.
Amazon.com (NASDAQ:AMZN) so far remains closer to its after-market lows, which may be a drag on the Nasdaq 100. Better news from American Express (NYSE:AXP), Capital One (NYSE:COF), and Western Digital (NYSE:WDC) may help offset losses in other indexes.
The differences between post-, pre-, and regular market prices have been extreme in some cases, so where these stocks are currently pricing could change substantially by the opening bell.
In other earnings news, Schlumberger (NYSE:SLB), FLIR Systems (NASDAQ:FLIR), Dover (NYSE:DOV), Honeywell (NYSE:HON), Johnson Controls (NYSE:JCI), Rockwell Collins (NYSE:COL), and Travelers (NYSE:TRV) are reporting today. For Monday, notable name reporting include Boston Scientific (NYSE:BSX), Caterpillar (NYSE:CAT), Humana (NYSE:HUM), Masco (NYSE:MAS), Plum Creek Timber (NYSE:PCL), and Texas Instruments (NYSE:TXN).
Next week's earnings news will be heavier than this week, with 160 S&P 500 companies reporting. We can expect more turbulence ahead, at least in individual names if not the broader indexes.

Disclosure: No positions