There has been a lot of speculation that AT&T (NYSE:T) may buy Vodafone (NASDAQ:VOD) or other European telecom company in the near future. AT&T is looking for growth abroad and sees the regulatory environment in Europe as appropriate, and it thinks that there exists significant growth for operators who have the financial backbone to invest in technology, namely 4G LTE. Another alternative may be Everything Everywhere [EE], the U.K. joint-venture between Orange (NYSE:ORAN) and Deutsche Telekom (OTCQX:DTEGY), but an IPO of EE is probably the most likely exit path for its shareholders.
Recently, AT&T has denied to the U.K. Takeover Panel of bid plans for Vodafone. However, an offer is constrained for only 6 months, so speculation that AT&T will eventually try to buy Vodafone remains alive. Over the past few months, a potential bid from AT&T has been one of the main reasons why Vodafone has outperformed some of its closest peers, as shown in the following chart.

(Source: Yahoo Finance)
Speculations on the bid started to emerge when Vodafone agreed to sell its 45% stake in Verizon Wireless (NYSE:VZ), making a takeover from AT&T much more likely. Vodafone's minimal geographical overlap with AT&T after the Verizon stake sale also means that such an acquisition should be allowed by both regulators in the U.S. and Europe. However, until the deal is closed between Vodafone and Verizon, AT&T should not bid for the company. Therefore, if AT&T ultimately decides to bid for Vodafone, it should not happen before the fourth quarter of the year.
As I discussed in my previous article on AT&T, the company has made public over the past few months its intentions to grow abroad through acquisitions, targeting specifically Europe. Over the past few years, AT&T has struggled to grow in the U.S. amid competition from its three major competitors. The recent price cut announced by AT&T reflects the extent of urgency among the carriers to stay ahead of each other in luring subscribers. Furthermore, given AT&T's huge size and the high mobile penetration rate in the U.S., it should continue to post relatively small growth over the coming years. Thus, its growth path should be towards foreign operations, and in this regard, Vodafone seems to be a good fit. Vodafone is one of Europe's leading telecom operators but also has a good geographical footprint in emerging markets.
Vodafone is very well-diversified geographically, being present in over 30 countries across 5 continents. The majority of its customers are located in emerging markets, namely India and Africa. By revenue, its largest single market is Germany with a weight of 18%, followed by the U.K. with a 12% weight. Vodacom (OTC:VDCMY) is 65% owned by Vodafone, having several operations throughout Africa, including in South Africa and Tanzania.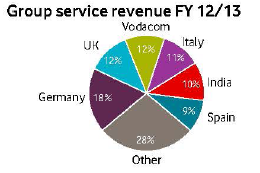 (Source: Vodafone Group Factsheet pdf)
A combined AT&T/Vodafone company would have almost $200 billion in revenues, becoming the world's largest telecom operator. Its total number of subscribers would amount to more than 500 million. Its revenues would be split 65% in the U.S. and 35% abroad. High-growth areas like India and Africa would represent about 8% of revenues, having the potential to increase its weight considerably over the long term due to its much better growth prospects than developed markets. A combined company would have a much higher weight on mobile than AT&T alone, as Vodafone's operations are mainly in this segment. This would also improve the company's overall growth prospects, as mobile enjoys stronger consumer demand than wireline operations. Regarding profitability, its combined EBITDA would be above $60 billion. AT&T has a slightly higher EBITDA margin (32%) than Vodafone (29.5%), so a combined entity would have a 31% EBITDA margin, which is in line with the industry's average. However, this does not take into account potential cost savings that could lead to higher profitability going forward.
AT&T's net debt is about $71 billion, representing a net-debt-to-EBITDA ratio of 1.71x, which is however not worrisome for a stable company like AT&T and could be even higher. Vodafone's balance sheet post Verizon deal will be stronger than AT&T, given that its net debt is expected to decline to about $18 billion from its current $49 billion level. Vodafone's net debt-to-EBITDA will decline to less than 1x, which is relatively low and would lead to lower overall combined leverage.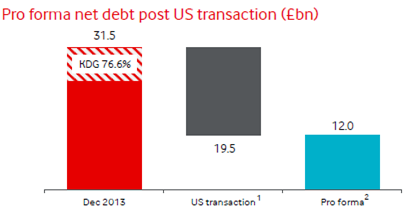 (Source: Vodafone Presentation Slides pdf)
Vodafone's current market capitalization is about $170 billion, but this includes Verizon deal proceeds to shareholders amounting to more than $85 billion. Thus, AT&T's bid for 100% of Vodafone's capital should amount to about $100 billion, assuming a 20% premium to its current share price. As Vodafone is already trading at a premium, this should be enough for the majority of Vodafone's shareholders to welcome a deal.
Assuming AT&T takes advantage of the current low interest rates environment and finances the takeover completely through debt, the combined company would have a net debt of about $190 billion, representing a leverage ratio of more than 3x. This would certainly lead to a significant credit downgrade probably to below or at the bottom of investment grade, something that AT&T's management may not be willing to accept. Both companies have currently a single-A credit rating. Therefore, assuming a leverage ratio of 2.5x is appropriate for the combined entity, this implies an equity issue of $40 billion. This way, the takeover would be issued by 60% in debt and 40% in equity. AT&T's current number of shares outstanding is 5.23 billion and new shares issued at its current price would amount to near 1.2 billion, which would represent a share dilution of more than 20%.
Assuming AT&T issues $60 billion in debt at an average cost of 4%, and taking into account analysts' estimates of 2014 earnings for both companies, this would lead to combined earnings per share [EPS] of $2.39 versus $2.69 for AT&T as a standalone company. This would also result in EPS dilution of 11%, despite the combined company's higher earnings. This could be offset by a combination of payment in cash and AT&T treasury shares to Vodafone shareholders, reducing the number of new shares needed to be issued. Assuming AT&T is not willing to cut its dividend, which currently is $0.46 per quarter or $1.84 annually, its dividend payout ratio would be 77% which is relatively high.
However, AT&T is a cash cow due to its strong cash flow generation capacity, given that in 2013 its free cash flow amounted to $13.6 billion. Vodafone's annual free cash flow is about $6 billion, so a combined entity would have about $20 billion available before dividends and share buybacks. Even with a higher number of shares, AT&T/Vodafone would only spend about $11 billion in dividends if it decides to maintain its $1.84 per share dividend, which is clearly affordable. This would leave $9 billion available to perform share repurchases and reduce its EPS dilution.
Another alternative that AT&T can explore is selling some of Vodafone's current assets after the takeover is completed, reducing the combined company's leverage and allowing it to perform share repurchases more aggressively. As the European telecom market is much more fragmented than the U.S. market, the fierce competitive environment in Europe can only significantly abate through consolidation. For instance, AT&T could sell Vodafone's businesses in Spain and Italy, which are two markets with relatively low growth prospects and have together an EBITDA of about $6 billion. Assuming an EV/EBITDA multiple of 6x, it would generate proceeds of $36 billion, reducing the company's leverage to about 2x if it were fully committed to reducing debt.
Conclusion
Vodafone seems to be a perfect fit for AT&T, as the company needs to target a large peer to significantly change its current growth profile. Vodafone's assets in Europe and emerging markets do not overlap AT&T's existing ones, so regulatory opposition to the deal should be low. However, the deal dilutes AT&T's shareholders in the short term, as the company's balance sheet is not strong enough to finance the deal exclusively through debt. Nevertheless, AT&T may overcome this issue by selling some assets to offset this issue and reduce leverage, making Vodafone's takeover very attractive to AT&T on a long-term basis.
Disclosure: I am long T. I wrote this article myself, and it expresses my own opinions. I am not receiving compensation for it (other than from Seeking Alpha). I have no business relationship with any company whose stock is mentioned in this article.