For decades, private equity has been a world exclusively focused on using leverage to help make rich people even richer. In fact, its origin can be traced back to J.P. Morgan's acquisition of Carnegie Steel, though the real boom started in the 1980's. Investors have made billions of dollars in profits, though there have been a fair amount of high profile blunders like RJR Nabisco and Revco drug stores.
Little-known BDCs (business development companies) allow regular investors to invest in deals that have similar characteristics to traditional private equity investments. BDCs fund smaller enterprises that are not served by large players like KKR (NYSE:KKR) and Bain Capital, as well as young enterprises that have unproven financial track records. This is where Main Street Capital (NYSE:MAIN) steps in. Though the stock is not cheap, I love the company's leadership as well as its strategy, and I think it could be a compelling investment for long-term holders.
The Strategy
The strategy for Main Street is straightforward. Smaller firms ($10-$100m in revenue) have financing needs that cannot be met by traditional capital markets. Most of these companies would not be able to go to Wall Street and issue bonds, nor are banks willing to extend debt or recapitalize a firm's balance sheet. Main Street, as well as its competitors like ACAS (NASDAQ:ACAS) and Ares Capital (NASDAQ:ARCC).
BDCs have a unique position in capital markets in that the government created BDCs to induce small business lending. As such, BDCs are able to access low-cost debentures that are priced with a spread over the 10-year Treasury yield. Though rates moved up in the third quarter of 2013, rates remain close to historic lows. With the 10-year Treasury currently experiencing downward pressure, I think debenture rates could reset lower in March.
| | | | | |
| --- | --- | --- | --- | --- |
| Pricing Date | Date of Sale | Treasury Rate | Spread Above Treasury | Trust Certificate Coupon Rate |
| 3/17/10 | 3/24/10 | 3.64% | 0.47% | 4.11% |
| 9/15/10 | 9/22/10 | 2.67% | 0.55% | 3.22% |
| 3/22/11 | 3/29/11 | 3.34% | 0.74% | 4.08% |
| 9/12/11 | 9/21/11 | 1.95% | 0.92% | 2.88% |
| 3/14/12 | 3/21/12 | 2.26% | 0.50% | 2.77% |
| 9/11/12 | 9/19/12 | 1.70% | 0.55% | 2.25% |
| 3/20/13 | 3/27/13 | 1.94% | 0.41% | 2.35% |
| 9/17/13 | 9/25/13 | 2.86% | 0.79% | 3.64% |
Image Source: SBA
With the ability to borrow at such low rates, Main Street has a very low cost of funds. However, even more advantageous than the firm's low cost of funds, is its lack of competition. The BDC industry is in effect government subsidized because private capital is somewhat hesitant to lend to the cohort. This does not necessarily mean the companies that Main Street invests in via debt and equity are much riskier than larger companies, it simply means that huge institutional investors need larger deals with such huge amounts of assets under management.
My favorite quote from CEO Vince Foster came on a conference call during the fourth quarter of 2012. Foster said:
"…There's a continuous supply demand imbalance of the amount of businesses that need capital, that need to exit, aging on or partners that don't get along, you name it. There's no shortage of it. And we just -- we try to pick the ones that are most likely to make it through."
The small business market is full of arbitrage because there simply are not many investors interested in it, and, as Foster says, exits are not necessarily dependent on the fundamentals of the business. Businesses often sell for 4-5x EBITDA, if not lower. Thus, when Main Street does engage in equity participation, I believe the company often does so at favorable valuations.
Otherwise, the company makes debt investments in companies that can be used to recapitalize, fund growth, or acquisitions. This is where Main Street generates the lion's share of its net income, though it can also receive dividends from equity investments and gains from equity sales.
Market Segments
Main Street focuses on serving a few different market segments. Let's take a look at each and how the strategies may differ.
Lower Middle Market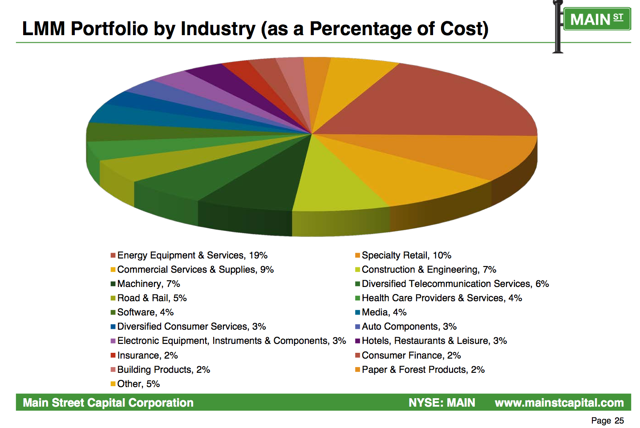 Source: MAIN 3Q13
The lower middle market (LMM) is generally defined as companies with $5 million to $50 million in revenue. Main Street, based in Houston, Texas, has 19% of its lower middle market investments in energy equipment and services. Specialty retail is the only other sector that makes up at least 10% of the LMM portfolio.
Across 62 companies, this portfolio has a fair value of $635.8 million with the secured debt portion yielding 14.9%. This equates to a net interest margin on matched SBIC debentures of 1,050 basis points-considerably higher than the 250-300 NIM spreads seen across large financial institutions like JP Morgan (NYSE:JPM) and Wells Fargo (NYSE:WFC). 89% of secured debt is first lien; meaning Main Street is poised to recoup its debt in the event of a bankruptcy. Main Street also has an average ownership stake of 33% in its LMM portfolio companies; meaning Main Street participates in upside gain by financing these companies. CEO Vince Foster also notes that many potential deals die in due diligence, so I suspect the portfolio is mostly high-grade.
Without question, the LMM is Main Street's sweet spot for investing.
Middle Market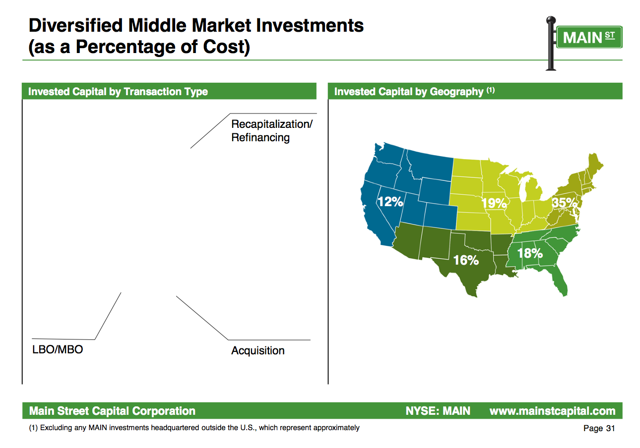 Source: MAIN 3Q13
The middle market is much broader than the LMM, defined as companies with $50 million to $500 million in revenues. Main Street's middle market portfolio has a fair value of $391.1 million, making it much smaller than the LMM portfolio. I attribute this difference to two things: there is more robust investment interest in companies of this size and companies are probably not as willing to provide high upside equity kickers to Main Street.
The average investment in the middle market portfolio is $4.7 million-less than 1% of the total portfolio. The portfolio is also more competitive in terms of interest rates, as the average investment yields 7.9% leaving Main Street with a 450 basis point spread over its cost of funds. While a nice compliment to the LMM portfolio, the middle market portfolio is nowhere near as compelling as its smaller compliment.
Management
Here is what separates Main Street Capital from other BDCs, in my option. The management team is absolutely fantastic. CEO Vince Foster runs a tight ship that focuses highly on diversification as well as an investment structure that provides considerable yield and equity that helps Main Street participate in the upside that comes with ownership. More importantly, Foster reminds me of Warren Buffett in the sense that he likes to keep costs considerably lower than competitors. Operating expenses as a total of assets stands at just 1.81% compared to 2.9% for internally managed BDCs and 3.6% for externally managed BDCs.
Why are costs so low? Because management owns a considerable stake of the business, owning 6% of the business. Foster keeps increasing his stake in the business, with the bulk of his net worth invested in Main Street. There's nothing better for shareholders than when management's incentives are perfectly aligned with their won.
Valuation
Main Street's structure dictates that it must distribute at least 90% of taxable income via dividends. While the firm pays a quarterly dividend, it has had to pay out additional income via supplemental dividends. Nevertheless, the firm focuses on both boosting net income and book value. Over the past four quarters, Main Street's boosted its net asset value (NAV) to $20.01 from $17.49 - an increase of 14%.
With credit still relatively easy, private equity firms are finding the space more attractive for investment. This could theoretically depress yields on investment, as well as boost valuations in the space. Therefore, I believe it will be harder for Main Street to boost book value at such an impressive rate going forward. A high single to low-double digit growth rate may be achievable given Main Street's fantastic management team.
Even with potentially increasing rates, I think Main Street is worth 1.5x NAV, or approximately $30 per share given the third quarter NAV. The firm reports 4th quarter results at the end of February, and I think the NAV will probably be $20.50-$21.00 per share. Even though the firm yields 6.1%, I'd wait for a slight pullback for entering a position in the stock.
Disclosure: I have no positions in any stocks mentioned, and no plans to initiate any positions within the next 72 hours. I wrote this article myself, and it expresses my own opinions. I am not receiving compensation for it (other than from Seeking Alpha). I have no business relationship with any company whose stock is mentioned in this article.