On February 4, Antero Resources (NYSE:AR) provided a summary of its year-end 2013 reserves. As anticipated, the report showed strong overall proved reserve additions and an increase in EUR estimates in the Marcellus driven by the success of short stage length (SSL) completions. Of note is one area, however, where EUR estimates were actually revised down. The change in estimates relates to Utica's condensate window and has a read-across to several other operators with significant exposure to the condensate portion of the play.
Utica's Condensate Window EURs Reduced By 18%
According to Antero's press release, the company estimates that its Noble County Utica wells located in the highly-rich/condensate window had an average EUR of 11.3 Bcfe (32% liquids). The estimate is normalized to a 7,000' lateral. This new EUR represents an 18% decrease from previous estimates. The company noted that this reduction was due to lower-than-expected production performance from the highly-rich/condensate wells in 2013. While production environment has clearly impacted the volumes - the wells were producing into high (1,100 psi) line pressure as no compression was available in the area during the year - the primary cause for the revision appears to be the very steep initial decline, particularly in the condensate rates.
In total, Antero brought on production 11 Utica wells in 2013 consisting of 2 rich gas (1100-1200 BTU) wells, 4 highly-rich gas (1200-1250 BTU) wells and 5 highly-rich/condensate (1250-1300 BTU) wells. The EURs for the rich gas and highly-rich gas wells are essentially in-line with previous estimates:
The rich gas wells had an average EUR of 18.8 Bcfe, including 15% liquids (previous estimate 18.0 Bcfe, 16% liquids)
The highly-rich wells had an average EUR of 20.5 Bcfe, including 23% liquids (previous estimate 19.9 Bcfe, 26% liquids)
All estimates are normalized to a 7,000' lateral and assume ethane rejection.
The following two slides show a side-by-side comparison of Antero's new (the first slide) and the old (the second slide) estimates for its Utica's EURs and single-well drilling economics. Of note, the reduction in the EUR has reduced estimated single-well drilling returns in the condensate window from 220% to 145%. The strong drop in the return is not surprising given that condensate represents by far the most valuable component of the production stream.
New (February 4, 2013) Utica EUR Estimates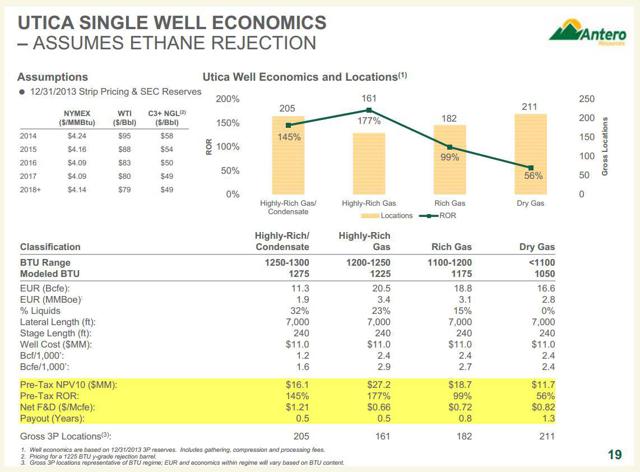 Click to enlarge
Previous Utica EUR Estimates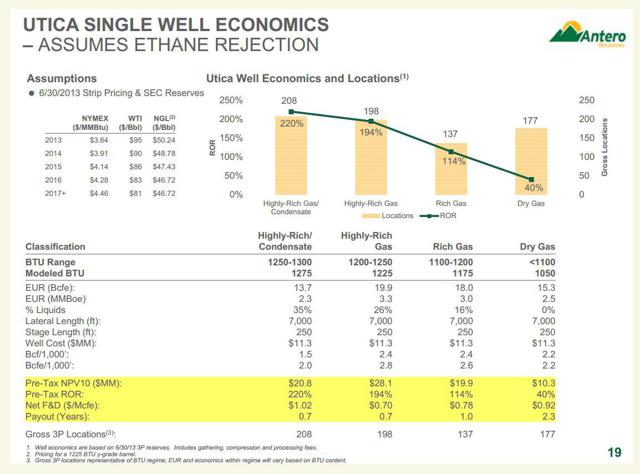 Click to enlarge
The reduction in the condensate window EUR estimate does not come as a surprise. A week ago, Antero provided average 30-day flow rates for its eleven Utica wells that had been on production for more than a month. A comparison of the 30-day rates to the 24-hour IP rates highlight very steep initial production declines in Utica. The eleven wells had an average 30-day processed production rate of 14.7 MMcfe/d, which compares to the average of ~28.5 MMcfe/d 24-hour rate for the same eleven wells (ethane rejection assumed in both cases). This represents a 48% decline. The decline was particularly pronounced for the condensate volumes in the highly-rich/condensate window. For Antero's five Noble County wells, the weighted average decline in condensate rate was 65% from the 24-hour peak rate to the 30-day rate.
Similar declines have been reported by other operators and, in some cases, have caused disappointments once longer production history was accumulated. To mention just one example, Halcon Resources' (NYSE:HK) flagship Utica well, the Kibler 1H well in Trumbull County, Ohio, tested at a 24-hour rate of 2,233 Boe/d (75% liquids). The IP rate, which was announced in the company's Q2 2013 report, was comprised of 860 barrels of condensate per day and 4.5 million cubic feet of 1,350-Btu natural gas per day (based on composition analysis and assuming 27% gas shrink, Halcón estimated that the well would produce an additional 821 barrels of NGLs per day). The 30-day rate for the Kibler 1H was reported in Halcon's Q3 2013 press release and came in at 358 barrels of condensate per day and 1.6 million cubic feet of gas per day on a restricted 24/64 choke. While Halcon commented that the 30-day rate was in line with internal expectations, the wide difference between the 24-hour and 30-day rates seemed to catch some investors by surprise and contributed to a strong stock price decline following the quarterly results.
The lack of established production histories in the Utica make the analysis of drilling economics in the play very challenging. While the extraordinary IP rates, particularly condensate, have been captivating, decline rates have often been equally steep. Admittedly, Antero's initial EUR estimate and the 220% return projection for the condensate window was materially higher relative than other operators' estimates and an adjustment to initial projection is to be expected this early in the play's evaluation. Still, the company's downward revision may draw additional scrutiny to the type curves that other companies use in their EUR and drilling economics projections.
Several stocks are particularly exposed to the drilling economics in Utica's condensate window. Those include Gulfport Energy (NASDAQ:GPOR), REX Energy (NASDAQ:REXX), PDC Energy (NASDAQ:PDCE), and Chesapeake Energy (NYSE:CHK).
Antero's updated estimates for Utica drilling economics also lends support to the thesis that the play's economic sweet spot may be located towards the eastern side of the fairway, in the wet gas and dry gas window (as opposed to the oil and condensate windows, as was often perceived during the early days of the play).
Disclaimer: Opinions expressed herein by the author are not an investment recommendation and are not meant to be relied upon in investment decisions. The author is not acting in an investment advisor capacity. This is not an investment research report. The author's opinions expressed herein address only select aspects of potential investment in securities of the companies mentioned and cannot be a substitute for comprehensive investment analysis. Any analysis presented herein is illustrative in nature, limited in scope, based on an incomplete set of information, and has limitations to its accuracy. The author recommends that potential and existing investors conduct thorough investment research of their own, including detailed review of the companies' SEC filings, and consult a qualified investment advisor. The information upon which this material is based was obtained from sources believed to be reliable, but has not been independently verified. Therefore, the author cannot guarantee its accuracy. Any opinions or estimates constitute the author's best judgment as of the date of publication, and are subject to change without notice.
Disclosure: I have no positions in any stocks mentioned, and no plans to initiate any positions within the next 72 hours. I wrote this article myself, and it expresses my own opinions. I am not receiving compensation for it (other than from Seeking Alpha). I have no business relationship with any company whose stock is mentioned in this article.