By Alfonso Esparza
On Tuesday, the Reserve Bank of Australia maintained the benchmark interest rate at 2.50%, where it has been pegged since August. This didn't grab much attention from the markets, but the Rate Statement did. Governor Glenn Stevens noted that interest rates are at an appropriate level, indicating a shift from easing to a neutral stance. He also made a point of noting the Australian dollar's strong decline, stating that it will "assist in achieving balanced growth" for the Australian economy. Stevens refrained from saying that the Australian dollar was "uncomfortably high" as he has done in the past. The RBA has room to be pleased, as the Aussie has shed 8% of its value in the past three months.
Abenomics Was Praised For its Effect on the Yen Now Catches Blame for Lower Stock Market
The Nikkei Index did not escape the global stock market slowdown. It is down 1 percent in a week that had the European Central Bank and the Bank of England hold rates and disappointing earning in the US. The most anticipated event of the week was the US jobs report which came in at 113,000 new jobs in January. The number was below expectation of around 180,000 which made the JPY strengthen versus the dollar deflating one of Shinzo Abe's ongoing victory of a weak currency. The markets continue to question Abe's ability to deliver arrows number two and three in his three arrow strategy. The first arrow launched a monetary policy stimulus that so far has been successful in driving the stock market higher and the Yen lower. This has benefit the inflation numbers which for the first time in decades have posted consecutive positive numbers escaping deflation.
This week several analyst and managers have forecasted trouble ahead for Abe's Japan if the government spending continues without any deep reforms. Labour, fiscal and trade reforms are on the agenda, but so far Abe has only promised changes and failed to deliver them. The second and third arrows depend on Abe taking a hard stance to push through the unpopular reforms. He has tried to sweeten the labor changes with again a promise to raise wages. Industry groups have agreed in principle to those raises, but only after Abe delivers the reforms.
China returns from Lunar Year Holiday to Slowing PMIs
The Chinese Yuan gained versus the US dollar over 2 percent in 2013. The government's mission to increase CNY convertibility and liquidity paid off when the BIS triennial survey welcomed the currency to the top 10 most traded globally. This Friday marked the end of the Lunar Year holiday and disappointing reports awaited Chinese traders. The official purchasing manager index fell to 50.5. Still above the expansionary measure of 50, but below the January reading of 51. China's services sector also showed a slowdown this week. The HSBC/Markit Services PMI showed a fall as the index is 50.7 in January versus December's 50.9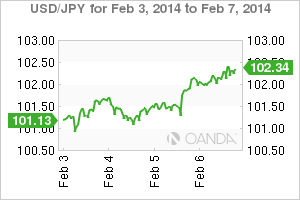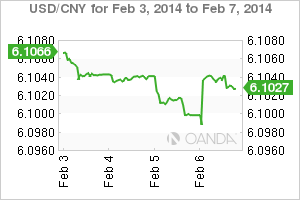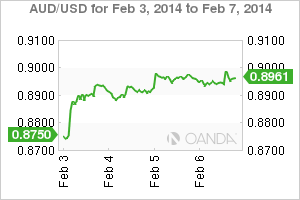 WEEK AHEAD
* GBP Bank of England Inflation Report
* AUD Employment Change
* USD Advance Retail Sales
* CNY Consumer Price Index
* EUR French Gross Domestic Product
* EUR German Gross Domestic Product
* USD U. of Michigan Consumer Confidence