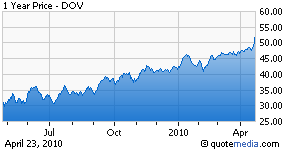 Dover Corporation (NYSE:DOV) reported results for the first quarter of fiscal 2010 with net earnings of $121.5 million, almost double the $61.1 million in the year-ago quarter. EPS went up to 65 cents from 33 cents in the first quarter of fiscal 2010. Reported EPS surpassed the Zacks Consensus Estimate of 51 cents.
The company reported net revenues of $1.6 billion, up 15% year over year. The increase in revenues was driven by a 7% organic revenue growth, 5% through acquisitions, and 3% from positive foreign currency exchange rates. Dover generated bookings of $1.8 billion, yielding a book-to-bill ratio of 1.12.
Dover continues to pursue strategic acquisitions in a bid to improve its product offering and complement its organic growth strategy. The company is currently reviewing various other acquisition opportunities. Apart from growth through acquisitions, it has taken various initiatives to improve profitability.
The company has started a new global procurement initiative and implemented various other restructuring programs. The company has completed the analysis and prioritization phase, and has launched several projects to leverage its procurement and sourcing activities. These projects are expected to contribute $75 million to $100 million to total earnings for the period 2010–2011. Also, the company is maintaining its financial strength through healthy cash flow generation.
For 2010, management expects a revenue growth of 10%−13%, with an organic revenue growth of 7%−10%, and 3% growth from 2009 acquisitions. Full-year EPS is expected in the range of $2.70−$2.95.
Despite weak demand conditions in the near term, we believe the stock will Outperform the market in the coming months.