REITs represent one of the most convenient and compelling vehicles for retail investors wishing to expose themselves to real estate ownership. The stresses of tenant/landlord disputes, building rehab. costs, as well as tax headaches, which are some of the many downsides to renting property, are all absorbed by REIT entities. Of course there's no free lunch here, as most trusts generously compensate their executives with salaries and stock options, employ marketing departments and salespeople to fill properties, and otherwise have variable and fixed overhead costs that mom-and-pop landlords are generally able to avoid on an ongoing basis.
Still, despite the innate bottom line drag of the vehicle, investors not predisposed to independently owning individual property should find REITs to be a simple real estate investment solution. However, I would argue that the seeming simplicity of a REIT should not be mistaken, misconstrued, or furthered to meaning it is a "safe" investment. Indeed, despite the portfolio diversity involved, investing in a REIT, in many ways, can be much more tricky and fiscally dangerous than investing in individual property.
REITs - What Are You Really Buying?
Let's say you have $100,000 earmarked for real estate investment. You've narrowed your choices down to a residential apartment that you could buy for cash, where the rent with an existing tenant would earn you $8000 in income, or a net 8% cap rate, after taxes and insurance. Your other choice is an equal mix of "high quality" REITs including Realty Income (NYSE:O), Simon Property (NYSE:SPG), and AvalonBay (NYSE:AVB) yielding a little better than 4% on a blended basis.
While you are well diversified with your REIT purchases through a vast tenant base and bear little in the way of "extreme vacancy" risk that you might with an individual apartment investment, your income is only half as much.
Also, bear in mind that when you buy into a REIT, you are also buying into the liability load that the REIT carries through secured (mortgage) and/or unsecured (NYSEARCA:BOND) debt channels. Though O, SPG, and AVB possess fairly sound balance sheets with comparatively low debt to enterprise levels and investment grade credit ratings, many REITs are substantially levered. Thus, when you buy into a REIT you are buying into variable property encumbrance, in essence (but not in reality) taking on debt, which you are not doing by paying cash for a stand alone investment property.
The debt that a REIT takes on should not necessarily be considered bad. In this day and age of cheap money, a REIT can grow its operations by borrowing at low rates, buying property, and generating cap rates well in excess of interest expense. Through leverage and stock offerings, a trust is able to grow FFO and dividends. The landlord of our property above can only grow income by increasing rent, something they may or may not be able to do on a consistent basis.
The biggest uncertainty you take on when you buy into a REIT, is day to day equity pricing. Depending on the whims of individual investors, the REIT that you initially viewed as "cheap, dependable, and durable" could whipsaw your capital quickly, even if underlying real estate pricing is stable. Thus if you go to sell a REIT, you have an additional layer of uncertainty to contend with as opposed to the investor in individual parcels, who only has local market pricing to contend with. On the other hand, you can typically extinguish a REIT position in seconds with the click of a mouse, whereas individual parcels typically take several months and sometimes several years to dispose of.
Today's REIT: The New Step-Up Bond?
For well over six months now, REITs as measured by VNQ, Vanguard's REIT Index, have traded virtually in lockstep with TLT, the iShares long-term Treasury Index. In January, REITs and TLT collectively traded up, while the broader market traded down, quite the opposite of what transpired during the latter half of 2013.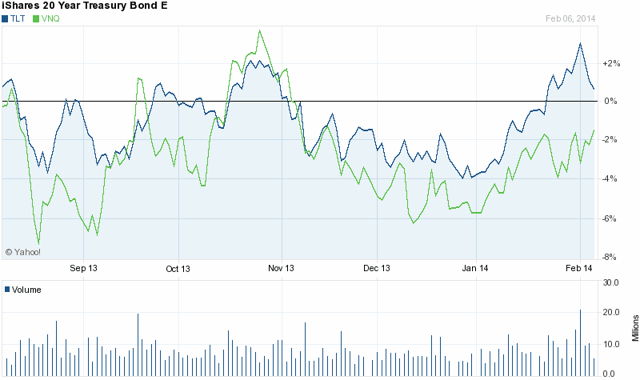 And if we specifically consider some of the more creditworthy REITs like Federal (NYSE:FRT), Tanger (NYSE:SKT), and others with yields in the 3% range, again, we see a lot of similarity in pricing action. The 10- and 20-year Treasuries yield about 2.7 and 3.4%, respectively, while FRT and SKT yield 2.7 and 2.8%, respectively.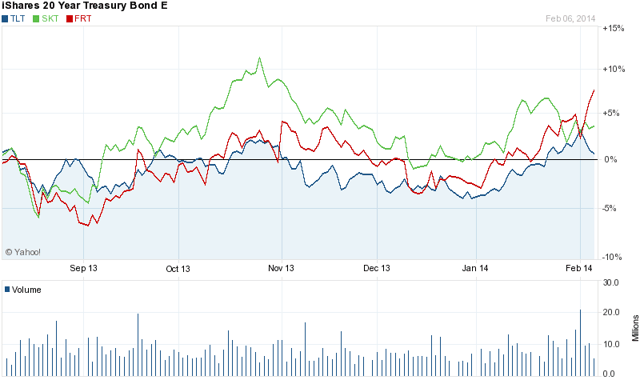 Is it rational for the market to be pricing certain REITs with the yields of long-term treasuries? If one wants to take the position that mature REITs are essentially bonds that should trade with higher prices and lower yields based specifically on relative balance sheet strength and credit ratings then I suppose what the market is doing is rational.
However, I don't view REITs specifically as bonds. I view a REIT generally as a bond/equity hybrid with operating and dividend growth characteristics. The 90% payout requirement certainly creates a "bond-esque" stature, which seems to be exacerbated by many REITs that might choose to pay out more in dividends than might otherwise be required by traditional GAAP "taxable income" rules.
But the bottom line is that when evaluating REITs, one must take comparative valuation and growth rate into account when making selections. While other fundamental intangibles should be brought into the mix, including debt load, occupancy, geographic and business line risk, amongst other things, the "biggie" questions investors should be asking themselves - in relative order of importance - are these in my view:
How much am I paying for the operations?
How fast are the operations growing and is it sustainable?
What are the risks to the REIT's cash flow sources and general business model?
Does management seem competent?
Is the dividend payout/yield acceptable and commensurate for the price I am paying, risk I am taking, and cash the REIT is generating?
As most readers know, REIT operations are generally based on a golden standard of FFO, a non-GAAP measure that eliminates depreciation from the performance calculation mix. Adjusted FFO, or AFFO, is typically considered an even more exact measure of cash that is available for distribution to shareholders on a periodic basis. For true performance comparison sake, these are the numbers that investors should be utilizing to assess valuation amongst the universe of publicly traded REITs.
There are some REITs like Federal with high credit ratings (A range), mid single digit growth, and low yields (~3%) trading with nosebleed valuations of better than 20X operating output. Then there are others with lower, but still investment grade credit ratings, lower valuations, and much higher yields (~7%), like American Realty Capital (ARCP). To me, the choice is clear to own an ARCP or even a Realty Income (O) over FRT, yet the market continues to ascribe a very wide valuation variance between the three, which I find irrational.
If one wants to pay a premium to own a company like Federal, thinking that they are taking less risk than an ARCP - they should think again. Unlike an investment grade bond that you can buy, stick under your mattress, earn periodic interest, and get your capital back, guaranteed, at the end of the loan term, buying Federal Realty at a 2.7% yield today offers no guarantees and limited near-term reward. In fact, all things considered, with a priced to perfection valuation, Federal may actually represent junk bond capital risk at investment grade yield.
Focus On Perceived Value, Not History
While it has become somewhat commonplace for income investors to focus on the durability of past dividend performance when picking stocks and REITs, I prefer a more forward looking approach. To that end, I recommend owning names with a quantitative value advantage and a perceived forward operating/dividend growth trajectory over paying a premium to own names that have an attractive dividend history. While there may be a bit more risk involved in such a strategy, I feel the near- and long-term rewards are worth it.
I think the following names offer an attractively valued, well diversified return proposition in the current market, with a blended 5.75% yield:
American Realty (ARCP) - Commercial triple net leases
EPR Properties (NYSE:EPR) - Diversified leisure property owner
Home Properties (NYSE:HME) - Mid Atlantic apartments
Sabra Health Care (NASDAQ:SBRA) - Skilled Nursing
Lexington (NYSE:LXP) - Diversified triple net leases
LaSalle (NYSE:LHO) - Upscale hotels
REITs - Can You Trust Them?
Given their somewhat bond like characteristics and non-correlated trading behavior, I think REITs could and probably should be a part of most income and dividend growth investors' portfolios, and selectively as part of some total return portfolios. While most mature REITs seem to be offering rather mundane growth prospects, they do provide the comfort of diversity and occupancy that a small landlord is not necessarily able to enjoy.
That comfort, however, seems to be cancelled out by occasional episodes of rampant volatility, a reliance on capital markets, a sensitivity to interest rates, and lower yields relative to what a mom-and-pop landlord might be able to secure. Thus, I think the real estate investor with substantial assets should investigate local opportunities, weighing the pros and cons of becoming an independent landlord before committing a large amount of capital, and trust, to the REIT sector.
Disclosure: I am long ARCP, HME, SBRA, LXP, LHO, EPR. I wrote this article myself, and it expresses my own opinions. I am not receiving compensation for it (other than from Seeking Alpha). I have no business relationship with any company whose stock is mentioned in this article.
Additional disclosure: Disclaimer: The above should not be considered or construed as individualized or specific investment advice. Do your own research and consult a professional, if necessary, before making investment decisions.