By Dee Gill
Past shifts in computer chip technology have been very good to investors, helping shareholders double their money in companies like Broadcom (BRCM) and Qualcomm (NASDAQ:QCOM) and turning Arm Holdings (NASDAQ:ARMH) into a ten-bagger in five short years. With another major upgrade underway – the global rollout of 4G LTE-based smartphones and tablets – investors again get a shot at finding a chip superstar. Or several.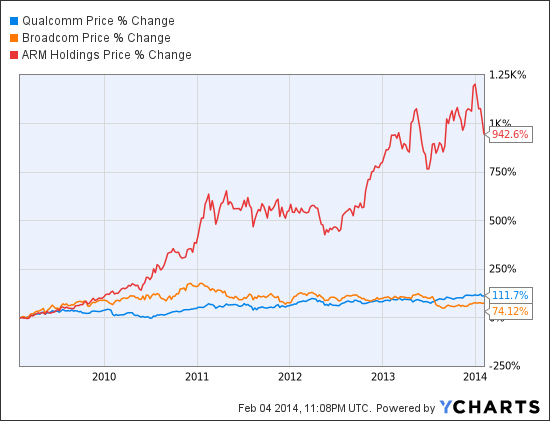 Competition is stiff. Chipmakers that earlier showed little or no interest in the mobile tech revolution that built up Broadcom, Qualcomm and Arm Holdings are hard at work on 4G LTE technology now. In the mix with that trio now are Intel (NASDAQ:INTC), with its $10.6 billion in R&D spending; Nvidia (NASDAQ:NVDA), with a new Tegra chip; STMicroelectronics (NYSE:STM), a French-Italian company that dominates Europe; and several unlisted companies in China, Taiwan and India.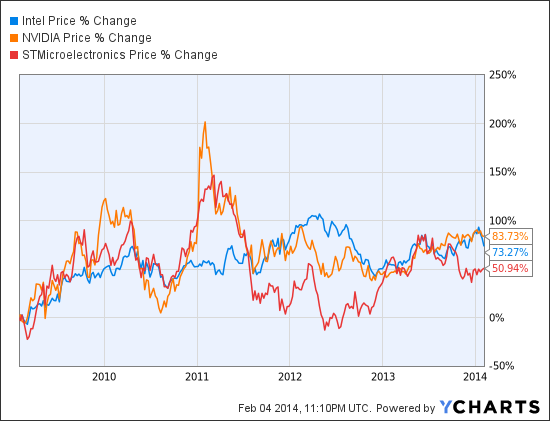 LTE connections will grow at double-digit rates annually through 2017, when they will surpass 1 billion, according to the mobile tech industry group GSMA. Most of that growth will come from developing markets like China and India. Cheaper devices are expected to create the biggest demand, rather than the high-end Apple (NASDAQ:AAPL) and Samsung (OTC:SSNLF) products that have built the smartphone market to date.
On the surface, Qualcomm seems like the obvious choice for investors seeking exposure to LTE growth. Qualcomm has had a near monopoly on certain components for the 4G LTE smartphones, which helped the company rack up strong overall revenue growth.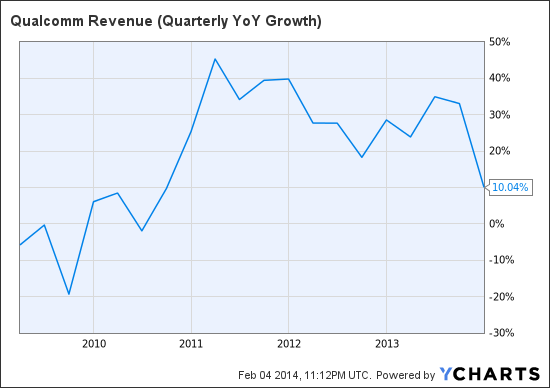 QCOM Revenue (Quarterly YoY Growth) data by YCharts
Also, Qualcomm's shares are trading at a forward PE ratio of about 15.5, which is near all-time lows. They're cheaper than a lot of other major players in the sector.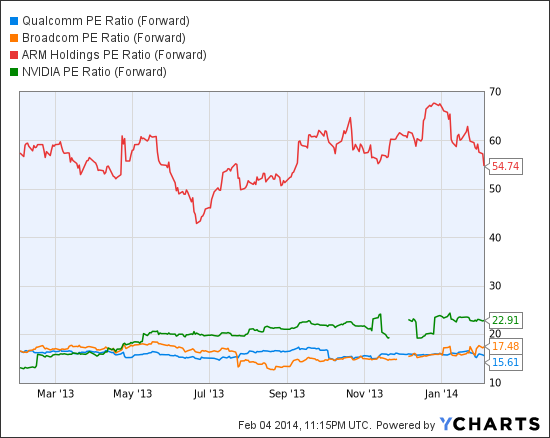 QCOM PE Ratio (Forward) data by YCharts
Qualcomm, however, has other issues that make investors worry about profitability in the new world order. Cheaper phones mean tighter profit margins for Qualcomm for several reasons, including lower royalty income on phone sales going forward. Revenue growth has slowed as phone prices fell. Although long a hedge fund favorite, Qualcomm doesn't get unqualified love: Lee Ainslie's Maverick Capital sold all of its shares last quarter, ending its run as a major part of that portfolio.
Moreover, other chipmakers are expected to take over much of Qualcomm's 4G share this year. While Qualcomm's chips have been the favorite for top-line phones by Google (NASDAQ:GOOG), Nokia (NYSE:NOK), Samsung, Motorola (NYSE:MSI) and many others, the market for chips in more price-conscious products is still largely up for grabs.
Broadcom recently bought a portfolio of wireless chips recently with its acquisition of Renesas, and it has already used that to win some business at Samsung that probably went to Qualcomm before. Also, Broadcom gets more than half of its sales from non-phone products, like high-margin chips sold for data centers. The risk here is that Broadcom's new LTE smartphone products won't really catch on – it's too early to tell.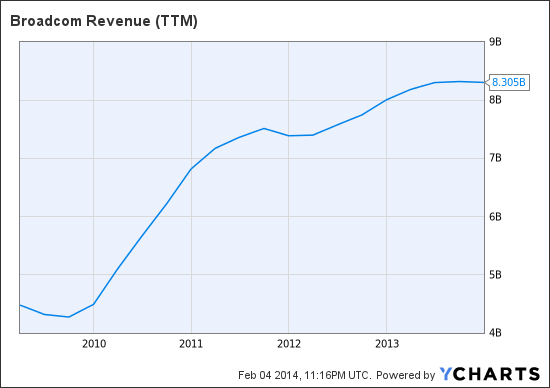 BRCM Revenue (TTM) data by YCharts
Arm Holdings, with chip designs already in some 95% of smartphones, may have the best set-up for growth. Arm sells its chip technology to Qualcomm, Broadcom and other chip makers that customize them for the big phone makers, like Apple and Samsung. So Arm wins when any one of them creates a popular chip. But investors will pay up for the privilege of owning its shares, as seen in that forward price-to-earnings ratio chart above. The market this year has been particularly brutal on high-value stocks that disappoint. Arm shares are down 18% in a month, in part because the company missed profit forecasts for the past quarter.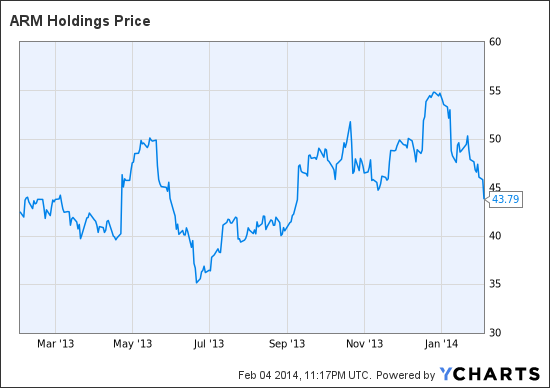 The number of players now in the 4G game may make it difficult for any single superstar to arise, and the move to lower-end hand sets will squeeze profits at each of these companies. Finding the best investment in the sector will require digging into the financial strengths and weaknesses of the candidates, using financial advisor tools. But with a boom in sales of new parts on the horizon, there's an awful lot of money to be made by someone.
Disclosure: None