The year 2013 was a formative year for the telecom industry. Competitors, including AT&T Inc., (NYSE:T) were seen taking out new positions and changing the value proposition for customers all for the benefit of investors in the long term. Smartphone penetration added further benefits to the industry as new business models emerged to cater to 4G LTE technology. Present day, four national US carriers are working to advance their networks to maintain their market share in the face of competition.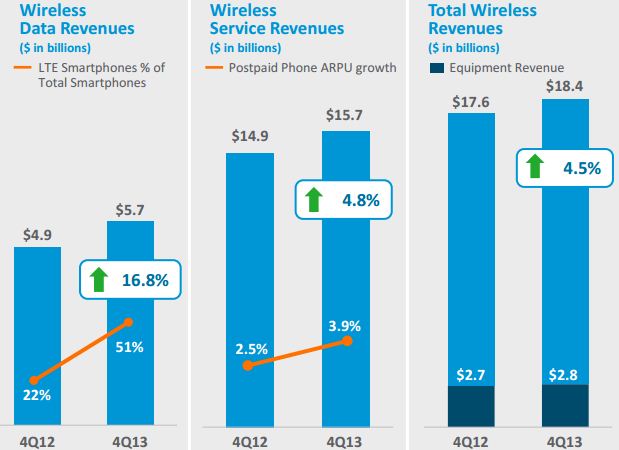 Source: Presentation
AT&T announced its 4th quarter results a few days ago. Total sales grew by 1.8% to $33.2 billion with growth coming from all segments. The dominating wireless segment increased 4.5% to $18.4 billion driven by strong network growth and data-hungry smartphones. The graph above shows that data revenues increased nearly 17% increasing the total figure. Higher data pushed service revenues together as phone-only ARPU rose 3.7% (after adjustments) for the 20th consecutive quarter.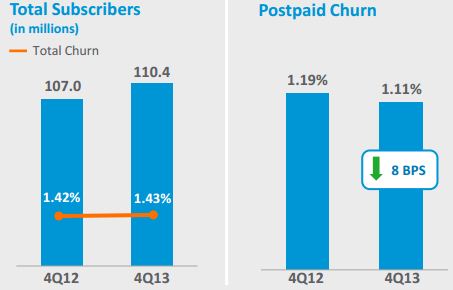 Source: Presentation
During the last quarter, AT&T saw the lowest ever 4th quarter post-paid churn rate of just 1.11% with 1.2 million new post-paid smartphones added. Smartphones account for 93% of post-paid phone sales so this was a good sign. Overall the churn rate remained relatively stable at 1.43%, despite increasing competition, as a result of the company's promotions and reasonably priced offers targeting the post-paid market.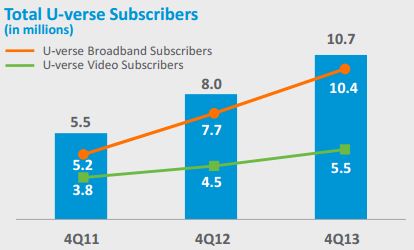 Source: Presentation
With regards to the wire line, the segment's revenue jumped 4.5% to $18.4 billion owing to subscriber gains. The company's U-verse product that combines internet, phone and TV helped drive consumer revenue growth to nearly 3% in the fourth quarter as the company added 630,000 U-verse broadband subscribers in 4Q representing more than 60% of the total broadband base. The good thing about U-verse subscribers is that not only do they have a higher ARPU but churn is significantly lower and increases the likelihood of future revenue generation for the company.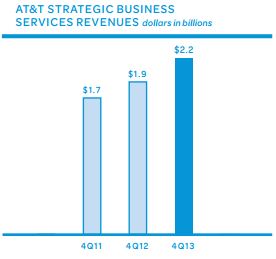 Source: Report
Strategic business services continued to be a big part of the wireline segment. These service products such as VPN, Ethernet, cloud, hosting and other advanced IT services now make up more than 25% of business under the wire line segment and the growth is accelerating to more than 17% year-over-year.
The company's operating costs declined 45% despite project VIP expenses. Cost-saving initiatives along with the U-verse gains and record-breaking annual smartphone sales resulted in consolidated margins turning from negative 18% to positive 36.9% this quarter. The wireless margin's major improvements helped offset the temporary cost pressure from initiatives.
The diluted EPS was $1.31 during the fourth quarter compared to negative $0.68 one year ago. Excluding significant items, the EPS grew 20.5% to $0.53 compared to $0.44 last year. All in all, the quarter boasted many achievements that supported the company's history of providing investors returns for the last 30 consecutive years.
The Future
4G and AT&T's VIP will be the Major Contributing factors to the Company's Revenue
AT&T is currently undergoing a three-year investment plan that it announced back in 2012 that it calls Project Velocity IP. This project will expand and enhance the company's IP broadband networks supporting the customers' desire for high speed internet access and new mobile, app and cloud based services. As part of this project, AT&T will add macro cell sites nationwide by 2015 as well as deploy small cells and Distributed Antenna Systems "DAS" that it manufactures itself. The DAS utilizes multiple small antennas to maximize coverage and speed within stadiums, convention centers, office buildings, hotels and other areas that traditional coverage methods find challenging.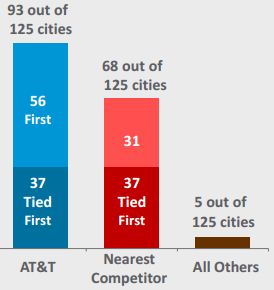 Source: Presentation
Through this technology, the company will add a wide range of networks to support its LTE network. Results have already started pouring in. According to Rootmetrics (see graph above), AT&T is ranked first in terms of network performance under more markets than any other courier. AT&T came 1st in combined (call, text, data) performance in 93 of 125 cities tested in the second half of 2013. The company's $141 billion investment that it made in 2007 in wireless and wire line segment will continue paying off in the near future as ongoing plans become operational.
With regards to the bottom line, AT&T is running project Agile that will streamline operations around an all cloud and mobility experience. The company is working to make 80% of its customer interactions digital and online by 2020. As an initiative, AT&T retired 5,600 employees through voluntary retirement in the fourth quarter most of whom were management employees. There are additional Project Agile initiatives underway that will require some investment and are expected to deliver run rate savings in the $3 billion range by 2017.
Thus, the positive impacts of both the bottom and top lines will translate into good returns for investors.
Conclusion

Source: Ycharts
AT&T share's price is at the same mark that it was a year ago. Meanwhile, during this period it has been volatile, rising the highest during last April and falling down since then to $33.7. Nonetheless, the company has returned $23 billion through dividends and share buyback year to date. For the moment, AT&T offers a great opportunity for investors due to its depressed price. With the backing of a strong LTE network and subscribers that tend to stay on longer AT&T will potentially outperform its peers by a wide margin in the future. Therefore I give it a strong buy rating.
Disclosure: I have no positions in any stocks mentioned, and no plans to initiate any positions within the next 72 hours. I wrote this article myself, and it expresses my own opinions. I am not receiving compensation for it (other than from Seeking Alpha). I have no business relationship with any company whose stock is mentioned in this article.