By Sumit Roy
It was a strong week for commodities. With the exception of natural gas, prices rallied across the board. Even stocks, which saw intense volatility early in the week, managed to finish the period up by less than half a percent. The S&P 500 cut its year-to-date loss down to 3.2 percent from as much as 6 percent on Monday.
Macroeconomic Highlights
A pair of rather disappointing economic reports were released this week, but bullish traders hoped they were a reflection of the severe weather affecting the U.S. and not broader problems with the economy.
On Monday, ISM reported that its manufacturing PMI for the U.S. plunged from 56.5 to 51.3 in January, the lowest level since May. On the other hand, ISM said that its non-manufacturing index ticked up from 53 to 54 to January, better than the expected 53.7 reading.
Meanwhile, the Bureau of Labor Statistics reported that employers added 113K jobs in January, well below the 180K increase that was expected. At the same time, December's job gain was left essentially unchanged at 75K.
On the positive side, the BLS said that the unemployment rate ticked down from 6.7 percent to 6.6 percent, the lowest rate since October 2008. The fall in the unemployment rate came despite an increase in the labor force, which edged up from 62.8 percent to 63 percent.
Importantly, the non-farm payrolls figure and the unemployment rate are derived from separate surveys, which may help explain the mixed message from these reports.
Commodity Wrap
| | | |
| --- | --- | --- |
| Commodity | Weekly Return | YTD Return |
| Silver | 4.12% | 2.57% |
| Soybeans | 3.43% | 1.07% |
| Wheat | 3.24% | -5.12% |
| Brent | 2.30% | -1.76% |
| Corn | 2.07% | 4.98% |
| WTI | 1.61% | 0.65% |
| Gold | 1.55% | 4.83% |
| Copper | 1.25% | -4.71% |
| Palladium | 0.99% | -0.76% |
| Platinum | 0.15% | 0.88% |
| Natural Gas | -2.23% | 14.18% |
Gold and silver put in solid gains this week, but as can be seen from the charts below, the two metals remain stuck in narrow price bands. The big plunge in the stock market earlier in the week wasn't enough to send gold above $1,275 or send silver above $20.50.

Still, we expect gold and silver prices to break higher once this consolidation phase is complete. By now, the Fed's tapering is completely priced in and lingering concerns about emerging market currencies should keep the bias to the upside (see Barchetta Capital's Ponsi Sees More Short-Term Upside For Gold).
GOLD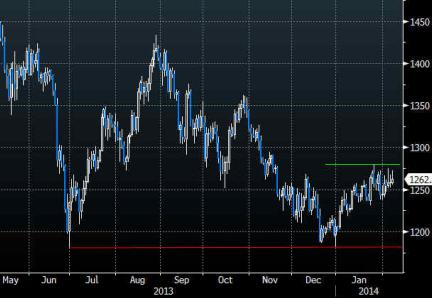 SILVER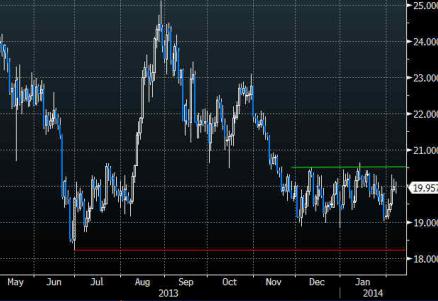 PLATINUM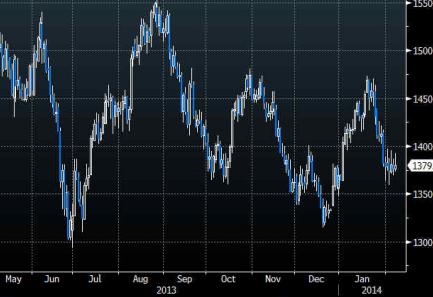 PALLADIUM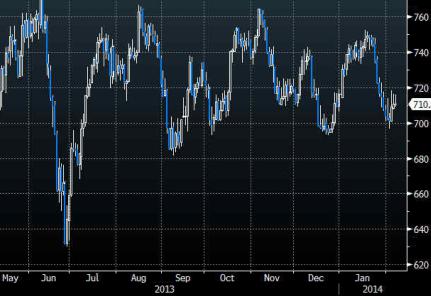 Crude oil was unaffected by the market turmoil on Monday, a strong indication that prices wanted to move higher. And move higher they did on Friday, with both Brent and WTI trading near the highest level since December.

The cold weather in the U.S. has certainly helped demand, but so has tightness on the supply side (see Oil Shrugs Off Stock Correction As Global Supplies Fall & Demand Holds).
BRENT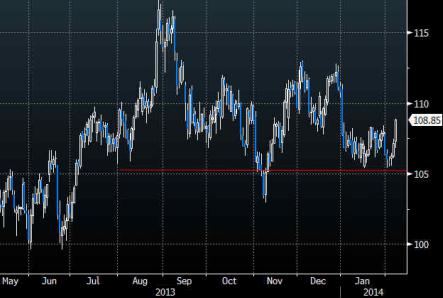 WTI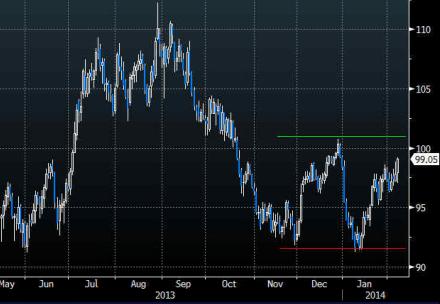 Corn rallied to the highest point since October as traders grew more confident that prices have put in their lows just above $4/bushel. Strong export data from the USDA also supported.

From a technical perspective, corn is the only grain making a notable move. Prices will need to hold above $4.40 to confirm the upside breakout.
CORN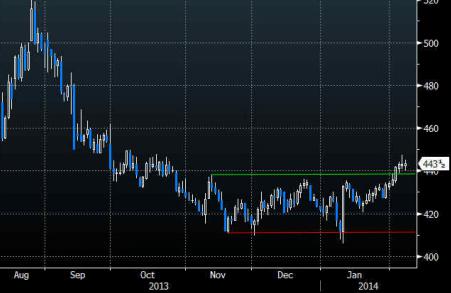 SOYBEANS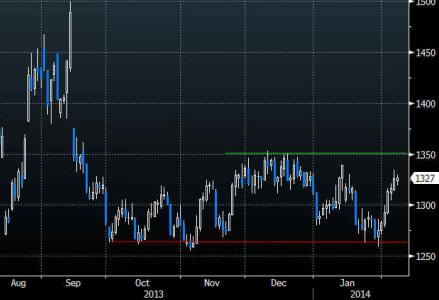 WHEAT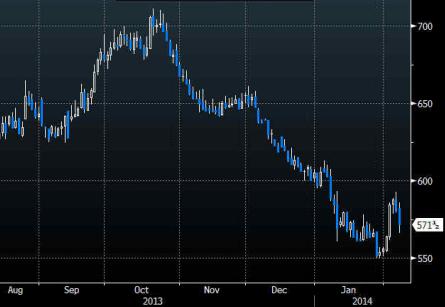 Copper edged higher despite continued concerns about China's economic growth. The red metal remains stuck in its trading range.
COPPER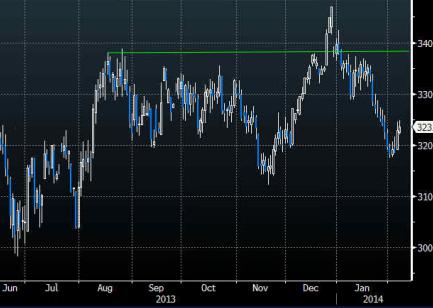 Natural gas saw extreme volatility this week as prices bounced between a four-year high above $5.70/mmbtu and the short-term support level at $4.70. Currently, prices are testing the bottom end of the range. Weekend weather forecasts will likely determine whether natural gas bounces from here or tests lower levels at $4.50 or even $4. We are buyers of natural gas on any significant correction (see Why Spring May Matter More Than Winter For Natural Gas).
NATURAL GAS