The anti-obesity pill Belviq from Arena Pharmaceuticals (NASDAQ:ARNA) saw modest week over week gains in sales this week according to channel check data from IMS Health and Symphony Health. Symphony Health showed a gain of about 3.6% and IMS had sales tracking flat. Last week IMS showed a bigger gain than Symphony.
I will be blunt here. Weather and holidays aside, this should be the time of year when anti-obesity products do their best. While 3% week over week gains will be very acceptable in the longer term, we are currently at a stage where the street wants to see adoption on this drug, and because we are coming off of a base of relatively low numbers, we should see bigger week over week gains. I fully realize that 3% per week for a long time gets to some pretty big numbers, but that is not how it works when assessing the potential and pace. Over time, even though growth is happening, the week over week gains on a percentage basis will get smaller because the baseline is bigger. Simply stated, a 3% week over week gain at this juncture is on the low side of what we would want to see. A silver lining is that Belviq sales were up when sales of competing drugs Qsymia and phentermine were down.
The impact of the numbers this week was not very pronounced for the equity. This is a dynamic that I have been covering for my readers over the past couple of weeks as Arena moves between being overbought and oversold. In many ways, the bottom (in the near term) was very close to happening. Seeing the equity hold its ground on the numbers presented today is an indication that perhaps the recent lows are indeed at or near what would be a bottom.
This week the prescription numbers came in at just above 6,500 for Symphony and just below 5,200 for IMS. The overall sales were modestly higher than the previous week. Last week, many investor comments centered around the dip being caused by the Martin Luther King holiday and extreme cold weather. This week, the sales did not have a holiday and the weather was not the "arctic vortex" we had seen the week prior. In theory, if the holiday and the weather were to blame for the dip, the recovery with this week's numbers should have been more pronounced. It was not. The totals in my model call for total cumulative scripts to be at about 170,000. My adjusted IMS estimates are running at about 165,000 and my adjusted Symphony totals are at about 177,000. Thus, the company is tracking where it needs to be, but the recent data has not been as pretty as we would like to see.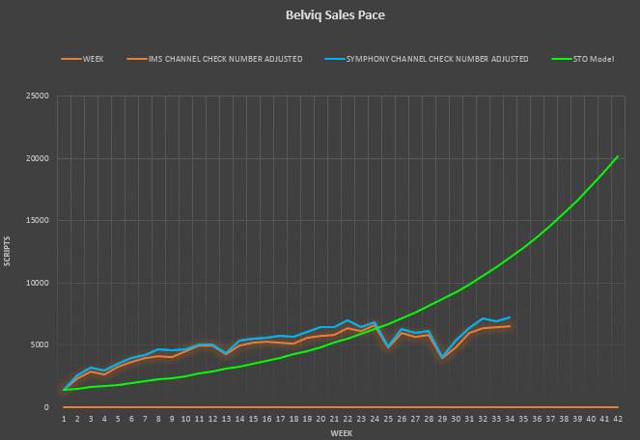 I have overall gross sales to consumers at just over $6 million for the month of January. This means that with the quarter 33% complete, sales are making up about 25% of the pace it would take to get to about $25 million in the quarter. In my opinion the sales are slightly behind where the street would like to see them for the quarter. Since launch, gross sales to consumers are at about $33 million. It is my opinion that sales in Q1 need to be between $25 and $30 million to be seen as tracking well by the street.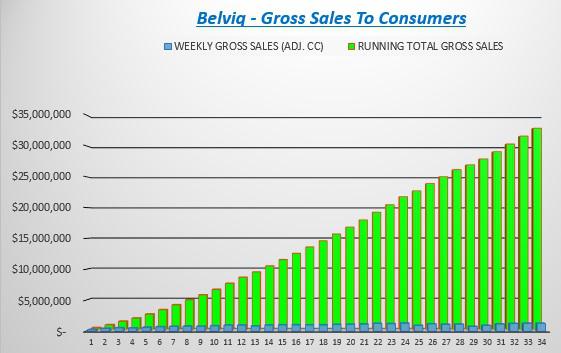 In tracking the current quarter vs. the last quarter, we are seeking growth. Eisai (OTCPK:ESALY), in its quarterly call spoke to the current quarter being "significantly better" than Q4. We can assess that statement by comparing the quarters directly. In that direct comparison, cumulative sales in Q1 are about 14% higher than in Q4. There is ample opportunity for that percentage to improve because Q4 had Thanksgiving and Christmas, major holidays that took a toll on the sales numbers in Q4.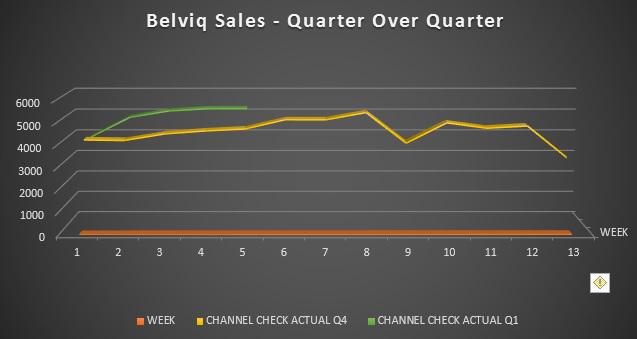 The bottom line is this. Arena had been approaching oversold territory, and gotten to a point where a near-term bottom could form. Seeing relatively flatter than expected sales results not take a toll on the equity is yet another sign that the equity is bottoming out. That now leaves the equity room to improve in the weeks ahead provided that the growth numbers demonstrate that it is deserving. I was seeking 10% week over week growth as bullish for the first 5 weeks of the quarter followed by 7% for 5 weeks, and 5% for the last three weeks. On an overall basis we have seen the numbers get close.
Arena is now in a situation where a catalyst could become a driver. If there is positive news on the submissions in Switzerland, Canada, or Mexico, the equity could appreciate that news greatly. Stay Tuned!
Note: All charts created by me.
Disclosure: I am long ARNA. I wrote this article myself, and it expresses my own opinions. I am not receiving compensation for it (other than from Seeking Alpha). I have no business relationship with any company whose stock is mentioned in this article.