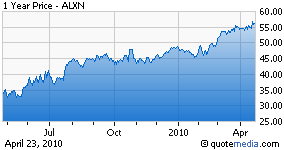 Alexion Pharmaceuticals (NASDAQ:ALXN) reported first quarter of fiscal 2010 earnings per share of 23 cents, well above 16 cents in the year-ago quarter. However, excluding a non-cash tax expense, the company's EPS came in at 29 cents, surpassing the Zacks Consensus Estimate by 6 cents.
Alexion's revenues increased 44.5% to $117.6 million from $81.3 million in the year-ago quarter driven by strong Soliris (eculizumab) sales. Soliris posted robust sales primarily due to the addition of a significant number of new patients in both the US and Europe.
Soliris is Alexion's only US Food and Drug Administration (FDA) approved product (approval received in March 2007), indicated for the treatment of paroxysmal nocturnal hemoglobinuria (PNH).
Operating expenses in the quarter were $73 million, an increase of 31% over $55.7 million recorded in the corresponding period of 2009 due to a hike in both R&D (up 17.2%) and SG&A (up 38%) expenses. We believe the increase in operating expenses is primarily due to increased clinical trial programs. We expect R&D costs to increase further as the company is exploring the use of Soliris in other indications besides PNH.
In addition, higher costs associated with the expansion of Alexion's commercial operations in existing markets in the US, Europe and several other countries were also responsible for the increase in operating expenses.
Recently, Alexion received approval from Japan's Ministry of Health, Labour and Welfare (MHLW) for its New Drug Application (NDA) for Soliris with the launch scheduled for year-end.
At the end of March 2010, Alexion had $204.7 million in cash, cash equivalents and marketable securities, up from $176.2 million at the end of 2009.
In addition to posting first quarter results, Alexion provided an update on its pipeline. Patient enrollment is complete in four clinical studies to evaluate Soliris in patients with atypical hemolytic uremic syndrome. Preliminary results are expected by year-end. The drug is also being studied for kidney transplant patients who have a high risk of organ rejection.
Alexion has reiterated its previously announced guidance for 2010. The company expects net product sales of Soliris in the range of $505 million to $520 million. We have a Neutral recommendation on the stock.