There are some valuations I simply don't get. According to efficient market theory, security prices should reflect all relevant information at all times so that investors can adjust their earnings outlook and, collectively, change the price of the security itself. However, equity valuations of large-cap US car manufacturers appear to be extremely low compared to their earnings potential. In addition, low valuations have persisted for a while although earnings results of large-cap manufacturers give plenty of reason why the market should assign higher valuation multiples to these companies.
While many other sectors trade at multiples of at least ten (even cyclical, beaten-down basic materials companies command forward earnings multiples of around 10-12), the market insistently denies the auto sector higher valuations. Surprisingly, the earnings picture of the sector isn't tainted at all nor are there any significant short-term disruptions unfolding that would justify the application of valuation discounts.
Ford Motor (NYSE:F), having the best relative performance over a five-year performance measurement period when compared against General Motors (NYSE:GM) and Toyota Motor (NYSE:TM), has done extremely well for shareholders as the company presented solid quarters of consecutive growth.
Interestingly, investors who are following a contrarian approach and who bought Ford Motor just in the midst of the unfolding financial crisis couldn't have chosen a better entry point. Simply buying and holding on to their Ford shares, investors would have made an out-of-this-world return of 744% since 2009. Warren Buffett's coined phrase 'Be greedy when others are fearful and be fearful when others are greedy' has been proven once again.
Equity valuations have corrected quite substantially over the last month and Ford Motor hasn't been an exception. Fortunately for investors, Ford Motor now trades at even better bargain prices than a month ago and offers investors a substantial margin of safety while at the same time the company is producing record profits.
Trailing twelve month share performance
Ford Motor gained about 14% in value over the last twelve months which isn't that a spectacular return. However, Ford Motor's operational progress over the last year clearly is respectable which is why I think the company has much more upside potential in 2014 and beyond.
Compared to General Motors and Toyota Motor, Ford's share prices started to lag in November and the return differential has actually widened over the last three months even though Ford's peers also started to consolidate. Ford's operational- and financial performance is out of sync with its share price performance and the company deserves a meaningfully higher equity valuation.
(Source: Yahoo Finance)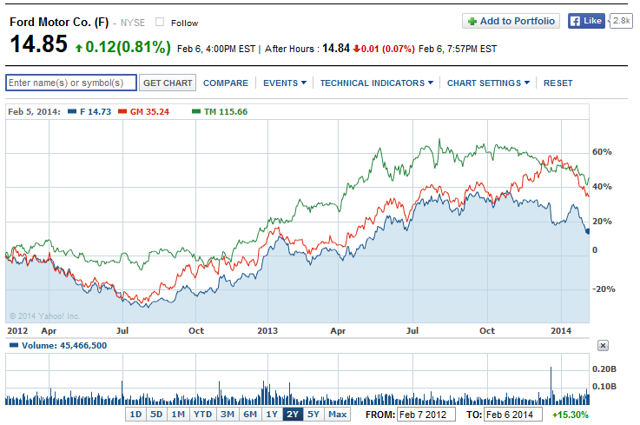 What's not to like about Ford Motor?
Ford Motor reported a fourth quarter pre-tax profit of $1.3 billion and a full-year pre-tax profit of $8.6 billion -- one of the best years in the history of Ford Motor.
The quarterly pre-tax profit of $1.3 billion was largely driven by Ford's Automotive sector which delivered $924 million (72.2%) while Ford's Financial Services business produced $355 million (27.8%) in pre-tax profit respectively. For the full-year 2013 Ford's Automotive segment contributed $6.9 billion or 80.5% and Ford's FS segment $1.7 billion or 19.5% to total pre-tax profits of $8.6 billion.
Within the Automotive sector, North America continues to be Ford Motor's strongest geographic region. North America delivered $1.7 billion in pre-tax profits in this segment while the European car markets remained weak. Ford lost $571 million in the European market which traditionally has a high degree of rivalry due to the large amount of players in the industry. For the full-year 2013, North America produced $8.8 billion in pre-tax profits for Ford (year total across regions: $6.9 billion) while Europe continued to be an earnings drag throughout the year: Europe contributed pre-tax losses of $1.6 billion and remains the most unattractive car market for Ford Motor. Despite revenue challenges in various regions of the globe which are magnified by economic uncertainty and cautious consumer spending, Ford Motor presented record profits in North America and, according to Ford, achieved 'the highest full-year Automotive pre-tax profit in more than a decade'.
Net income for the fourth quarter came in at $3.0 billion (an increase of 90% y-o-y) or $0.74 per share (plus 85% y-o-y) compared to $1.6 billion or $0.40 per share in the year ago quarter. For the full-year 2013 Ford Motor achieved after-tax profits of $7.2 billion (an increase of 26%) or $1.76 per share (plus 24%) compared to $5.7 billion or $1.42 per share in 2012.
One thing that I find particularly noteworthy about Ford's results is that the company defends and manages to increase its market share in the highly competitive North American car market. This underlines that Ford's product quality and reputation are top-of-the-class.
(Source: Ford Motor 2013 4th quarter and full year earnings review)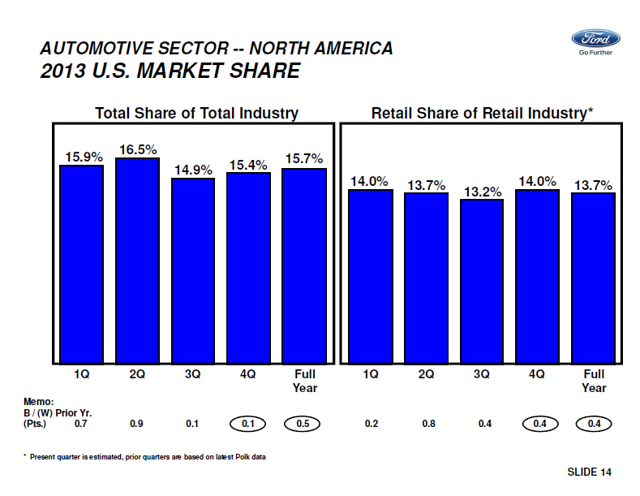 Market valuation
Ford Motor presently trades at 7.65 times forward earnings even though the company posted one of most profitable years on record. General Motors is equally cheap at 8.46x leading earnings and Toyota Motor, the most expensive large-cap car manufacturer in the peer group, manages to command a multiple of 9.15. These are unreasonably low multiples and I stand by my assertion that Ford has realistic potential to double. The following two charts depict Ford Motor's forward P/E ratio and P/S ratio as well as the respective ratios for General Motors and Toyota Motor.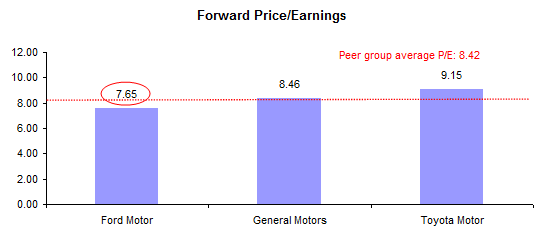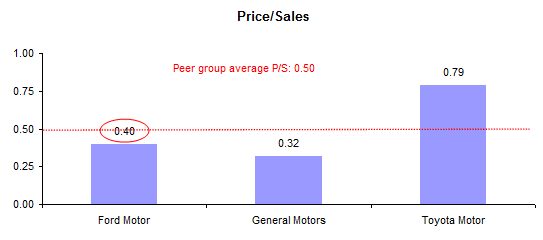 As a result of strong full-year financial results, Ford Motor has stepped up its shareholder remuneration: The auto company has increased its quarterly dividend by 25% to $0.125 per share paying investors a total annualized dividend of $0.50 per share. This translates into an annualized forward dividend yield of 3.37% while Ford's dividend stream also carries the implicit promise of rising distributions in the coming years.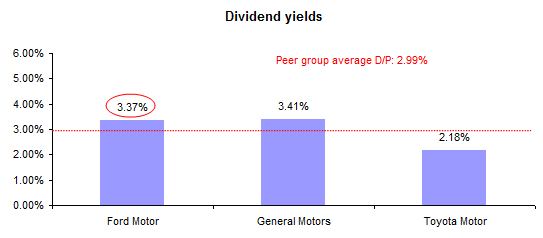 An updated summary table containing key valuation metrics is presented below:

Conclusion
There is a clear disparity between the results Ford Motor achieved in 2013 and the market valuation of its equity capital. With record results in North America and substantial pre-tax profits, the auto company deserves a meaningfully higher valuation. Ford Motor presently trades at just 7.65 forward earnings while the company sits on a sack of net cash worth $9.1 billion in its Automotive division that isn't fully appreciated by the market. In addition, Ford Motor's success is built on century-spanning car manufacturing experience which enables the company to produce a highly in-demand car fleet. Purchasing an American manufacturing icon for an earnings yield of over 13%, while the company is in its most healthy shape in years, makes the value proposition so much more attractive. I think Ford Motor's 2013 results justify a multiple of 15x forward earnings which isn't an overly aggressive multiple for an outperforming, industry-leading blue chip company. A multiple of 15 would translate into a target price of roughly $30 per Ford share. Given the current depressed earnings multiple of 7.65x, Ford Motor could reasonably double in value. Strong long-term BUY on market sell-off, low valuation, high net cash position, competitive car portfolio and high dividend yield.
Disclosure: I am long F, GM. I wrote this article myself, and it expresses my own opinions. I am not receiving compensation for it (other than from Seeking Alpha). I have no business relationship with any company whose stock is mentioned in this article.