Valero Energy Corp (VLO) witnessed improvement in its refining segment with operating income of $1.48 billion in the fourth quarter, rising from $600 million during the third quarter. This was possible due to the U.S. Gulf Coast refineries' performance, which contributed $1.02 billion to the company's total operating income. As the oil production boom continues in the Eagle Ford and Bakken, the U.S. Gulf Coast refineries, including Valero, will continue to enjoy cheap crude for their refineries.
With various advanced drilling and completion techniques such as fracking and CO2 enhanced oil recovery (EOR), oil producers in the U.S. increased the total oil and gas production from the wells. As a result, it created an oil production glut with excess inventory. In January, the total oil production in Eagle Ford was 1.2 million barrels per day (mmbpd), and in the Bakken it was 1.01 mmbpd. Moreover, in the U.S., the government placed a long-term ban on crude export, which will create more pressure on U.S. oil producers to trade the oil at a cheaper price. This increased domestic oil production and reduced the total oil imports in the U.S. Gulf Coast, resulting in less operating cost and improved throughput margins on refining.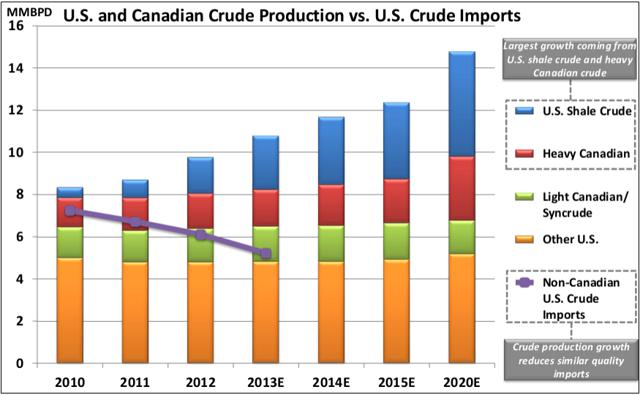 Source: Company presentation
Valero, by accessing this oil production growth, successfully increased its total throughput volume at the U.S. Gulf coast refineries during the fourth quarter to 1.57 mmbpd from 1.56 mmbpd quarter over quarter. The company's U.S. Gulf Coast refineries contributed 57% to the total throughput volume of 2.8 million, an increase of 139,000 barrels per day compared to the fourth quarter of 2012. With this growth in the U.S. Gulf Coast, I believe the company is in line to meet its expectation of maintaining a total throughput volume of around 1.47 million to 1.52 million barrels per day in the first quarter of this year.
The throughput margin improved in Valero's U.S. Gulf Coast refineries along with the increasing throughput volume. It achieved the U.S. Gulf Coast throughput margin of $12.25 per barrel during the fourth quarter, which is higher than the third quarter 2013 margin of $7.88 per barrel. This realized higher throughput margin in the U.S. Gulf Coast helped offset the lower margin realization in its other refineries during the fourth quarter.
Moreover, the crude price differential in the Gulf Coast during the fourth quarter also helped the company strengthen its refining segment's financial performance. Valero utilized the cheaper crude to process refined products and export those products on Brent based pricing.
The crude types used by the company's U.S. Gulf coast refineries are Louisiana Light Sweet (LLS), West Texas Intermediate (WTI), mars sour crude, and heavy sour crude. During the recent quarter, Valero witnessed improved crude differentials compared to the third quarter. The LLS crude price decreased to $101.64 per barrel from $111.41 per barrel quarter over quarter, helping improve the company's differentials. Also, the mars sour crude and the heavy sour crude traded at the discount of $12.78 per barrel and $19.88 per barrel to Brent respectively. These differentials increased by $9.34 and $9.67 per barrel quarter over quarter respectively. These differentials will continue to grow in line with more crude production, and Valero will be able to report solid refining earnings in the coming quarters.
Another major refining company, Phillips 66 (PSX), also improved its refining margin with higher crude differentials. In its fourth quarter, Phillips 66 realized $9.84 per barrel as the refining margin in the U.S. Gulf Coast was higher than the $3.95 of the previous quarter. It helped the company report total earnings of $450 million in its fourth quarter. With the growing oil production in the Eagle Ford and Bakken, the company is expecting to witness widened crude differentials to achieve higher earnings in the coming quarters.
More access to cost advantaged crude with increasing pipelines:
Furthermore, Valero will get access to cheaper crude at the U.S. Gulf Coast that will help it sustain improved refining margins going forward. TransCanada (TRP) Keystone XL pipeline started its operation after receiving permission from the U.S. Government after a long discussion on environmental issues. This pipeline is designed to transport oil from Cushing, Oklahoma to the Gulf Coast with a capacity of 830,000 barrels per day. Valero will benefit from this pipeline as it has committed to take at least 100,000 barrels a day, or roughly 20% of the pipeline's initial capacity, until 2030. This long-term contract will provide Valero with an easy access to low cost light sweet crude. The company used to import light sweet crude from Brazil, Nigeria, and North Africa, but this isn't required after the extension of the Keystone XL pipeline. As a result, the company can increase its refinery production with low cost crude and reduce the import of Brent crude, which in turn will help Valero increase throughput margin going forward.
Looking at this opportunity, the company planned to invest more in its hydro cracking plant to increase the total throughput volume, capitalizing on the domestic cost advantaged crude. It is expected to add two more crude oil units in its Houston Refinery and Corpus Christi refinery. These two units will add 70,000 barrels per day and 90,000 barrels per day respectively by late 2015. In the existing Corpus Christi refinery, it processes sour crude oil into conventional gasoline, diesel, jet fuel, and residual fuel. Valero's existing Houston refinery processes a mix of crude oils and low-sulfur residual fuel oil into reformulated gasoline and distillates. The refinery receives feedstock through the Houston ship channel and it has interconnecting pipelines with the Texas City refinery. So, I believe that with these topping up units, Valero is expected to utilize cost advantaged crude to increase throughput volume with higher throughput margin.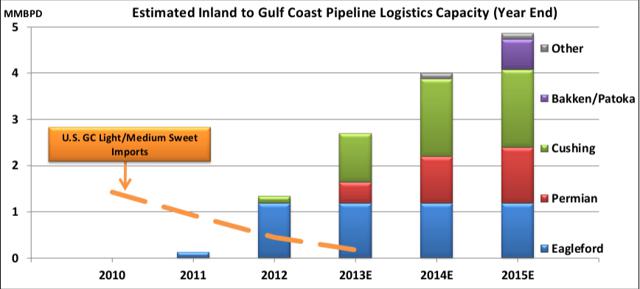 Conclusion:
With the easy access to flourishing and cheaper crude from domestic shale and the growing pipeline facility in the U.S. Gulf coast, I expect more solid quarters ahead for Valero. The company's upcoming two more additional hydro cracker units that will help meet its projected throughput volume in the coming years. Valero's position in the U.S. Gulf Coast made this refining company grow further since the Gulf Coast is considered the largest source of exported products. Looking at the Valero's opportunity in U.S. Gulf Coast, the company's growth looks promising.
Disclosure: I have no positions in any stocks mentioned, and no plans to initiate any positions within the next 72 hours. I wrote this article myself, and it expresses my own opinions. I am not receiving compensation for it (other than from Seeking Alpha). I have no business relationship with any company whose stock is mentioned in this article.