Confusing markets make it difficult to select the right stocks to buy for a core portfolio, at the right price, especially when the market has been on a bull run for over 4 years. Stock prices look high, even though they don't appear that way to me, and valuations have crept up even with the current correction of 5-7% we have had.
While I am an advocate for a self managed portfolio of mega cap, blue chip stocks that pay handsome dividends for us to hold them, I cannot underestimate the positives that a dividend growth ETF offers to dividend seeking investors who might not want to spend the time and energy following each stock, and actively managing their portfolios.
There is always something for everyone, and there are several ETFs that could fill the needs of this type of investor in more ways than one.
Immediate diversification across sectors and businesses.
Many are very low cost, and some even offer no commission trades.
Sound allocations in core stocks that pay attractive dividends.
Here Are The ETFs That I Find Compelling
1) Vanguard High Dividend Yield (NYSEARCA:VYM)
I like this ETF because of the diversity of the stocks it holds and it actually has just about every stock that the Team Alpha Retirement Portfolio has, which is now followed via our email service.
While I still prefer the flexibility of being able to move in and out of positions, add to positions, take profits and re-deploy cash, there is something to be said for an ETF with low fees that has the stocks that I love to hold:
**All Charts are from Fidelity Investments**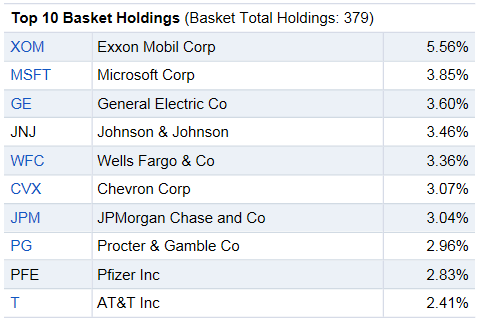 Plus it also has the type of stocks I like; over 87% large cap value stocks and the balance in mid-cap value stocks.
The downside is that there is a fee of about 0.15% and the current dividend yield is just 2.95%. That being said, it is an ETF that conforms to a dividend growth investment strategy.
2) WisdomTree Global Equity Income Fund (NYSEARCA:DEW)
This ETF has a somewhat different assortment of stocks and leans toward communication and financial. Those are two great sectors that have been paying handsome dividends as well. One reason I like the mix is that the allocations in each stock is low enough (under 2%) to absorb any major issues in each one.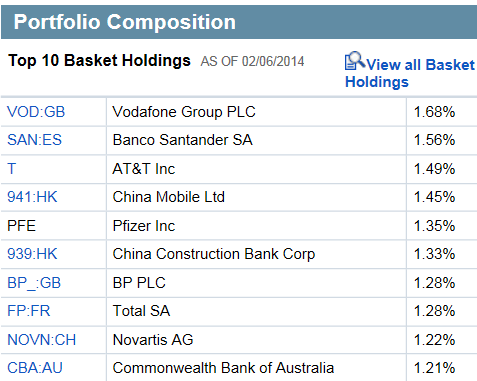 Of course the type of holdings it has is right up the Team Alpha alley, 80% large cap value stocks, and 20% mid cap value stocks.
The downside is the higher fee of 0.58%, however the dividend yield is currently 3.87%. Keep in mind that this ETF does not have a basket filled with dividend champions.
3) WisdomTree International Dividends Ex Financials Fund (NYSEARCA:DOO)
Finally, this particular fund is interesting for the global exposure minus financial stocks. Any systemic risk of a financial meltdown outside of the USA is reduced, as well as having a broad exposure to countries aside from emerging markets.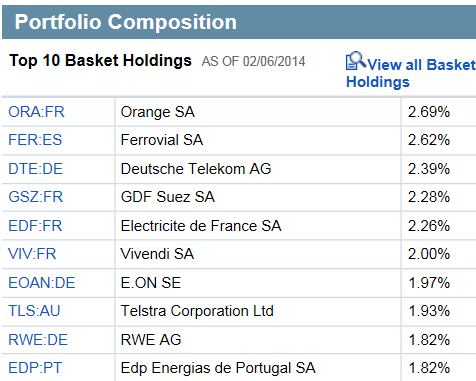 Sound allocations as you can see.
The sectors that this ETF covers are basically everything outside of financials; Utilities, telecom, industrials, energy and consumer staples being the top 5 sectors with roughly 75% allocated.
I like the exposure in the various regions. Each of which do not have the same issues as the emerging market regions; Europe and Asia consists of over 95% of all exposure.
Once again this has the type of stocks I believe fit into our Team Alpha strategies; 89% large cap value stocks and 11% mid cap stocks.
The downsides here are the fees of 0.58% and the pure international exposure. Of course the current dividend yield of 3.81% is very compelling but does not consist of the mega cap blue chip dividend champions that we love in our portfolios.
What My Strategy Would Be With These ETFs
First of all, as for me personally, I like my portfolio of individual stocks. That being said, a case could be made for using these ETFs to do several things.
Further diversify an existing individual stock portfolio.
A fairly good place to keep some cash.
For investors who want to set it and forget it, these 3 ETFs has it all in my opinion.
If you fall into the set it and forget category, you would need to decide how to allocate your investment dollars into each of these 3 ETFs. If it was my money I would do a 60/20/20 split. That would be 60% in VYM, 20% in DEW, and 20% in DOO. Of course some folks would just plunk it all in VYM but would be giving up some yield.
Keep in mind that these ETFs do not trade very many shares per day, so think about liquidity, and also check with your tax advisor to see how the returns you earn would be handled.
With the allocation I just laid out you would be approaching a 3.25% dividend yield and have a very broad assortment of stocks, sectors countries, and businesses.
For many investors, this strategy could get you where you want to go!
Disclaimer: The opinions of the author are not recommendations to either buy or sell any securities. Please remember to do your own research prior to making any investment decisions.
Disclosure: I have no positions in any stocks mentioned, and no plans to initiate any positions within the next 72 hours. I wrote this article myself, and it expresses my own opinions. I am not receiving compensation for it (other than from Seeking Alpha). I have no business relationship with any company whose stock is mentioned in this article.