Our November 2013 article, "Can Level 3 Communications Take Advantage Of The Opportunity Laid Before It?", we examined past and future growth of the internet and how this could be a catalyst Level 3 Communications (NASDAQ:LVLT) was built for. Some topics discussed were:
Company background
Catalysts fueling future demand
Data from several internet studies
Valuation and risk
Instead of repeating the above topics which would make this article exorbitantly long, it's recommended you read it for a better understanding, although not mandatory for this article. This article is a follow up examining Level 3's results and guidance to see if there is evidence Level 3 is capitalizing on the growing need for bandwidth.
Level 3 announced fourth quarter results and issued 2014 guidance on February 5, 2014. Ongoing trends based on management's record and guidance will be a strong indicator of management's success (or lack thereof) of converting opportunity into growing profits and cash generation. This article discusses the following:
Revenue and focus
Trends
Valuation revisited
Risks
Final thoughts
REVENUE & FOCUS:
It's important to understand how Level 3 reports revenue and their revised focus aimed directly at the opportunities ahead. This also will make clear why some missed the underlying growth momentum buried among other revenue categories; becoming more obvious with each earnings announcement leading some analysts to dramatically boost price targets.
Changes were afoot in Level 3 about a year ago. Level 3 refocused its business toward the enterprise market. This resulted in the long time CEO being shown the door closing the chapter of Level 3's decade long struggle trying to find its way. This was summed up best in the 2012 annual report and proxy:
Our company is undergoing a transformation in terms of the type of customers we serve. We have moved from being primarily a wholesale provider to a company focused on serving the day-to-day business needs of enterprise customers… Jeff emerged as the clear and obvious choice to lead the company going forward. He knows the industry, having served as president of several companies over the course of 30 years in telecommunications. He knows the company, having brought to it a discipline and focus on operational excellence and a passion for the customer experience. And he has helped shift the focus of the company to the enterprise market, where we are continuing to take market share.
The company's revenues are reported in two groups, CNS (Core Network Services) and low margin "Wholesale Voice Services & Other" revenue.
Wholesale Voice Services & Other revenue represent sales of long distance voice services, revenue from managed modem and its related intercarrier compensation services and revenue from the "SBC Master Services Agreement," which was obtained through an acquisition in 2005. This revenue is being managed for margin contribution and will continue to ramp down; possibly to zero. The focus and opportunity lie in the CNS revenue which is reported in the following segments:
North America - Wholesale
North America - Enterprise
EMEA - Wholesale; EMEA= Europe, the Middle East and Africa
EMEA - Enterprise
EMEA - U.K. Government (going forward this will be rolled into the Enterprise.
Latin America - Wholesale
Latin America - Enterprise
CNS revenue consists of colocation and data center services; transport and fiber; IP and data services; and local and enterprise voice services. The decline in the lower margin CNS wholesale and the wind down of the "SBC Master Services Agreement" revenues has been masking the growth of the high margin CNS Enterprise revenue. Higher margin Enterprise revenue has increased from 54% to about 59% of total revenue over the last year. The trends below will show why Enterprise is the growth engine for earnings and cash generation going forward and graphically illustrate why other revenue streams can no longer mask its growth as Enterprise revenue is gaining momentum.
TRENDS:
Actual results are used through 2013. Management guided revenue for 1Q-2014 as flat when compared to 4Q-2013 which is included in the results. The following represents results from 2012 through 1Q-2014 guidance, and then applies a regression analysis to extend the trend. Revenue trends for enterprise are: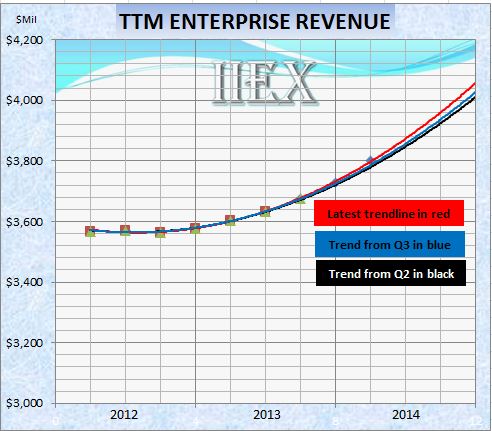 Management focus through 2012 was the integration of the Global Crossing acquisition. Going forward this combination combined with new leadership and a focus on enterprise is starting to return results. The latest trend has improved slightly and growth has been very predictable since 2Q-2013.
Jeffrey K. Storey - CEO gave additional insight into Enterprise on the conference call:
…we've seen solid momentum in this channel. Enterprise CNS revenue strengthened again in the fourth quarter, and we believe we are well positioned to continue to take market share… We are pleased with our progress in growing enterprise customers and we'll continue to push hard on wholesale sales. Overall, we continue to feel good about our revenue and outlook based on healthy sales throughout 2013, usage growth, improvements in churn and a strong order log.
CNS Wholesale revenue is tracking as expected; down, however over time it is expected to flatten out.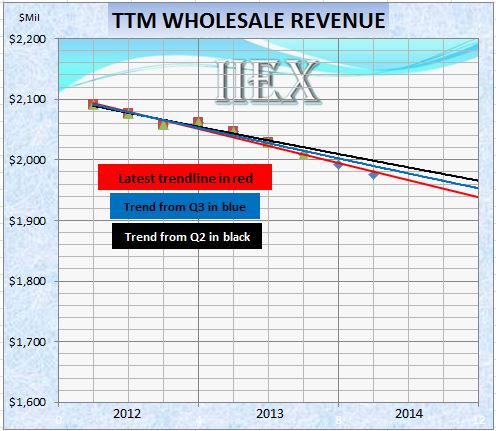 Sunit S. Patel - CFO offered these comments on the wholesale business on the conference call:
On the wholesale group we expect slight declines in wholesale CNS year-over-year. You'll continue to hear more and more about industry consolidation with the cable space or the wireless space. But it's a good business for us. It's profitable… and it gives us a lot of scale, which helps our enterprise business.
Followed by Jeffrey K. Storey - CEO:
It adds scale and scope and helps us win enterprise and be more effective in winning enterprise and in a better position to win profitability. So we're not deemphasizing it. We're not shrinking the resources. We think we have an excellent wholesale team and continue to have good sales opportunities in spite of the consolidations and other things that have a drain on that revenue channel.
VALUATION REVISITED:
Valuation is guided by the trends discussed earlier. Metrics having a major impact on EPS and FCF (Free Cash Flow) are:
Revenue Growth
Gross Margins
Capital Expenditures
Before we look at these metrics, we should add a note on the debt since it is too large to ignore. Cash required to pay down debt going forward is not required until 2018 assuming the stock doesn't fall below 27 by 2015. There is no need for further refinancings other than taking advantage of lower interest rates. The balance sheet continues to strengthen.

We added two rows to put things in better perspective. Converted debt is convertible into common stock at prices well below the closing stock price at the time of this writing. FCF is from the financial summary detailed later. The above projections (based on the trends) support the CFO's conference call comments:
I think with some amount of debt reduction that can take place over the next couple of years, we have a convert out there, $475 million that's in the money. We have high coupon debt out there that becomes callable starting next year. We have the opportunity to pay some of that down, refinance some of that. And depending on our stock price trades over the next couple of years we also have the opportunity to buy back stock.
CNS Revenue Growth: Enterprise grew 6% YoY in Q4. The drag in 2014 will be Wholesale, but any negative effect will diminish over time as it becomes a smaller and smaller slice of the CNS pie and stabilizes over time.
Other Revenue Growth: The assumption for revenue outside of CNS is it will go to zero by the end of 2019 since this low margin category is not a focus for management.
GM (Gross Margin): The recent margin trend is: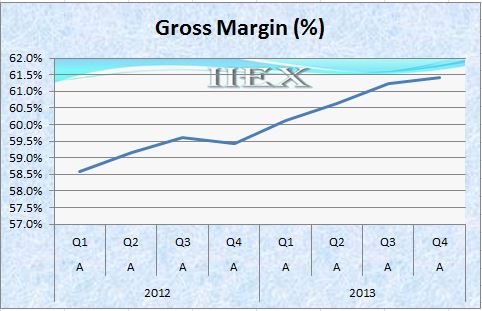 Expect margins to continue to expand. Although not in guidance, management has given insight for this metric. Recent comments were made at the Goldman Sachs 22nd Annual Communacopia Conference in September 2013 by Sunit Patel - Executive Vice President and Chief Financial Officer:
…for every new dollar of revenue, $0.80 falls for the gross margin line, deduct $0.20 for incremental last year and gives you 60% incremental EBITDA margins.. The facts are our SG&A has been coming down, it's not growing. So obviously we are doing much better than 60%.
They are getting GM of about 80% on new revenue. Since the only revenue growing is enterprise, this gives us insight why the big push is on this segment.
Capital expenditures: Management has guided to 12%-13% of revenue so this metric is straight forward.
For the full year 2014, the company also expects:
GAAP interest expense of approximately $600 million
Net cash interest expense of approximately $560 million
Depreciation and Amortization of approximately $750 million
GAAP income tax expense of approximately $70 million
Adjusted EBITDA growth of 11% to 14% from a start point of $1.565 billion
FCF of $225-$275 million
Using the trends and above data as a guide to establish the metrics (highlighted in grey) used in the following table, FV (fair value) is:

Financial highlights generated by the input yield: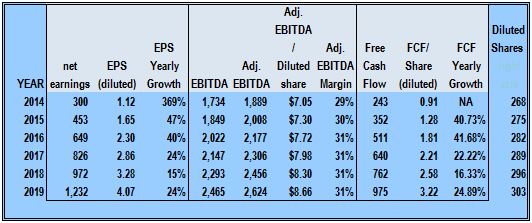 The forward PE multiple used is conservative given the 5 year EPS growth rate about 30%. FV is discounted from 2019 results. FV represents a discount of approximately 13% at the time of this writing.
The reader can enter their own assumptions and view a much more detailed financial summary and income statement (based on your input) broken down by quarter here or download detailed historical and projected financials here.
RISKS:
There are short-term threats to cash assuming they are incurred but will not affect long term FCF. LVLT has accrued $275 million for various legal proceedings and other liabilities on the balance sheet. This does not mean cash has been set aside so the amount accrued may have no effect on the balance sheet but will affect cash flows. Accruing these charges tell us there is a reasonable expectation LVLT will incur these costs in the future. The issues are:
Rights-of-Way Litigation
Peruvian Tax Litigation
Employee Severance and Contractor Termination Disputes
Brazilian Tax Claims
LVLT believes that it is reasonably possible that the Brazilian issue could result in a loss of up to $61 million in excess of the accruals established, which if accrued would raise the total to $336m from $275m. These issues are one-time occurrences and will have no effect on longer-term free cash flow if enterprise revenue remains on track.
The long term risk to FV would be the inability to grow revenue to the upper single digit range.
FINAL THOUGHTS:
If SA subscribers who receive RTA (real time alerts) are any indication, many individual investors have not picked up on this growth story yet. Our last article showed 2,932 RTA. Popular stocks can soar to over 100,000, even AT&T is 49,000 not to mention we are the only contributor to publish detailed financial analysis of Level 3 under the focus heading found here. Okay not very scientific but you get the idea.
What is clear is Level 3 has upside potential from here, more if they can achieve modest improvements above projected rates in this article. The wind is at their back; LVLT will turn profitable in 2014 and will begin to generate substantial amounts of cash over time. That profitability will be sheltered from "Uncle Sam" for some time since their U.S. net operating loss balance was approximately $9 billion at the end of 2013.
Finally we'll share some recent upgrades. Expect more to follow.
| | | | |
| --- | --- | --- | --- |
| Company | Old Target | New Target | Source |
| Jefferies Group | $36 | $40 | |
| Canaccord Genuity | $30 | $41 | |
| DA Davidson | $34 | $40 | |
Disclosure: I am long LVLT. I wrote this article myself, and it expresses my own opinions. I am not receiving compensation for it (other than from Seeking Alpha). I have no business relationship with any company whose stock is mentioned in this article.