Mobile phone markets have been treacherous ground for many players. The chart below sets out what were the worse 7 seven declines in mobile phone market share in history at the time the chart was made in 2010.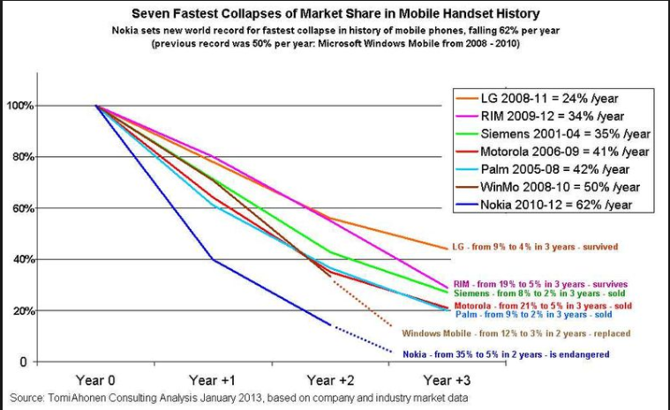 The decline rates in market share ranged from 24% annually in the case of LG all the way to 62% year over year for Nokia. In each case, the vendor flirted with disaster and in the case of Palm eventually disappeared. LG survived and is growing; BlackBerry (NASDAQ:BBRY) is alive but a shadow of its former self; Siemens (SI) has left the playing field; Motorola was rescued by Google (NASDAQ:GOOG) but continued to struggle; Palm was acquired by Hewlett-Packard (NYSE:HPQ) and eventually disappeared from sight; Windows phone almost disappeared but has been resurrected by Nokia (NYSE:NOK) now owned by Microsoft (NASDAQ:MSFT); and, Nokia had a near death experience but was saved by the Microsoft purchase of its handset business.
What is interesting is that all of these vendors had the market by the tail for a while, showed continued growth while their market shares began to decline, and ultimately faced extinction without drastic restructuring or help.
The Nokia example is instructive. Nokia owned the mobile phone world for years with a massive worldwide share. Content to sit on its laurels and watch as mobile phones became handheld computers with Internet access, Nokia started to slip. By the time Nokia CEO Stephen Elop saw the writing on the wall, it was nearly too late even though Nokia still held the world's largest market share.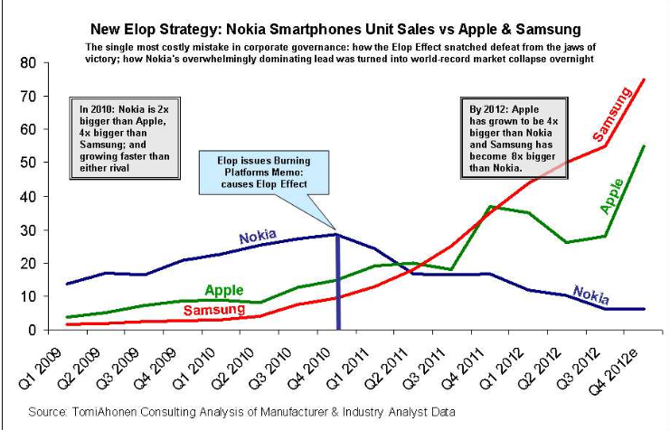 Elop made the bold and dramatic move to shift to Windows OS and in the next 8 quarters saw Nokia market share fall sharply while Apple (NASDAQ:AAPL) and Samsung (OTC:SSNLF) flew past the company in dramatic fashion.
It now seems likely that Nokia's mobile phone business may survive under the Microsoft umbrella but it was definitely a close call.
Smartphones have displaced feature phones quickly, and Apple and Samsung have been the leading forces driving the change. But while Samsung continues to gain market share, Apple has not. In fact, based on estimates by Bernstein and data from Strategy Analytics, Apple has lost 60% of its market share in just three quarters.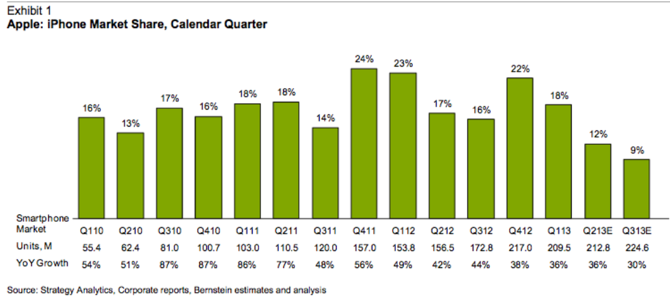 BlackBerry market share started to decline in the second quarter of 2009.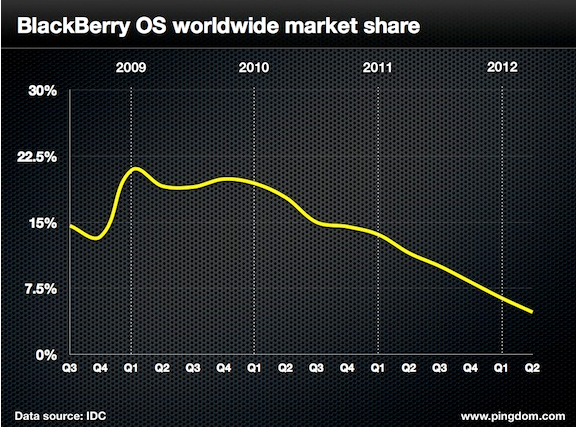 But BlackBerry's unit volumes kept growing until the first quarter of 2011.
The fact is that BlackBerry was pretty well doomed almost 2 years before the decline in market share finally gathered enough momentum to show up in financial results and could no longer be masked by the profits from unit growth.
As late as the first quarter of 2011 BlackBerry was second only to Apple in its share of industry profits and was neck and neck with Nokia and Samsung. Unfortunately for BlackBerry, it like Nokia was on the way down while Apple and Samsung were on the rise.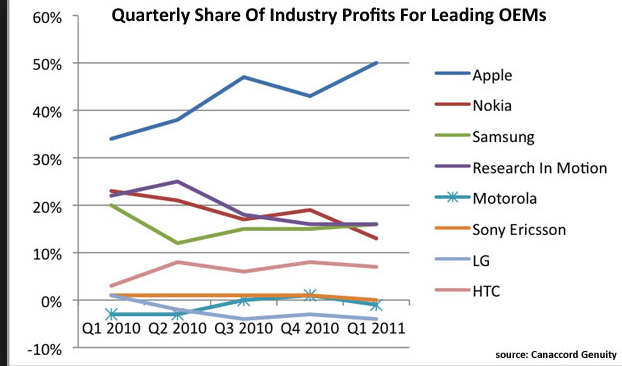 Fast forward to 2013, and by the third quarter Samsung officially became more profitable than Apple.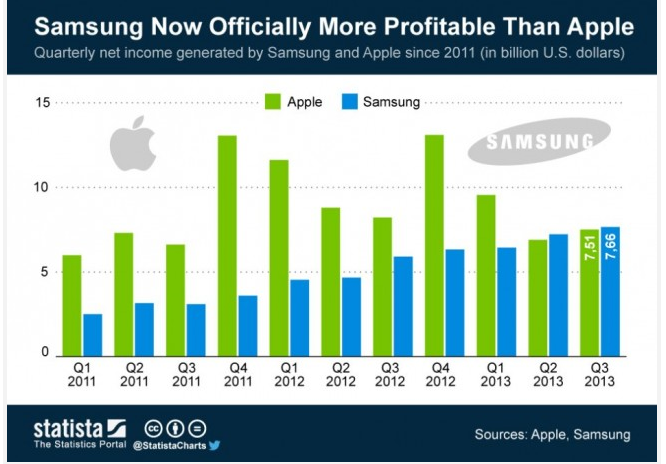 Apple is, of course, fighting back. It introduced its very popular iPhone 5S and the colorful iPhone 5C; put its 64-bit A7 processor which debuted in the iPhone 5S into the iPad and improved the iPad mini with a retina screen. It added fingerprint recognition to the iPhone 5S and launched the new devices in worldwide markets including China at the same time. And, it signed a long-negotiated deal with China Mobile to carry the iPhone and iPads to its 760 million subscribers.
I believe Apple's strategy to focus on margins and the "premium" end of the market while conceding market share to competitors is penny wise and pound foolish. Google Play barely existed when Apple started to build its massive ecosystem. Today Google Play provides 75% of all app downloads while the Apple app store is at 18%.
Nokia may have had no chance of a comeback whatever without the Apple price "umbrella" and yet Windows phones now have a greater share than iOS in 24 world markets. Android OS phones now outnumber iOS phones four to one.
As night follows day, the smartphone and tablet markets will mature (if they have not already matured) and the devices will become commodities. When any device can access the same content with the same ease of use, processing speed and functionality, the power shifts to the content and not the device, or at least that is how I see it. Apple thinks it is in the device business. In the very early days of the personal computer, Apple made the same mistake. While it was building the best personal computers, Windows was building the best applications and letting users make pirated copies of its operating system almost without recourse of any kind. DOS became Windows and Microsoft Office became the world's most used productivity suite, destroying Wang Word Processors, Word Perfect, Lotus 123 and Corel in the process. Today over 1 billion devices use Windows OS and run Windows software. Apple's share of that market was left at a single digit 5%.
Apple opened entirely new markets by designing and building extraordinary devices and backing them with a rich ecosystem. But rather than seeking to create a world where Apple was the standard, it once again built one where Apple has become the exception. A sub -10% share of the world smartphone market seems to be Apple's destiny, eaten alive by Android and in danger of being pushed into a tiny corner of what is left by a resurgent Microsoft who is making sure that it expands device sales at no profit to expand the use of Microsoft software into every home and business possible. Microsoft's progress in Indonesia is an example, where Windows phone has quadrupled its share in one year while iOS stood still.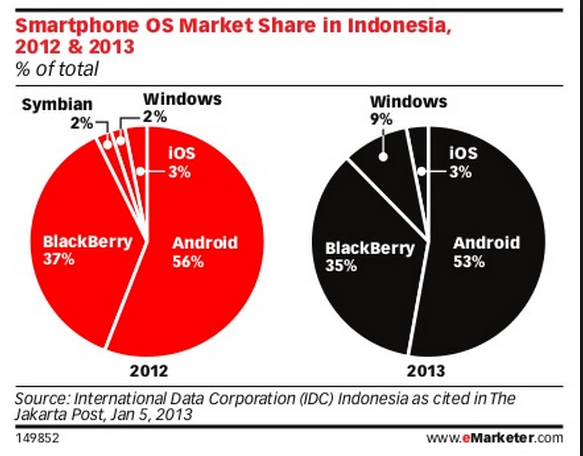 Apple's competitors can see that the future is content, not devices, and they are positioning themselves to benefit while Apple is being left behind. Google's sale of its Motorola handset business to Lenovo (OTCPK:LNVGY) reflects that view.
The fact is that Apple devices are not much different than those Apple competes with. The iPhone 5 is less than a Samsung S4 on pretty well every hard metric.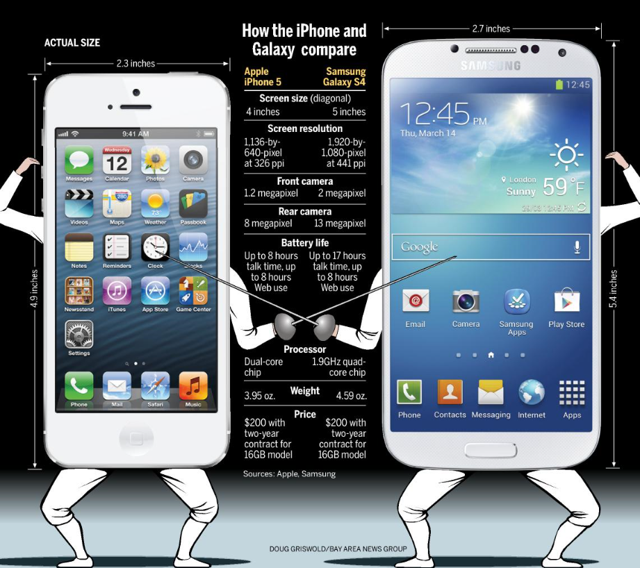 Source: Doug Griswold, Bay Area News
Apple has since launched the iPhone 5S which introduced 64-bit computing to a handset and the next Samsung will no doubt follow suit. Users of each will claim superiority but objective observers will admit there is not much to choose between them.
Apple hopes to revive its growth by penetrating the China market with iPhones through its newly inked deal with China Mobile (NYSE:CHL). Maybe, but Apple's pricing policy in China looks to me like an effort to skim the cream of the market without much concern for sales volume. As shown on this screen clip from a Bloomberg report, the iPhone prices in China are far higher than the average smartphone prices and substantially steeper than Verizon's pricing in the United States despite the fact that incomes in China are much lower.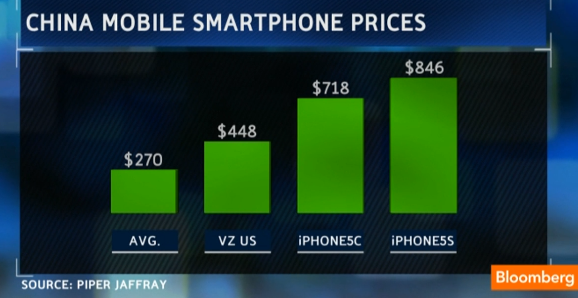 Brilliance is doing something new and different. Insanity is doing the same thing over and over again and expecting different outcomes. Steve Jobs was brilliant. Today, Apple's strategy seems insane.
In my humble opinion, as distasteful as it is for Apple bulls and as contrarian as it may seem to its advocates, I believe 2014 will be the tipping point from which Apple's decline will follow. The Q1 results were spectacular and may not only be a record for Apple looking backwards but also an all time record for years to come.
The results did not cause investors to bid up Apple stock. I believe investors are starting to get the picture that Apple's growth has run its course, its products are being matched by competition, and it faces headwinds from the inevitable decline in handset prices and margins that every electronic product has faced over the years, an outcome well predicted by Ed McKernan's recent SA article.
Lower prices and lower market share will result in slowing revenues and ultimately in lower profits. The share price is sure to follow.
I am short the stock, short calls and long puts on Apple.
Disclosure: I am short AAPL. I wrote this article myself, and it expresses my own opinions. I am not receiving compensation for it (other than from Seeking Alpha). I have no business relationship with any company whose stock is mentioned in this article.