Novartis AG (NYSE:NVS), a Switzerland-based pharmaceutical company, reported its 4th quarter 2013 results last week. While the company narrowly missed market expectations it did manage to attain Y-O-Y growth in its top and bottom line figures. With the departure of former Chairman Daniel Vasella, the pharmaceutical company needs to enact structural reforms to bolster the company's operations, businesses and shareholders' returns. In this article I will try to explore the strategy that Novartis has under consideration to determine what investors can expect of the stock in the short and long terms.
NVS Galvanized into an Operations Review
According to the company's Chief Executive Officer, Joe Jimenez, "Novartis is exploring unique structures that may include joint ventures or business swaps for its smaller businesses." As it is evident from the chart below, pharmaceutical acts as a corner stone in Novartis' diversified product portfolio because it derives more than half of its revenues from this segment but managed a Y-O-Y sales growth of just 3%. On the other hand, Novartis' highest growth segments, vaccines and diagnostics and consumer health, are not very significant to the company's top line because combined they contribute only 10% to revenue. Therefore, the company aims to cut off those segments that lack global scale and do not significantly contribute to the company' revenue.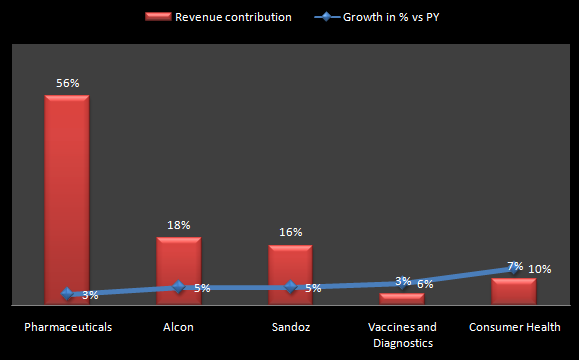 Source: Investor presentation
Novartis aims to divest its small and non-core businesses that are unlikely to achieve global scale and the animal health division is at the top of the list. There have been rumors that the company either is divesting its animal health segment in a cash sale of $4.1 billion or that it will be swapped with Merck Co.'s (NYSE:MRK) over-the-counter drug business. The potential sale of Novartis' animal health business is part of the company's continuing review of operations and the vaccines business will be the company's next target. In line with the company's strategy, Novartis has already sold its blood transfusion diagnostics division to Grifols for $1.7 billion by the end of 2013.
This strategy allows the pharmaceutical giant to turn its focus towards expanding in the fast growing areas of healthcare such as oncology, dermatology and cardiac diseases. To deal with the loss of patent protection on blockbuster products such as Diovan, Glivec and Zomata Novartis has a robust clinical pipeline that can create best selling drugs for the company in future. Rejuvenating the portfolio delivered 18 approvals in 2013 for the company and demonstrated a strong momentum in innovation.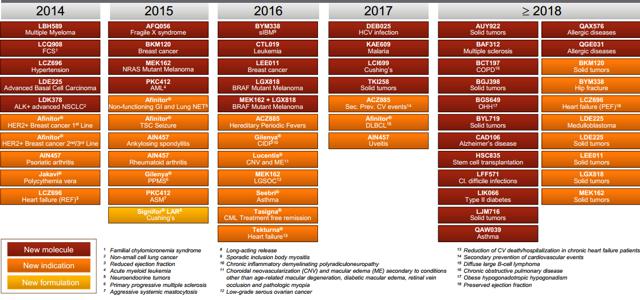 Source: Novartis
Cost-Cutting Strategy
Novartis aims to save around 3-4% of its sales though its 3 dimensional focus:
Focused procurement,
Consolidating research sites,
Reviewing manufacturing.
As a result of the company's continued efforts, $1.5 billion in savings were achieved in terms of procurement. The company's marketing expenses decreased by 20 basis points in 2013 and the company removed four research sites. After the company loses patent protection for its best-selling drug Diovan it will close its US plant and axe around 4000 jobs. Reducing the number of production sites will eventually affect 6% of the pharmaceutical company's workforce and save a significant amount of cash for the company. These pharmaceutical employees will be transferred as per the company's intention to prioritize and reallocate resources. This will allow the company to not only cut costs but also turn its focus towards the planned product launches and other growth areas. In line with the strategy, Novartis is consolidating its operations in Hyderabad, India that are currently spread across three locations. This will require Novartis to move a number of jobs to India and will set the stage for the company's future growth in the country.
In essence, the company is repositioning itself to respond to the dynamic changes in the healthcare environment. One can appreciate the company's cost-cutting strategy since the company is facing dual pressure from the loss of exclusivity rights on its major revenue contributing drugs as well as increasing check and balance on health costs by the government. Moreover, once the generic versions of its expiring patents hit the market this cost-cutting strategy will allow the company to maintain its margins in the long term.
Bolstering Shareholder Returns
Novartis has been named one of the world's most sustainable companies. In 2014, Corporate Knights global 100 examined various parameters of the company including its innovation, capacity, employee turnover and leadership diversity. Novartis is keen about offering the best returns to its shareholders. Currently the company is offering a dividend yield of 3.09 whereas the industry average is 1.75. Novartis has maintained a payout ratio of 65.61 that is more than 3 times the industry average. The year 2013 was the 17th consecutive year that the company increased its yearly dividends as indicated by Novartis' dividend profile.

Source: Investor presentation
Other than dividends, Novartis announced a $5 billion buyback program in 2013. The company will buy 2.5% of its market capitalization over the 2 years (2014 and 2015). This can be regarded as a pleasant gesture by the company and it reassures shareholders that the company believes in its ability to drive future value.
The share price appreciation denotes the fact that Novartis provided a 15.62% share price return to its investors over a year. This share price return was much better than its peers GlaxoSmithKline (NYSE:GSK) and Ely Lilly (NYSE:LLY).

Source: Y-charts
Novartis is expected to continue this trend and transfer significant amounts to investor's wallets via shares buyback and dividends. Proceeds from the sale of business assets will also increase the company's cash holdings and bolster the company's capacity to provide shareholders continued returns in the future.
Future Outlook
According to the company's guidance for year 2014, sales are anticipated to grow in the range of 4 to 6% and the operating income growth will be higher than those figures. Diovan, Novartis' top-selling drug (contributes 11% to revenue of the pharmaceutical segment) faced a 20% y-o-y decline in 2013 after its patents expired in the US, Europe and Canada. As long as Ranbaxy Laboratories are off market due to regulatory delays for its generic version, Diovan will not have to face copy-cat competition. However, once the cheap substitute of the medicine hits the market Diovan's sales will fall sharply adversely affecting Novartis' top line.
The company's focus on oncology is warranted by the trends and demand visible in the oncology market. GMR DATA forecasts a huge uptake in the global cancer drugs and treatments market reaching $143.7 billion by 2023. That is an 85% increase from the current market level at $77.4 billion. Oncology products contributed almost 35% to the pharmaceutical segment's total revenue in 2013. Two of the company's major oncology products, Glivec and Zomata, are going to face generic competition after their patents expire. However, Novartis' oncology pipeline still has some great products such as Afinitor and Tasigna that can partially offset the revenue loss. Novartis' experimental multiple myeloma (MM) cancer drug LBH589 (panobinostat) achieved its primary phase 3 goal extending the lives of MM patients significantly. Novartis' MM drug seems promising and the company may be poised to grab a major market share in the MM drug market that is expected to rise 60% by 2021. However, Novartis' MM drug will be competing with Celgene's (NASDAQ:CELG) Pomalyst that is already enjoying first-mover advantage in the industry.
Respiratory drugs such as Ultibro Breezhaler can act as another catalyst for the company's growth and will also set the stage for strong competition between Novartis and GlaxoSmithKline that already has a strong portfolio of respiratory treatments. GlaxoSmithKline will compete with its best-selling asthma drug Advair and other COPD treatments developed under Theravance. Other than this Novartis has a breast cancer drug LEE011 that is a next generation CDK, (cyclin-dependent kinases) and can treat far more cancer patients than current treatments. These remarkable developments can bolster the company's top and bottom lines once they get FDA approval and hit the market in a matter of years.
Novartis is Europe's biggest drug maker in terms of sales and now the company has eyes on the emerging markets. The emerging markets have promising growth opportunities and the company derives a quarter of its top line from these markets. Q4 results showed 10% growth in Russia and China was the most successful market. Moreover, Novartis' full integration into the Alcon franchise's eye care unit will allow it to utilize the synergies at an increasing pace year over year as reflected in the company's 2013 performance.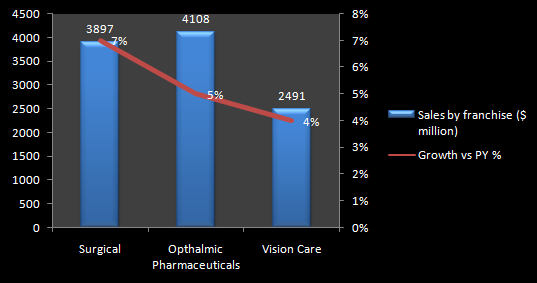 Source: Investor presentation
The Road Ahead
Novartis' current situation seems gloomy but this does not mean that the stock will crash and burn. The 4Q2013 results missed analysts' expectations and the loss of exclusivity rights for its major drugs puts Novartis in a vulnerable position in the short term. Novartis continues to put efforts into coming up with drugs that can offset the revenue loss after the retirement of major revenue contributing drugs and this is enough to reassure investors of the company's long-term prospects. The drug pipeline and expected approvals by the FDA will make Novartis well positioned for an availing major market share in the cardiac treatment, oncology and dermatology markets over the next decade. This makes the growth prospects of the company considerably brighter and makes me believe it is an excellent stock for a long-term investment portfolio.
Disclosure: I have no positions in any stocks mentioned, and no plans to initiate any positions within the next 72 hours.
Business relationship disclosure: The article has been written by a Blackstone Equity Research research analyst. Blackstone Equity Research is not receiving compensation for it (other than from Seeking Alpha). Blackstone Equity Research has no business relationship with any company whose stock is mentioned in this article